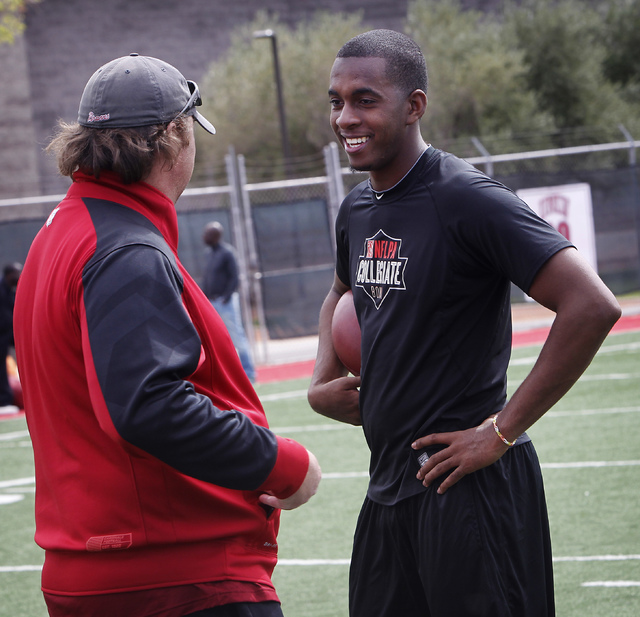 Caleb Herring was the last player to quarterback UNLV to a bowl, and now he will join the radio booth to help call games of his alma mater.
UNLV announced Thursday that Herring will replace Mike Pritchard as the team's football analyst. Pritchard had served in that role for 11 years but left for a Denver radio station.
The Rebels open the season Sept. 2 against Howard at Sam Boyd Stadium.
"Being from the university and having that background and that history, it means a lot to be able to stay involved with the program in some capacity," Herring said. "Being able to talk sports with the team that I love is a big opportunity for me. To be a part of the community in this way is going to be a big deal."
Herring owns several school passing records, and in 2013 he led the Rebels to the Heart of Dallas Bowl by passing for 2,718 yards and 24 touchdowns. That was UNLV's first postseason appearance since the 2000 Las Vegas Bowl.
And now Herring brings the emotions of an alumnus and the mind of a quarterback to his new job.
"I think the quarterback has to have a very broad scope of knowledge of what's going on on the field at all times with every position." he said. "I think most people just know their job and what their part is to the team's effort. I think using that kind of experience as a quarterback will definitely help in the broadcasting booth."
Position breakdown
Offensive line
Left tackle
1. Kyle Saxelid, Sr., 6-7, 290
2. Michael Chevalier, Sr., 6-3, 300
Left guard
1. Jaron Caldwell, So., 6-4, 325
2. Matt Brayton, Fr., 6-3, 310
Center
1. Zack Singer, Jr., 6-2, 320
2. (tie) J'Ondray Sanders, Sr., 6-5, 290; Justice Oluwaseun, Fr., 6-2, 325; Nathan Jacobson, Jr., 6-5, 280
Right guard
1. Justin Polu, So., 6-4, 325
2. Julio Garcia II, So., 6-3, 310; Justice Oluwaseun, Fr., 6-2, 325
Right tackle
1. Nathan Jacobson, Jr., 6-5, 280
2. Donovan Outlaw, Fr., 6-4, 290
Four of the starters are back, and seven or eight players will be involved in the rotation. The most intense battle is at center.
Notes
— Coach Tony Sanchez has praised his team's practice each day until Thursday.
"I thought the energy was average," he said. "It's got to be better. We've done a really good job up to this point, and I know we're getting into Day 8, the third day this week, it's been a physical week.
"You've got guys that are tired. They've got to move around faster. Winning's tough. That's one of the things our guys have got to understand. There's a reason there hasn't been any winning done here in 30 years consistently. You've got be tougher than the damn situation. OK day today. Not a terrible day, but it's not our expectation."
— Polu was named to the watch list for the Polynesian College Football Player of the Year Award. He went to Silverado High School but was born in Honolulu. Polu started every game last season and didn't allow a sack.
More Rebels: Follow all of our UNLV coverage online at reviewjournal.com/Rebels and @RJRebels on Twitter.
Contact Mark Anderson at manderson@reviewjournal.com. Follow @markanderson65 on Twitter.