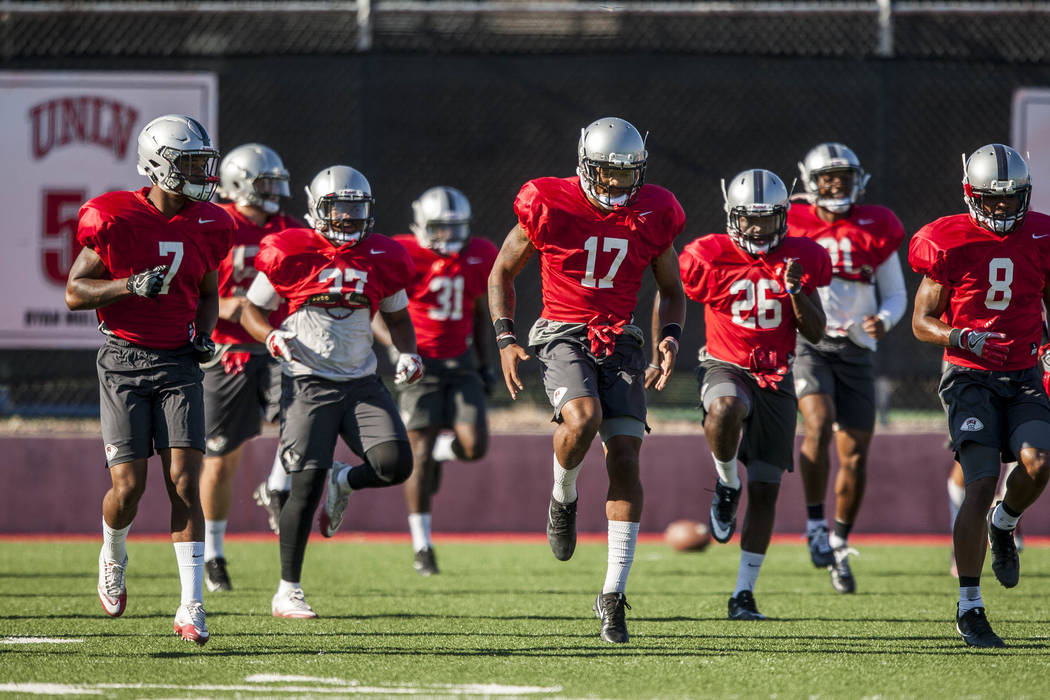 It's a wonder any college football team plays defense these days, with rules slanted toward boosting offenses and the wide-open schemes offensive coordinators employ.
For UNLV, playing defense has been especially difficult, whether by today's standards or yesterday's.
It's a problem that dates back long before the current staff took over, and it's their job to figure out how to reverse the trend. Some signs point to that happening, others not so much as the Rebels prepare to open the season Sept. 2 against Howard at Sam Boyd Stadium.
UNLV's coaches are involved in a process that likely isn't going to happen quickly, testing their patience as they try to stick to the plan.
"It's three years of recruiting, three years of building the program," coach Tony Sanchez said. "Believe me, no one wishes more than me it would've happened overnight. But when you get here and reality sets in and you really start rolling up your sleeves and figuring out all the things you need to do to get things moving in the right direction, you realize there's no quick fix.
"It will result in a lot of success, so we're building something that will last."
There are different ways to measure the effectiveness of a defense.
The traditional standards are to evaluate on average yards and points allowed per game. Using these methods, the last time the Rebels ranked in the top four in the Mountain West in either was 2001.
The current staff took over after the 2014 season in which UNLV ranked in the bottom two in both categories, and last season the Rebels moved up to eighth in total defense (allowing 430.1 yards per game), but were next to last in scoring D (36.8 average).
Sanchez and defensive coordinator Kent Baer said given today's high-octane offenses, looking at red-zone defense, turnovers created and third-down effectiveness while also still considering scoring defense was a more accurate way to judge. UNLV was sixth in the conference in the red zone last season, tied for sixth in takeaways and ninth in third downs.
Not great numbers, but better than the traditional standards.
Baer said times are considerably different from one season when he coached in the Pac-10 Conference and eight schools gave up 300 yards or fewer.
"You're defending so much offense now," Baer said. "Now if you're giving up 300 yards, you're playing great defense. Really, the goal would be around 400 or less."
Certainly, the current staff isn't responsible for the years of struggle the defensive side has faced, and those coaches knew they had a major task on their hands when they took the job.
They are working with a lot of new faces, but that doesn't mean the defense is inexperienced.
"We've got a lot of guys who have played," Baer said. "That entire front has played a lot of football. A couple of those safeties have played quite a bit, and some of those corners have been in a lot of different games."
Changing starting personnel might not be such a bad thing, and if this training camp has shown anything regarding the defense, those players are more athletic than their predecessors.
"Last year, the effort was there, but we weren't confident enough to go out and make the plays," said senior defensive tackle Mike Hughes Jr. of Palo Verde High School. "The confidence is coming along. Everybody's going out and doing what they're supposed to do."
Given the Rebels should put a dynamic offense on the field, the defense doesn't need to be great. It just needs to do enough to keep the team in games.
So, in that way, it can be like a basketball team. Make a stop here and there and hope the offense scores enough points to win.
"I think we run the ball efficiently enough, and we're going to be more explosive in the passing game where we can control some tempo and be explosive when we want," Sanchez said. "That helps your defense, but if we're really going to take that next step, we've got to get off the field on third downs."
And, as Sanchez said, the Rebels didn't do that enough last season. He's hopeful this season will be different.
"Part of that is scheme and knowing your guys and matching up a little differently," Sanchez said. "Coach Baer's been there, and he's done a tremendous job developing this group. We'll figure it out."
More Rebels: Follow all of our UNLV coverage online at reviewjournal.com/Rebels and @RJRebels on Twitter.
Contact Mark Anderson at manderson@reviewjournal.com. Follow @markanderson65 on Twitter.
No defense
Average yards allowed
Year average national ranking MW ranking
2000 351.3 47 6
2001 347.5 37 4
2002 393.8 77 6
2003 377.7 58 7
2004 378.5 60 5
2005 405.6 81 5
2006 387.3 96 9
2007 386.8 62 7
2008 423.2 103 8
2009 456.2 115 9
2010 450.5 109 8
2011 443.2 105 7
2012 445.2 98 9
2013 433.2 97 6
2014 513.5 123 11
2015 457.2 109 12
2016 430.1 80 8
Average points allowed
Year average national ranking MW ranking
2000 21.8 41 4
2001 24.5 53 4
2002 30.5 84 6
2003 22.7 42 5
2004 32.5 98 8
2005 34.6 109 9
2006 31.8 109 9
2007 28.6 71 7
2008 32.6 100 8
2009 32.4 103 8
2010 39.7 116 8
2011 40.4 118 7
2012 32.6 95 7
2013 31.8 94 6
2014 38.5 113 12
2015 33.7 100 9
2016 36.8 112 11