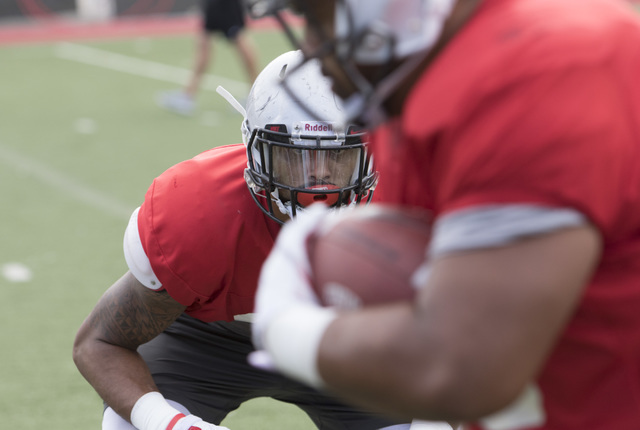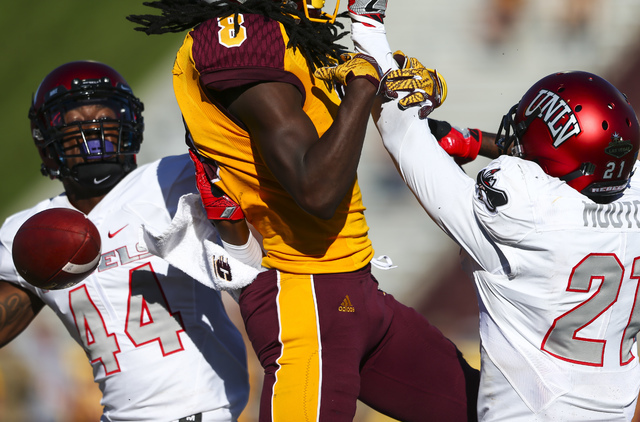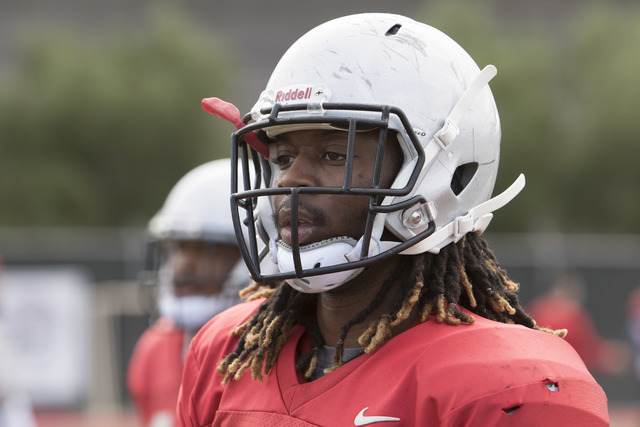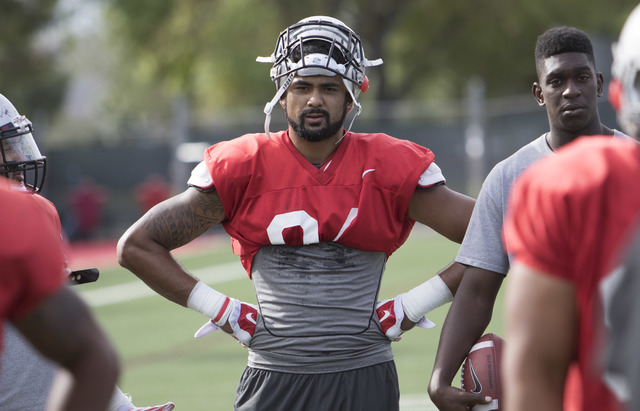 You are what your record says you are.
If that quote from Pro Football Hall of Fame coach Bill Parcells rings true for statistics, UNLV's 2016 defense is still as porous as it's been for the past eight seasons, when it allowed more than 30 points and 400 yards per game.
The Rebels (1-2) are giving up an average of 33 points and 417 yards this season, but senior strong safety Troy Hawthorne believes those numbers lie.
"Honestly, I do think we're miles ahead of where we were when I first got here, and I came in as a quarterback and played against the defense," he said. "Now I think it's a night-and-day difference. Once we get clicking on the same page, I think we can be one of the best in the Mountain West."
UNLV will close out its nonconference schedule at 6 p.m. Saturday against Idaho (1-2) at Sam Boyd Stadium, where it will host Fresno State (1-2) in its Oct. 1 league opener.
After struggling to wrap up runners in a 63-13 win over Jackson State and a 42-21 loss at UCLA, the Rebels' secondary unraveled in Saturday's 44-21 loss at Central Michigan. UNLV gave up 499 yards for the second straight game and surrendered six touchdown passes to Chippewas quarterback Cooper Rush, who had no shortage of wide-open receivers.
"We tackled well Saturday. We saw a big improvement there. That was good," Rebels coach Tony Sanchez said. "The biggest thing was we had three different times where wide receivers were running with no one in the vicinity. We had some major breakdowns.
"It wasn't like we were in the right spot and were just getting run by and physically getting outworked. Mentally, we did not have a very good game. Communication was an issue."
UNLV tried to fix its communication issues Sunday in players-only meetings. Hawthorne — who's second on the team in tackles (19) and has an interception, two forced fumbles and a fumble recovery — said the defense is starting to become closer.
In defense of the defense, the Rebels have faced two consecutive NFL-caliber quarterbacks in Rush and UCLA's Josh Rosen. However, Hawthorne said the biggest problem has been themselves.
"UCLA was bad tackling. (Central Michigan) was bad communication," he said. "Once we put it all together — because the coaches are giving us great game plans — I think we'll be all right no matter who we play."
UNLV also was stung by the loss of senior free safety Kenny Keys, who was suspended for the first half at Central Michigan for a targeting penalty incurred at UCLA. Keys was replaced by redshirt freshman Evan Austrie, who dislocated his shoulder and was replaced by sophomore Dalton Baker, who was called for pass interference that set up a Chippewas touchdown.
"Having Kenny gone was a huge loss for us," Hawthorne said. "I think this game you'll see a big difference with him playing the whole game. Kenny's a great player and one of our leaders out there. It's going to be huge for us to have him back."
Going back to Parcells' quote, the numbers say the Rebels' pass rush is still as anemic as last season, when UNLV finished last in the nation in sacks with nine. The Rebels didn't sack Rush and have only two sacks this season. In spite of the stats, coach Tony Sanchez said the pass rush has improved.
"You can't just look at sacks. You've got to look at knockdowns and we had nine knockdowns," he said. "We put (Rush) on the ground quite a bit. He did a really good job of, when the heat was on, delivering the ball and getting rid of it.
"He peeled himself off the ground quite a bit. We've got to continue to do that. That was a great test for us because that's one of the better teams we're going to play all year."
If UNLV beats Idaho as expected, the record will say the Rebels are a .500 team.
Contact reporter Todd Dewey at tdewey@reviewjournal.com or 702-383-0354. Follow him on Twitter: @tdewey33
UNLV vs. Idaho
When: 6 p.m. Saturday
Where: Sam Boyd Stadium
TV/Radio: unlvrebels.com, KWWN (1100 AM, 100.9 FM), @UNLVAthletics
Line: UNLV -14½; total 63½
Visit our GameDay page for full coverage of the UNLV-Idaho game.