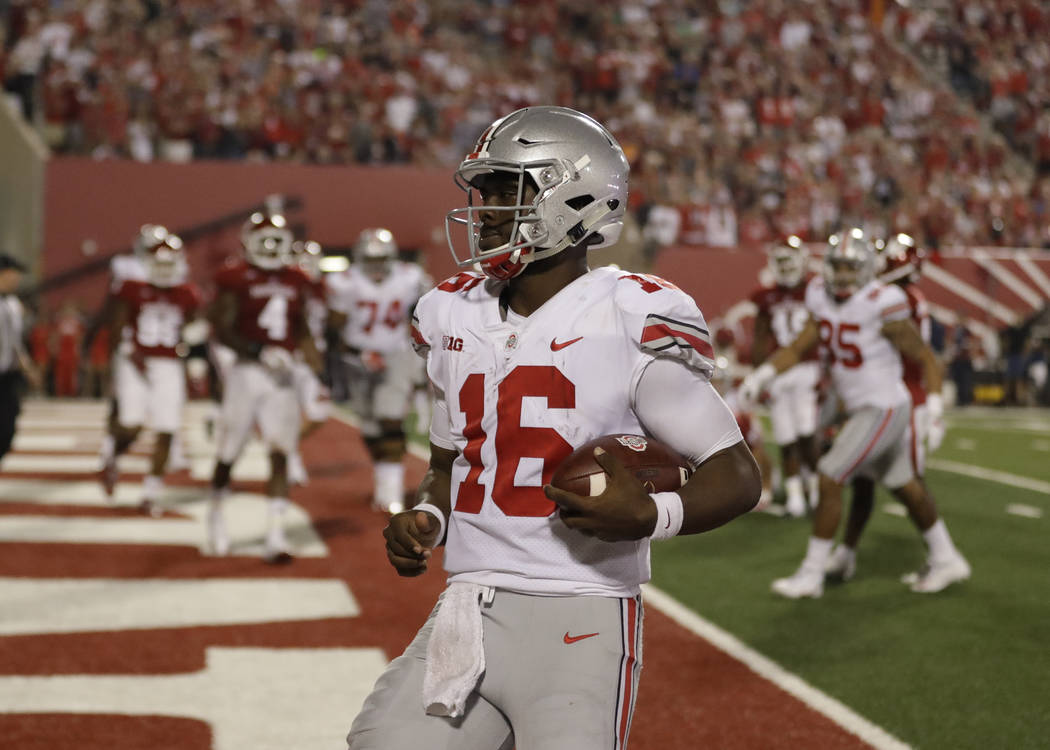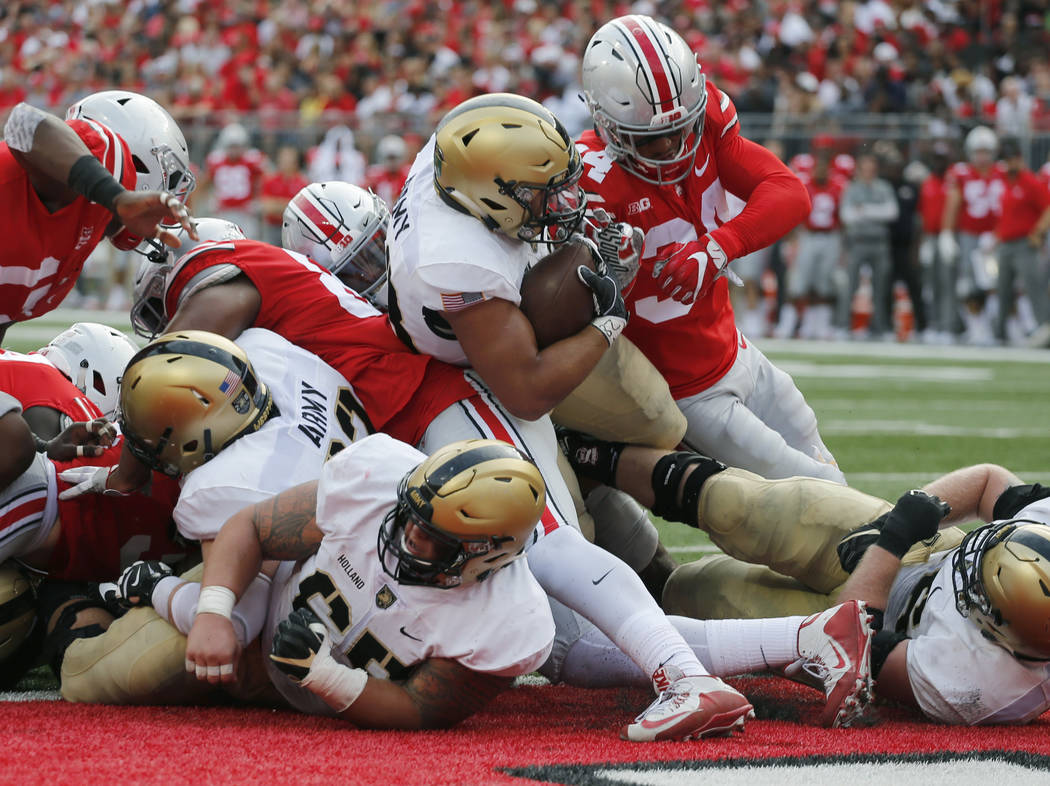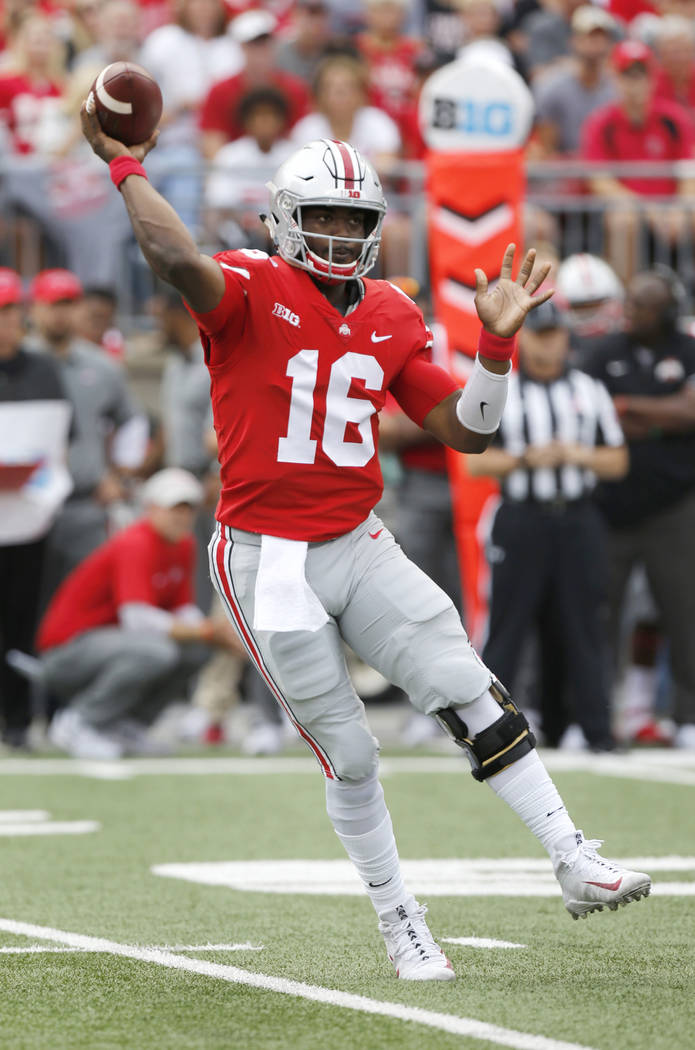 The talk among Ohio State faithful going into last weekend was whether senior J.T. Barrett was still the right man to be the starting quarterback.
He then quieted the concerns — for now anyway — with a strong performance in Saturday's 38-7 home victory over Army. And Barrett reminded everyone of his place in history with his 107th career touchdown (passing and rushing), beating by one the Big Ten Conference record held by none other than Drew Brees.
UNLV will face Barrett and the 10th-ranked Buckeyes when the Rebels visit the famed "Horseshoe" at 9 a.m. PDT Saturday. The Big Ten Network will televise the game, and Ohio State is a 40½-point favorite.
"There are not many players ever to play at Ohio State that have been the captain three years in a row," UNLV coach Tony Sanchez said Tuesday. "It just doesn't happen at a place like that. They've had so many great football players. The first thing you look for when choosing a quarterback is leadership.
"I know that sometimes in this crazy day and age you get a lot of chirping from the cheap seats, and he's had a little bit of that happen to him. He's done so much in his career, I'm sure that there's a little bit of a chip on his shoulder, and his guys are going to rally around him and fight hard for him because he's a great football player and they're a great team."
Barrett is the kind of quarterback who has given UNLV fits over the years, a player who can make plays running and throwing. He has passed for 757 yards this season and rushed for 159.
"He's great on his feet," UNLV defensive tackle Mike Hughes Jr. said. "There are a lot of plays that they have strictly for him. We have to keep him contained."
Not that it will be easy.
Barrett is 28-5 as the starter, and his 7,138 yards passing rank third in Ohio State history. Barring injury, he should blow past the record of 7,547 set by Art Schlichter from 1978-1981.
"The biggest thing with him is making him go to his second and third reads and not allow him to sit back there and hit his first throws," Sanchez said.
Barrett came under scrutiny following a 31-16 loss at home to Oklahoma on Sept. 9. He passed for 183 yards, with no touchdowns and one interception, marking the fourth time in five games Barrett failed to throw for 200 yards.
But then Barrett responded against Army by completing 25 of 33 passes for 270 yards and two touchdowns. He also rushed for a score.
Buckeyes coach Urban Meyer said he tells players to ignore criticism.
"It's hard to at times, but also we made a decision to come to Ohio State and a top-five program," Meyer said. "And what's expectation, life in the big city?
"It's an easy answer: J.T. leave. We won't let him. It's an easy answer for me: Leave. Don't do it anymore. So anything external is far less than what's going on internal, is the way I look at it. Come out to the practice field and watch the grind and the work so we don't have bad things happen."
Contact Mark Anderson at manderson@reviewjournal.com. Follow @markanderson65 on Twitter.
UNLV injury update
— TE Jamaal Neal — Underwent season-ending ankle surgery, but was already scheduled to redshirt
— LB Jacob Rominger — Out for the season with a torn ACL
— WR Mekhi Stevenson — Toe injury might keep him sidelined
— WR Drew Tejchman — Out at least three weeks and could reshirt because of a hip injury
— RB Charles Williams — Underwent season-ending ankle surgery