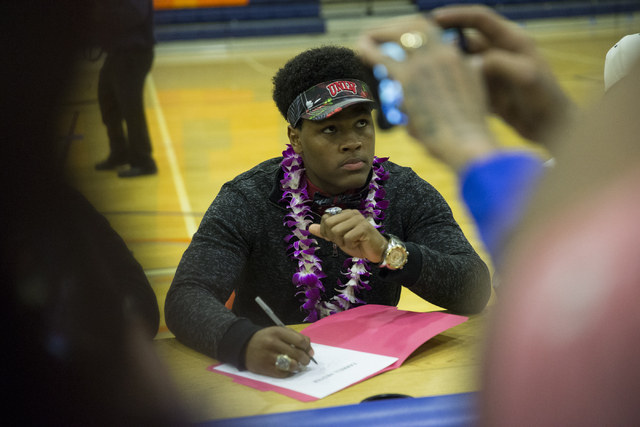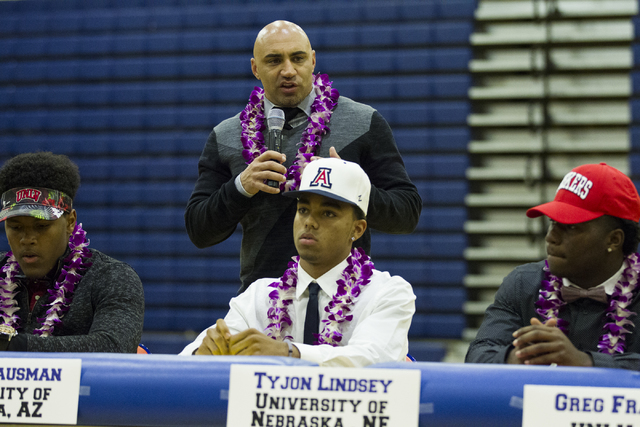 UNLV football coach Tony Sanchez knows all about Farrell Hester II, having coached him at Bishop Gorman High School, and he didn't have to be sold on the player's ability.
The freshman is justifying Sanchez's faith with a strong training camp in which he has received repetitions at first-team middle linebacker.
"He's got such a great aptitude for the game," Sanchez said. "He's so far ahead of the young guys coming in as far as knowing 'Xs' and 'Os' and knowing football and knowing how to practice.
"We said when we recruited him we felt we got a steal with him. He's done some really, really good things. He has days where it's like, man, he could fight for the (No.) 1 job, and he'll have a day where, OK, he's a little confused. It's one of those deals of just being consistent, but he'll play."
Incoming freshmen are off limits to the media during camp, but Hester will have plenty to talk about if he produces once the season begins Sept. 2 against Howard at Sam Boyd Stadium.
Hester (6 feet 1 inch, 240 pounds) is behind senior Brian Keyes (6-1, 250) on the depth chart.
"Those two guys, they're solid," Sanchez said.
Position breakdown
Running back
1. Charles Williams, So., 5-9, 185
2. Lexington Thomas, Jr., 5-9, 170
3T. Xzaviar Campbell, Jr., 5-11, 225
3T. Tariq Hollandsworth, Fr., 5-11, 210
3T. Evan Owens, Jr., 6-1, 215
All five players have received repetitions with the first team, and a rotation of three backs is expected to share the ball. The depth chart could change considerably throughout the season.
Notes
— Former UNLV quarterback Caleb Herring is finalizing a contract to replace Mike Pritchard as radio analyst for the team's games. Pritchard, who went to Rancho and played nine seasons in the NFL, served in that role since 2006. He joined a Denver radio station Aug. 1. Herring is ninth in UNLV history with 4,388 yards passing, and as a senior in 2013 led the Rebels to the Heart of Dallas Bowl.
— Senior defensive tackle Mike Hughes Jr., who went to Palo Verde, was held out of practice again because of a tight hamstring. Sanchez said Hughes would play if the Rebels had a game, but he didn't want to jeopardize making the injury worse. Sophomore defensive end Nick Dehdashtian, who also has been battling a tight hamstring, returned to practice.
— Freshman Justice Oluwaseun received repetitions at first-team center, joining the competition that includes junior Zack Singer of Bishop Gorman and senior J'Ondray Sanders of Basic. Junior Sid Acosta, who would have been the starter, probably won't return from a knee injury until the third or fourth week of the season, Sanchez said.
More Rebels: Follow all of our UNLV coverage online at reviewjournal.com/Rebels and @RJRebels on Twitter.