UNLV ineligible to play in bowl game next season because of low APR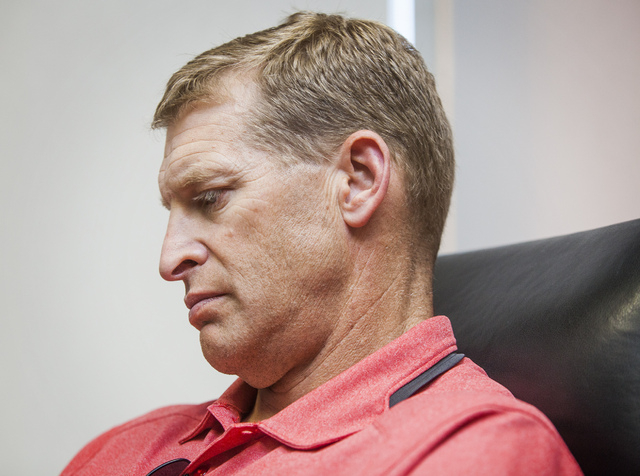 UNLV athletic director Tina Kunzer-Murphy wasn't surprised by the news she received from the NCAA on Thursday, but she compared it to receiving word of the death of a loved one or the end of a relationship.
"You know it's coming, but when the call comes, it was still devastating," she said. "It was devastating because I really thought that we had a chance."
The "devastating" news was that the NCAA rejected an appeal by UNLV, meaning the Rebels' football team, coming off its first bowl appearance in 13 years, will not be eligible to participate in the postseason next season, be it in a bowl or the Mountain West title game.
UNLV needed to average an Academic Progress Rate score of at least 930 over the past four years but produced a 925.
In addition to the postseason ban, UNLV also will lose four practice hours per week that instead must be devoted to academics, and can only participate in five days of football-type activities instead of six.
Coach Bobby Hauck informed the team in the afternoon.
"It was kind of like a kick in the groin," senior offensive left tackle Brett Boyko said. "Everyone was saddened by the news, but the biggest thing that bothers everybody is 96 percent of the guys in the locker room had nothing to do with it. I don't agree with (the punishment) at all. I think it's unfair."
Hauck said many in the 4 percent who didn't meet their academic obligations needed "between one class and one semester to finish up, and we can't get them to finish."
But Hauck, who will be entering his fifth season, took full responsibility, saying every part of the program ultimately "falls at my feet."
"I've got to do better," said Hauck, adding that he has known since 2011 that a potential problem existed regarding the minimum score. "The thing that bothers me a little bit is by getting an APR penalty, it's insinuated that we haven't been working at it, and that would be a falsehood because we have been."
Kunzer-Murphy acknowledged she has known about the issue since August, but hoped the school would be able to take the appropriate steps so the Rebels wouldn't lose bowl eligibility.
She also took her case to the NCAA, offering alternative punishments such as scholarship and practice reductions. Kunzer-Murphy also informed the organization of the steps UNLV is taking to prevent falling short of the APR again.
UNLV will spend $250,000 to improve its academic-support system. Some of the steps include creating a committee led by faculty athletic representative Brackley Frayer, instituting two new positions to work with athletes, buying 18 laptop computers, remodeling the study hall near the football offices, and hiring Forward Progress Athletics Consulting, a national company that specializes in the APR.
"The NCAA is what everybody says it's like," Kunzer-Murphy said. "It's unyielding. It's unbendable. We live within their guidelines, so we'll accept it and move on."
UNLV compliance director Eric Toliver said schools faced with low APRs have no recourse in avoiding postseason bans. Fellow Mountain West member San Jose State is not expected to be eligible to play in next season's men's basketball conference tournament because of a low score.
The NCAA believed "only a postseason ban was the appropriate response," Toliver said. "They felt like any of the other things we could've submitted were not going to be quote, unquote significant and meaningful enough (compared) to the postseason ban.
"(The NCAA) agreed that the budget cuts that affected our academic side of campus with some of our employees losing their jobs and elimination of dozens of programs, that was outside of the athletic department's control. … But we could've thrown the kitchen sink in, and it wouldn't have mattered."
The timing of the announcement is particularly bad for a Rebels program that appeared to be building momentum. UNLV went 7-6 last season and played in the Heart of Dallas Bowl, its first winning season and bowl appearance in 13 years.
Now the Rebels know their final game next season will be at home Nov. 29 against UNR, making that the team's de facto bowl.
"We as a university and everyone involved accept responsibility for this issue," UNLV acting President Don Snyder said.
"As a university, we succeed or fail as a team both academically and athletically. Clearly in this instance, we did not succeed, nor did we meet all of our obligations in this regard.
"We understand the consequences, and we're committed to correcting the situation."
Contact reporter Mark Anderson at manderson@reviewjournal.com or 702-387-2914. Follow him on Twitter @markanderson65.