UNLV looks to JC transfers Pingi Moli, Siuea Vaesau to shore up defensive line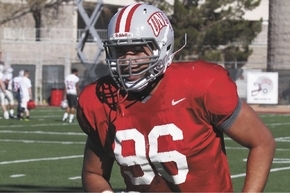 Both players were headed elsewhere, but each in his own way saw in UNLV a chance to make a significant difference.
The Rebels need midyear junior college transfers Pingi Moli and Siuea Vaesau to do just that, particularly on a defensive line that has struggled for so long.
Both football players found themselves on the first team during a recent goal-line drill, Moli at tackle and Vaesau at end.
What that will mean in September is uncertain. But in March, both lining up with the first group has to be an encouraging sign for the Rebels.
Coach Bobby Hauck said he was hopeful it's at least a deeper line with Moli and Vaesau in the mix.
"We're hoping to roll through two to three groups," Hauck said. "That's part of the deal we haven't been able to do, and we're hoping this fall to have enough depth to play a lot of guys on the defensive line. Especially with up-tempo offenses, those guys wear down. Those two have done a nice job coming in and getting with it."
Hauck came close to missing out on both players.
Moli (6 feet 4 inches, 265 pounds) had committed to Houston. He was sold on the Cougars' move to the Big East Conference but, after speaking to his family, had second thoughts.
Then Moli, who went to Mount San Antonio College in Walnut, Calif., gave UNLV a look. He liked the idea of going to a school that had to produce victories this season or Hauck and his staff likely would be fired.
"I feel like I've always been an underdog, which I've always loved because it's always made me work harder," Moli said. "That's what the coaches are all about. When they start talking, they're like, 'Yeah, we're an underdog program. No one thinks we're going to do good next year, but we're going to punch them right in the mouth.' That caught my attention right away because that's been my life story.
"That's something I didn't want to lose going to the next level was having to fight, and so I thought UNLV was the place. Everyone had the mentality to fight."
Vaesau (6-3, 250), who played at Diablo Valley College in Pleasant Hill, Calif., was all set to attend San Jose State. But he felt pressured into making the commitment, having been told the scholarship might not still be available if he were to look around.
Then when coach Mike MacIntyre left San Jose State to take over at Colorado, Vaesau said he "kind of felt stabbed in the back" because he didn't think Spartans coaches honored the same kind of commitment they asked him to make.
Regardless, Vaesau knew he better examine his options, so he visited UNLV.
"I came here, and I really did enjoy it way more," Vaesau said.
UNLV needs both players to help generate a pass rush. The Rebels recorded just 20 sacks last season, tied for sixth in the Mountain West.
They had a young, banged-up secondary that probably would have struggled anyway, but giving opposing quarterbacks time to throw exacerbated the struggles. The Rebels allowed 238.2 yards passing per game.
That statistic wouldn't seem so bad, but they also gave up 207.1 yards rushing per game. UNLV was consistently beaten at the line of scrimmage.
By signing Moli and Vaesau early, UNLV can work them into the system and give them a chance to make a stronger impact earlier.
"We feel like guys that come in the fall take about half a year to get going," Hauck said. "The prime example is (former linebacker John) Lotulelei. He didn't really get it going until about halfway through his junior year, and then all of the sudden, he looked like the real deal."
Contact reporter Mark Anderson at manderson@reviewjournal.com or 702-387-2914. Follow him on Twitter: @markanderson65.