UNLV puts greater emphasis on improving special teams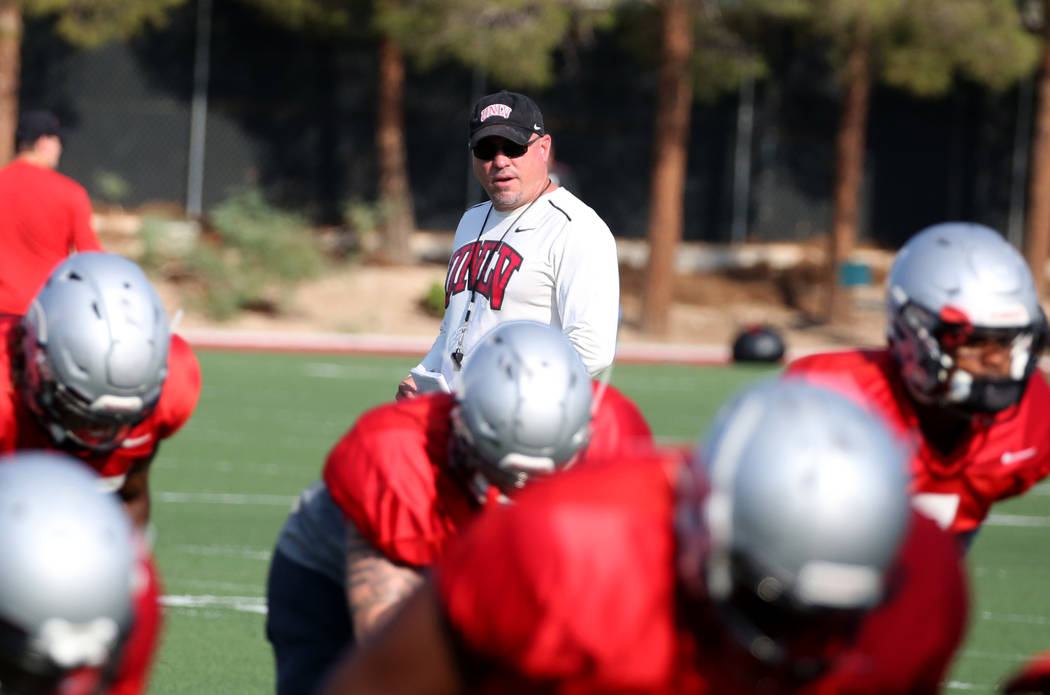 Special teams have been anything but for UNLV's football team for many seasons, but the Rebels are trying again to change that.
They spend 25 minutes in a morning meeting on special teams, 25 minutes of practice time, 20 minutes in an afternoon meeting and 15 minutes on an evening walk-through. Travis Burkett, who became special teams coordinator after last season, credited coach Tony Sanchez with providing that amount of time.
"We'll see what the kids think, but Tony makes the emphasis, which is the most important thing," Burkett said. "He gives our staff, which does the special teams, all the time in the world, which gives the kids an opportunity to get better at it."
UNLV was last season in the Mountain West in 2017 in kickoff returns with a 16.7-yard average and in net punting with a 33.1 average. The Rebels were eighth in punt returns with a 7.2 average.
"It's not a ton more (practice) time than we've done in the past, it's just greater emphasis on it," Sanchez said. "We've got to be better in special teams. If there are areas where we can show improvement — it's kind of like on the defensive side — it will make a great difference."
Position breakdown
Running backs
1. Lexington Thomas, Sr., 5-9, 170
2. (tie) Charles Williams, Soph., 5-9, 185; Xzaviar Campbell, Sr., 5-11, 225; Evan Owens, Sr., 6-1, 215
Notes
— The battle for backup running back could last throughout the season and vary depending on the opponent and situation.
— Junior defensive end Nick Dehdashtian missed his second practice in a row with an injured left foot, but was out of a walking boot. "His X-rays came back, no breaks, no ligament damage," Sanchez said. "So he'll be back soon."
— Sophomore nose tackle Kolo Uasike attended practice, but did not wear pads and watched from between the two fields. He still has not been cleared after experiencing problems because of massive weight loss.
— UNLV rotated players in and out on the defensive line as it develops a rotation. Junior Montrice Johns received first-team work at nose tackle, and sophomore Jamal Holloway got in at starting defensive end.
"I wouldn't put a lot of stock into who's starting on defense up front because you're going to see eight guys, nine guys coming in and out," Sanchez said. "Being a starter's a big deal, but that might last two or three plays."
More Rebels: Follow all of our UNLV coverage online at reviewjournal.com/Rebels and @RJRebels on Twitter.
Contact Mark Anderson at manderson@reviewjournal.com. Follow @markanderson65 on Twitter.