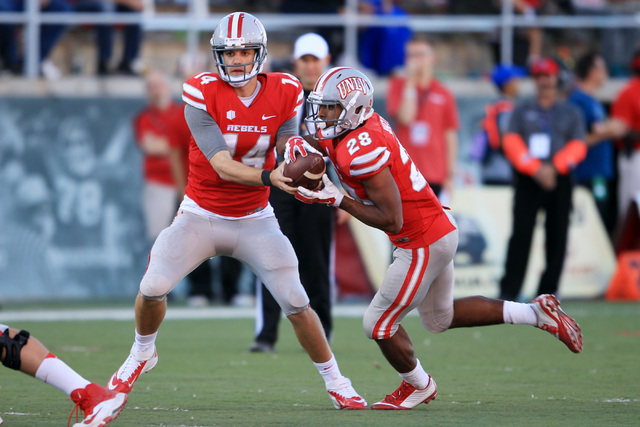 Jared Lebowitz has gone into every week preparing as if he was going to start, but most of the time the chances of even getting onto the football field were slim.
That is, until two weeks ago.
Now after coming off the bench the past two games, the redshirt freshman indeed could be UNLV's starting quarterback when the Rebels play at Hawaii at 8 p.m. PST Saturday.
That doesn't mean Lebowitz will start. Usual starter Blake Decker still could get the call, but he's dealing with a variety of ailments that might sideline him this weekend. A decision might not be made until game day.
"We all (the quarterbacks) prepare like we're going to start because it could happen," Lebowitz said. "Crazier things have happened."
Lebowitz began the season as the third-team quarterback behind juniors Decker and Nick Sherry. He moved ahead of Sherry at about midseason, a promotion that prompted Sherry to quit the team, coach Bobby Hauck said.
Moving up to second team was valuable to Lebowitz for reasons other than putting him one injured knee from becoming the starter.
"Being a third-stringer is hard because you don't play much football," Lebowitz said. "The starters get all the (repetitions), and the backups get a couple of reps. You can do as many mental reps as you can, but there's nothing to replace the real thing.
"I felt a little more comfortable back there with the more reps I got."
Lebowitz (6 feet 4 inches, 195 pounds) played high school football on both ends of the country. He spent his first two seasons at South Burlington (Vt.) High School before moving to Southern California and playing at St. Francis High, north of Pasadena. Lebowitz passed for 2,560 yards and 23 touchdowns as a senior and was named the nation's No. 40 pro-style quarterback by 247Sports.com.
He redshirted last season and didn't play this year until two weeks against Air Force. It wasn't a memorable debut, with Lebowitz completing 3 of 12 passes for 18 yards.
"People thought I was freaking out a lot more than I was," he said. "I walked up to the offensive line, and they're all seniors and returners, basically a returning receiving corps. It's not like super- humans out there. It's college football. It's a little faster, a little bigger than high school. Everyone's good. You've got to be sound. You've got to be prepared. You've got to be able to play out there. You can get thrown in the fire, which happened."
His numbers improved Saturday, when he played in relief at Brigham Young and hit 10 of 20 passes for 114 yards, including a 40-yard touchdown pass to Devonte Boyd.
"He saw things well both games, but he was able to hit some passes in the game against BYU," Hauck said. "It was a pretty good leap in terms of putting the ball on the money a little better, and the more you play, the better you get. He took care of the football. His reads were pretty good. So I'm enthused about the way he came in, and those are trying circumstances."
Contact reporter Mark Anderson at manderson@reviewjournal.com or 702-387-2914. Follow him on Twitter: @markanderson65.
Check our GameDay page for all the news leading up to the UNLV-Hawaii game.