UNLV quarterback battle continues entering Saturday's spring scrimmage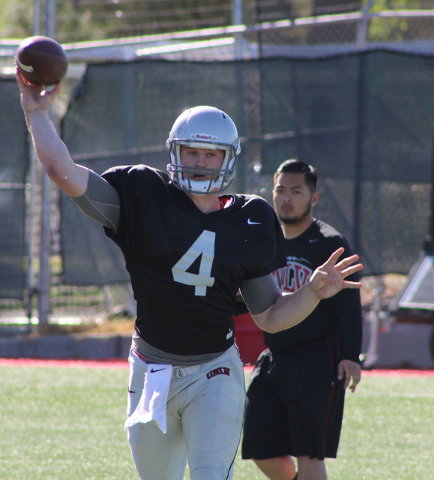 After a slow start to spring practice, UNLV quarterback Johnny Stanton has come on strong. But, heading into today's spring game, coach Tony Sanchez isn't ready to anoint the former Nebraska player as the Rebels' starting quarterback over incumbent starter Kurt Palandech.
"We're not rushing it. We're letting both those guys share the reps," Sanchez said. "Sometimes we rush things too much in this game and there's no reason to. We're going to get them equal reps and make sure they're both prepared.
"Going into the fall, we'll make a decision going into Week 1 and go from there."
The spring game, a free, family-friendly event featuring a 50-minute scrimmage, is scheduled for noon at UNLV's Johann Memorial Field, located near the intersection of Swenson Avenue and Flamingo Road.
Stanton played in last year's spring game at Nebraska in front of a crowd of 76,881 before transferring to Saddleback College in Mission Viejo, California, where he earned junior college all-American honors before transferring to UNLV.
After struggling to get acclimated to a new offense early on, Stanton has hit his stride heading into the Rebels' 15th and final spring practice.
"I'm much more confident in the offense now that we're at the end of spring ball. That's really what my issue was before," Stanton said. "I'm always sure of my arm strength and my accuracy and of the way I can play. It was really just getting used to the offense.
"I'm ending on a high note. That's where I wanted to be. I wanted to be splitting the (No.) 1 reps and I'm in a position to be able to win that starting job. But the competition's not over. I've got to keep working at it."
Quarterbacks have been live targets in every spring scrimmage so far, but will be off limits today.
"Everything else will be full, live go," Sanchez said. "We're just going to whistle the quarterbacks."
Defense has had the edge over the offense in practice. Just ask linebacker Brian Keyes.
"Definitely. I think we've got them eight out of 10 times," he said. "It's all about flying around, having fun and hitting people."
Running back Lexington Thomas and wide receiver Darren Woods Jr. have been among the Rebels' biggest spring standouts and Sanchez also praised the play of the beefed-up offensive line, including 6-foot-7-inch, 292-pound left tackle Kyle Saxelid, who gained 22 pounds since last season.
Sanchez also has been impressed by receiver Brandon Presley and tight ends Andrew Price, Trevor Kanteman and Tim Holt.
The second-year coach also singled out several players on defense, including defensive end Jeremiah Valoaga, defensive tackle Mike Hughes Jr. and returning starting senior linebacker Tau Lotulelei.
"He's always been a talented guy, but coach (Kent) Baer has done a really good job of teaching him the game and how to do it right," Sanchez said of Lotulelei. "We've seen a huge maturation in him."
Other defensive players who had strong springs include cornerbacks Darius Mouton, Tim Hough and Torry McTyer, linebackers Keyes and Ryan McAleenan and defensive lineman Gabe McCoy.
"There's a lot of guys that showed promise but what all these guys have got to understand is they've got to stay humble because none of them have done a darn thing in a game yet," Sanchez said. "You've still got to do it on a Saturday afternoon. When you do that, then you earn your stripes."
■ NOTE — Former UNLV coach Harvey Hyde will air a special two-hour show from the spring game on a tape-delayed basis from 5 to 7 p.m. today on KSHP-AM (1400).
Contact reporter Todd Dewey at tdewey@reviewjournal.com or 702-383-0354. Follow on Twitter: @tdewey33
If you go
What: UNLV spring game
When: Noon Saturday.
Where: Johann Memorial Field, located near the intersection of Swenson Avenue and Flamingo Road
Cost: Free