UNLV quarterback had two weeks to stew over ugly loss
October 7, 2011 - 1:03 am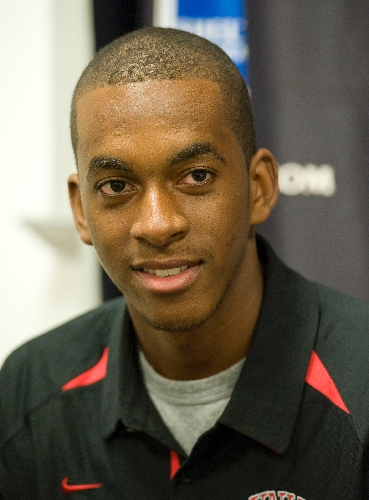 Caleb Herring remembers the dejection he felt walking off the field and how he didn't want to feel that way again.
It was 2006, and Herring was the sophomore quarterback at Citrus Hill High School in Perris, Calif. His team had just watched its season end in a 31-14 loss in the first round of the playoffs.
"I took that whole offseason and kind of ate on it," Herring said. "I came back ready to work."
He not only came back strong, Herring never lost another high school football game, going a combined 28-0 in 2007 and 2008 to capture the section title both seasons.
Now Herring, the sophomore quarterback at UNLV, finds himself in a similar situation trying to shake the same unnerving feeling.
He threw three interceptions, all returned for touchdowns, in a stunning 41-16 loss Sept. 24 to Southern Utah — a team placed on the schedule to give the Rebels an almost free victory.
This time, Herring won't have an entire offseason to respond to a difficult outing. He has only two weeks, and he must come back in the intimidating atmosphere of the Rebels' biggest rival, UNR, at 4 p.m. Saturday.
"I thought (last week) about what I did and how I (need to) focus in on my job and my responsibilities," Herring said. "I tried to do that as much as I could. It's just refocusing on what I have to do and getting back down to business."
After the loss to Southern Utah, Herring said he began to press as the game got out of hand, but coach Bobby Hauck said he didn't notice any outward signs.
And early this week, Hauck said he didn't see any indication his quarterback was feeling tense or lacking confidence.
"He's pretty solid mentally," Hauck said. "I don't worry so much about him.
"Certain guys you can really get on, and certain guys if you look at sideways they go in the tank. They're all different, but he's a guy that can handle pretty much anything that's thrown at him."
Herring had shown promise before the Southern Utah loss.
The former three-star recruit outplayed junior college transfer Sean Reilly in their position battle in spring practices and easily secured the spot in August training camp.
Herring opened the season with a 146-yard, two-touchdown performance at Wisconsin but threw for only 60 yards the following week at Washington State. In UNLV's 40-20 upset of Hawaii, he passed for 178 yards and two scores.
Then came the Southern Utah game, which began to head downhill when Herring checked out of a first-and-goal running play at the 1-yard line. A touchdown would've put UNLV up 14-0 with about six minutes left in the first quarter, but Herring threw to wide receiver Phillip Payne, who was called for offensive pass interference.
The drive ended when Herring was sacked and lost a fumble.
"It's one of those things, you make a mistake and you have to learn from it, or else that mistake repeats itself and it's almost double as a negative for you," Herring said. "It was pretty drilled into my head (by coaches) that it's something I've got to get cleaned up, and it will be."
The game got worse from there, with Herring throwing touchdown passes to defensive players in the second, third and fourth quarters. The one in the third opened the second half and gave the Thunderbirds the lead for good at 16-10.
Herring owned up following the game, saying he "let my team down."
What he does at UNR will help define what kind of season and possibly career Herring will have at UNLV.
"We've talked to him about what good players do," Hauck said. "When they have a poor performance, they rally back. Real competitors do that. He's a great competitor, and I think he'll do that."
Contact reporter Mark Anderson at manderson@reviewjournal.com or 702-387-2914. Follow him on Twitter: @markanderson65.