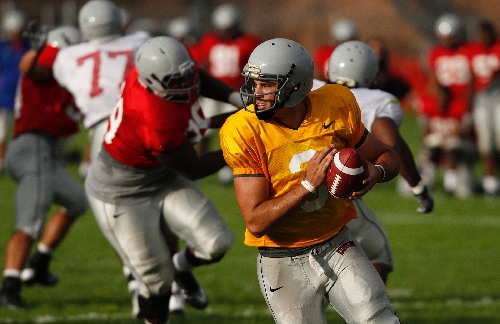 ELY – UNLV running back Dionza Bradford finally rid himself of the blue injury jersey and returned to practice Sunday.
The sophomore had been out since spraining his right ankle Aug. 11 in Las Vegas.
Now, Bradford hopes to climb from fourth on the depth chart. Coach Bobby Hauck said he doesn't think Bradford will be completely back until after the season begins.
"I would say it's going to be a little bit," Hauck said. "You can't help but be rusty when you miss six or seven days or whatever it's been."
Bradford proved to be a valuable back last season, rushing for 100 yards three times and finishing with 615 yards and three touchdowns. He averaged 4.6 yards per carry.
Because of that success, Bradford said he's confident he can quickly return to form.
"I felt pretty good out there today," he said. Last season is "definitely motivation. It pushes me to want to get out there and practice and go as hard as I can."
Bradford left the team during spring drills for personal reasons. Though he was allowed to rejoin UNLV for camp, he already was behind the other backs.
Now he's even further behind.
"Any time you're missing practice, you're not getting better," Hauck said. "If you miss practice, then somebody's going ahead of you. It's the nature of it, and sometimes you can't help the fact that you're injured, but that's not the other guys' fault, either."
But, for the Rebels' sake, at least Bradford is back. Standing on the sideline watching wasn't easy for him.
"It felt so good to get back in here," Bradford said. "I had a long enough break as it is, so getting hurt the first day in pads was really frustrating."
NOTABLE
Hauck didn't name a starting quarterback Sunday. The job is between redshirt freshman Nick Sherry and junior Caleb Herring. Hauck said he didn't know when an announcement would be made. UNLV will scrimmage again Wednesday morning before returning to Las Vegas, so it's doubtful an announcement will come before then. "We've got to let those guys go some more," Hauck said. "They're competing hard. You don't want to be too preliminary when they're both doing a nice job." … The Rebels broke into scout-team work for the first time to prepare for the Aug. 30 season opener against Minnesota at Sam Boyd Stadium. … Heavy rains hit practice again, but no interruption occurred this time. The Rebels have faced weather delays twice in Ely, which was mostly dry during training camps of recent years. Hauck said the weather has not hampered preparations.
IN THE SPOTLIGHT
RUNNING BACK: Bradford's return is important, but he starts near the back of the field. Expect him, however, to make the position more competitive and give the Rebels one of the Mountain West Conference's deepest running attacks.