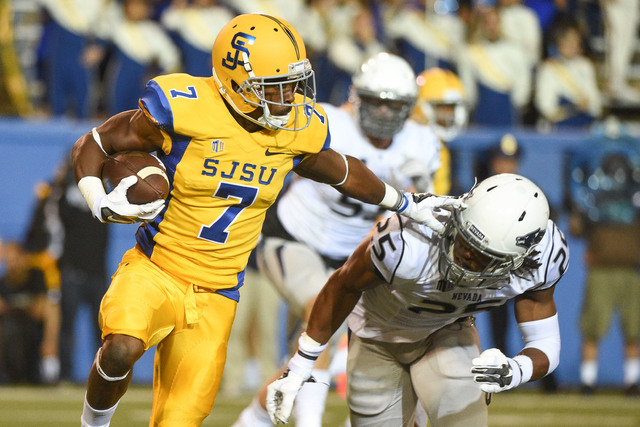 UNLV and San Jose State might not be mirror images of each other, but they certainly bear a striking resemblance.
Each football team is on a three-game losing streak, each has won one game, each has given away winnable games with egregious mistakes, and each has discovered just how difficult it is to replace quality talent.
UNLV coach Bobby Hauck said Monday the teams are even much alike in their offensive and defensive alignments.
"We see them a lot in recruiting," Hauck said. "We see ourselves in them, to a degree."
Now both teams prepare to play each other, each with the opportunity of adding life back into the season when they meet at 5 p.m. Saturday in San Jose, Calif.
That game could come down to which team makes the fewest mistakes.
UNLV (1-4, 0-1 Mountain West) played San Diego State almost evenly statistically Saturday, getting outgained 466 yards to 455. But the Rebels made a series of mistakes, including twice having passes intercepted while driving for potential touchdowns, that helped lead to a 34-17 defeat.
One interception was on quarterback Blake Decker's pass into double coverage in the end zone, and the other was on running back George Naufahu's drop of a pinpoint pass that wound up in the hands of an Aztecs defender.
San Jose State (1-3, 0-1) can tell a similar story of its 21-10 loss to UNR this past weekend. The Spartans outgained UNR 446 yards to 256, but they also committed three turnovers to none for the Wolf Pack.
"Neither of us started out, I'm sure, with the record we foresaw," Spartans coach Ron Caragher said. "Nevertheless, and I'll speak for ourselves, we're encouraged as our players have continued to come together. We've seen some improvement on the defensive side, and offensively, I think we're close.
"We're knocking on the door. We think that door's going to open in the near future, and I'm sure that Bobby and his coaching staff feel the same way with the Rebels. They just need things to click and get a little momentum going their way."
The teams met under considerably different circumstances last season in Las Vegas, with each chasing bowl berths. San Jose State jumped out to a 24-3 halftime lead and withstood a UNLV rally to win 34-24.
Though both teams eventually became bowl eligible, only UNLV played in the postseason. The Spartans finished 6-6 and were passed over.
That San Jose State team was led by an outstanding quarterback in David Fales, the only player in the school history to pass for 4,000 yards in a season. He did it twice.
In trying to replace Fales, San Jose State first tried Blake Jurich, then went with Joe Gray for the UNR game. Now Gray, who completed 32 of 46 passes for 276 yards with two interceptions, is the starter.
UNLV has been trying to make up for the losses of quarterback Caleb Herring and running back Tim Cornett. Herring rescued the Rebels' season last year by passing for 2,718 yards and 24 touchdowns. Cornett became the school's all-team leading rusher with 3,733 yards.
Decker has shown promise in following Herring, throwing for 1,229 yards, but he also has tossed nine interceptions to five touchdown passes. At running back, the Rebels have used Keith Whitely and Naufahu to take Cornett's place, and they have combined for 400 yards and two touchdowns.
NOTES — Junior Ron Scoggins was listed as the starting left guard. He started the past two games and has 21 starts for his UNLV career. Junior Ryan McAleenan is No. 1 at middle linebacker. He received his first start Saturday at San Diego State.
Contact reporter Mark Anderson at manderson@reviewjournal.com or 702-387-2914. Follow @markanderson65 on Twitter.