UNLV spring Day 13 recap: Good times for Raiders fan Kyle Saxelid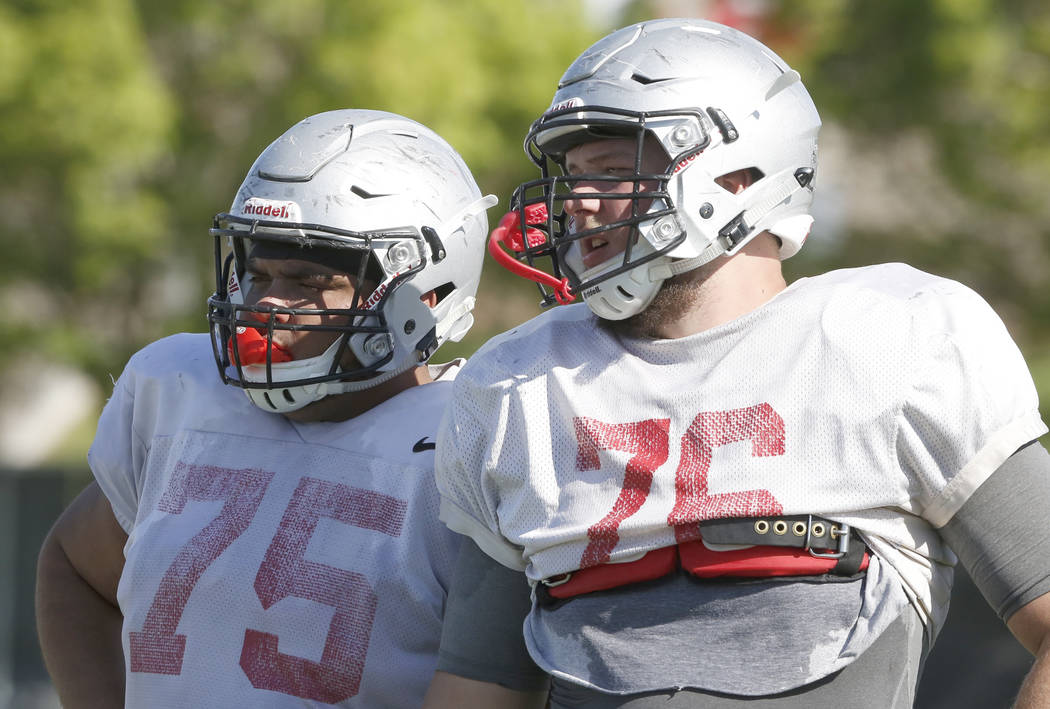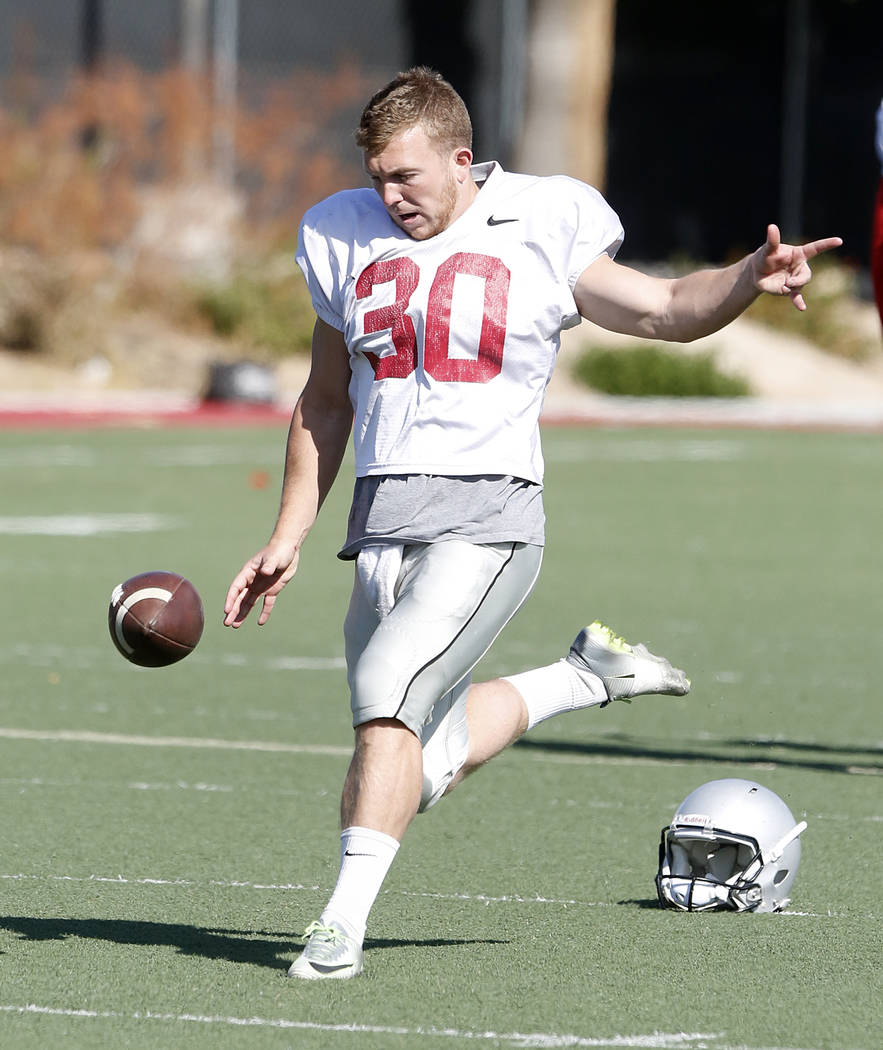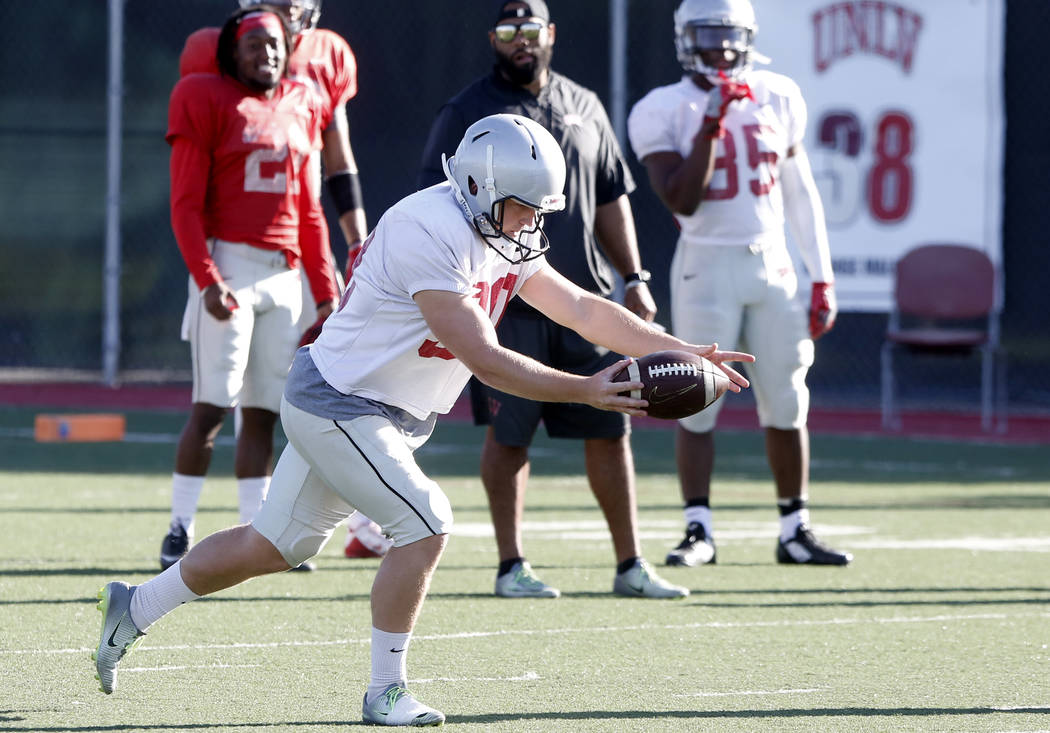 Kyle Saxelid, a Northern California native and UNLV's left tackle, has no bittersweet feelings about the Raiders leaving Oakland for Las Vegas.
Saxelid, a lifelong Raiders fan, is thrilled about the Silver and Black moving to his second home.
"Super psyched," said Saxelid, who played at Cosumnes Oaks High School in Elk Grove, California. "I loved the Raiders, have since I was a little kid. Now that they're coming to Vegas, man, that's a dream right there. Came here, and I can't go to games anymore because I'm always out here, but now they're coming out here. Dude, it's the best.
"I live out here now. It's all about (Las Vegas)."
It's been a good month for Saxelid. He filled out his 6-foot-7-inch frame with an added 28 pounds and has flourished at left tackle for the Rebels this spring.
"This is the first time I'm actually the size of an offensive lineman out here," said Saxelid, who went from 275 pounds to 303 pounds heading into his senior season. "I feel like I've made a good amount of progress. I can still move even with the weight gain, and it just feels good."
UNLV's offensive line took a hit when Sid Acosta, who was penciled in as the new starting center, injured his knee during a spring practice. He's scheduled for surgery next week and could be back in time for the fall, according to Rebels coach Tony Sanchez.
Zack Singer will move from guard to take over at center.
"I have all the confidence in Zack Singer," Saxelid said. "We were excited about Sid, but we're lucky to have guys like Zack step up. That wasn't the case before.
"Overall, the offensive line looks good. Jaron Caldwell has the potential to be great."
KICKER STAYING BUSY
Two areas the Rebels aren't worry about this spring are the kicker and punter positions.
Both those gigs belong to Evan Pantels, and he did it well last season during his first year at UNLV.
"Spring ball is great," said Pantels, who went a perfect 42 for 42 on extra-point kicks a year ago. "Joe Lang is doing a phenomenal job snapping to me. I'm punting and kicking everyday, and we're in sync with the whole team."
Pantels, who transferred from Georgia Military College, connected on 13 out of his 14 field goal attempts in 2016.
Follow all of our UNLV football coverage at reviewjournal.com/Rebels and @RJRebels on Twitter.
Contact Gilbert Manzano at gmanzano@reviewjournal.com or 702-383-0492. Follow @gmanzano24 on Twitter.