UNLV spring football report: Day 5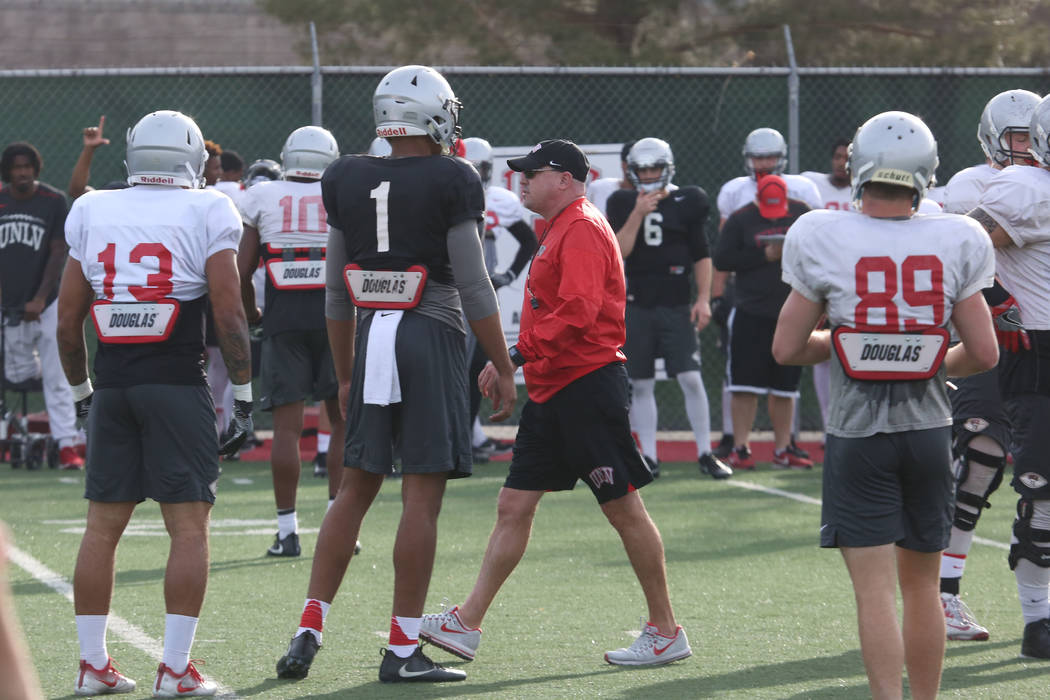 UNLV coach Tony Sanchez, on Day Five of spring football practices Thursday at Rebel Park:
"It wasn't bad. It was our first live day. In that last team session at the end, we did 15 scripted plays. We ended up getting in 35 overall live, so it was good to get out there. It was good to see some live tackles. Started off a little slow. We've got to do a better job of transitioning out from the meeting room and getting going. Once we did, it was a pretty good practice. It's crazy, we've already finished five. You've got three more to go, and then you take a break and you come back for the last seven. One of those is the spring game, and one of those is a helmet-only practice. So it's going by fast, but I like the energy to this point, and I like where we're at."
Notes
— Sophomore guard Matt Brayton was on crutches with torn toe ligaments.
"Hopefully, that's a couple of weeks," Sanchez said. "Hopefully, he doesn't need surgery, but we'll see."
— Sophomore JD Alexander, an Arizona State transfer, worked with the starting linebackers and junior Demitrious Gibbs at first-team safety.
"We're just rotating guys in," Sanchez said. Defensive coordinator Tim Skipper "told (players) there's no depth chart on defense. It's a wide-open competition.
"When it comes to the backers and when it comes to the safeties, there's a hard competition."
— If a proposal by the NCAA Football Rules Committee is approved, teams will be able to fair catch kickoffs inside the 25-yard line and still have them count as touchbacks. The NCAA Playing Rules Oversight Panel will discuss the proposal April 13.
"I'm an old traditionalist, and I love the old rules of returning kicks," Sanchez said. "I know we're taking some of the physicality out of the game. I do understand for the game and where it's going we have to be conscious about that stuff. I'm a little torn on that.
"I think one of the biggest concerns is the collisions that occur on kickoffs. It's probably one of the most violent collisions that occur in the game."
More Rebels: Follow all of our UNLV coverage online at reviewjournal.com/Rebels and @RJRebels on Twitter.
Contact Mark Anderson at manderson@reviewjournal.com. Follow @markanderson65 on Twitter.