UNLV-UNR position breakdown
October 2, 2015 - 10:58 pm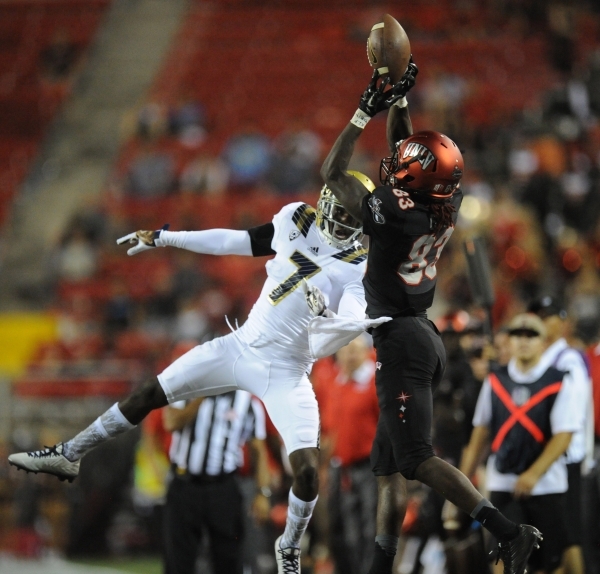 QUARTERBACK
Replacing former UNR standout Cody Fajardo is not easy, as Tyler Stewart is finding out. UNLV's passing game hasn't done much since the season opener, but Blake Decker is capable of getting hot at any moment.
Edge: UNLV
RUNNING BACK
Both teams offer strong run games, with the Rebels coming off a 517-yard, six-touchdown performance against Idaho State. The Wolf Pack, however, have been more consistent, and James Butler and Don Jackson are the Mountain West's best duo.
Edge: UNR
WIDE RECEIVER
One team has a game-breaker, and that's UNLV with Devonte Boyd. The two receiving corps are pretty similar otherwise, which is to say they have plenty of room for improvement.
Edge: UNLV
OFFENSIVE LINE
It's been a season of ups and downs for the Rebels up front, but they are coming off their best performance. UNR has traditionally taken great pride in its line, and though inexperienced, it's showing signs of being a quality front.
Edge: UNR
DEFENSIVE LINE
Losing Rykeem Yates to suspension was a big blow to the Wolf Pack, who already struggle to stop opposing running attacks. UNLV has struggled as well against the run, but the Rebels have been physical and made their share of plays.
Edge: UNLV
LINEBACKER
All three Wolf Pack starters could receive all-conference recognition after the season. UNLV is down a starter, but Tau Lotulelei and Ryan McAleenan are quality players.
Edge: UNR
SECONDARY
The Rebels' secondary has been strong, having already intercepted eight passes compared with seven all of last season. Opponents have hit the Wolf Pack for 286.8 yards passing per game.
Edge: UNLV
SPECIAL TEAMS
UNR is strong across the board from kicker to punter to the return games. The Rebels have their bright spots, but can't quite measure up.
Edge: UNR
INTANGIBLES
This is a tough call. UNR players usually have the confidence they can make the key plays in this series, but the Rebels take a confident team to Reno. They also played better against a tougher schedule and have the motivation of being the underdogs.
Edge: UNLV
HANDICAPPER'S TAKE
Bruce Marshall (goldsheet.com): UNR 34, UNLV 31 — First-year UNLV coach Tony Sanchez is proving he can rout outclassed foes (80-8 last Saturday versus Idaho State) as he did at Bishop Gorman High. Fremont Cannon foe UNR is a tougher test, now with a double-barreled running back combo (Butler and Jackson combined for 290 yards at Buffalo), while junior quarterback Stewart led the Wolf Pack Pistol with some flair the past two weeks at Texas A&M and Buffalo in two UNR covers. But now-healthy gunslinger quarterback Decker allows the Rebels (10-4 versus the line in their past 14 away games) a chance to trade points and keep this one tight at Mackay Stadium.
Check our GameDay page for all the news leading up to the UNLV-UNR game.