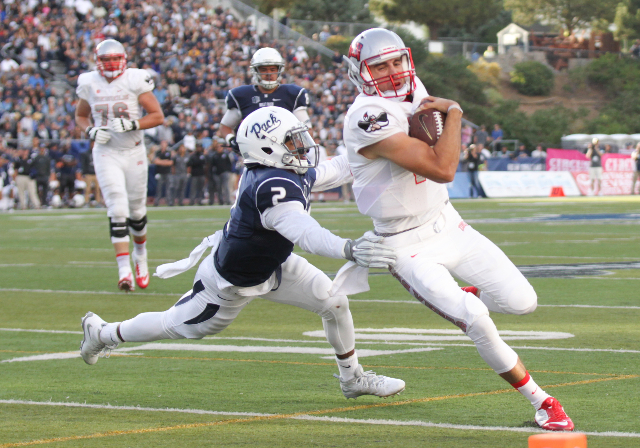 QUARTERBACK
UNLV's starting quarterback (Blake Decker) is hurt, and his replacement (Kurt Palandech) has struggled in extended playing time. San Jose State will start Kenny Potter or Joe Gray, and either puts the Spartans in a better spot at this position than where the Rebels find themselves.
Edge: San Jose State
RUNNING BACK
San Jose State's Tyler Ervin leads the Mountain West and is second nationally in rushing with 801 yards. UNLV uses more of a committee system, and the Rebels' backs haven't been nearly as consistent.
Edge: San Jose State
WIDE RECEIVER
This was thought to be a strength for UNLV, but it hasn't played out that way. San Jose State's Tyler Winston, Billy Freeman and Tim Crawley have more catches (60) than all seven of UNLV's receivers and tight ends combined (52).
Edge: San Jose State
OFFENSIVE LINE
The Spartans have given up 14 sacks, though they have done a good job run blocking. UNLV has had its moments when it has blocked well, but has been overwhelmed at other times.
Edge: San Jose State
DEFENSIVE LINE
UNLV has been physical up front, an amazing transformation from the line that struggled so much in the spring. San Jose State gives up 235.8 yards rushing per game and recorded only three sacks, though end Eugene Taylor has two of those.
Edge: UNLV
LINEBACKER
Tau Lotulelei and Ryan McAleenan have combined for six tackles for loss, including 2½ sacks, for the Rebels. San Jose State's Christian Tago is a quality player who has 45 tackles, including four for loss.
Edge: UNLV
SECONDARY
San Jose State is second nationally in pass defense, allowing 97.2 yards per game. UNLV's secondary has played well, but not quite at that level.
Edge: San Jose State
SPECIAL TEAMS
Both teams have terrific punters. UNLV's Logan Yunker helped beat UNR by constantly pinning the Wolf Pack deep in its territory, and San Jose State's Michael Carrizosa averages an astounding 52.2 yards per attempt. The Rebels are better in the kicking game, the teams are similar in the return games, and both have struggled in defending returns. It's a close call.
Edge: UNLV
INTANGIBLES
The Rebels have been in this position before. They returned home two years ago after winning at UNR and came out flat against San Jose State. Don't expect that to happen again because first-year coach Tony Sanchez is really good at helping his team focus on the task ahead.
Edge: UNLV
HANDICAPPER'S TAKE
Bruce Marshall (goldsheet.com): SAN JOSE STATE 24, UNLV 16 — Vegas fans have delayed their usual October countdown to start of UNLV hoops after a pair of encouraging wins that have locals dreaming of contention in what appears to be a very watered-down MW West. But likely absence of gunslinger QB Decker (non-throwing shoulder; available only in emergency) puts backup Palandech in lineup, and Rebs passing game has not been hitting on all cylinders. San Jose also impressed in recent romp past Fresno State and competitive loss at Auburn, and runaway Spartan RB Ervin's 801 yards trails only Louisiana State's Leonard Fournette in national rush stats.
Check our GameDay page for all the news leading up to the UNLV-SJSU game.