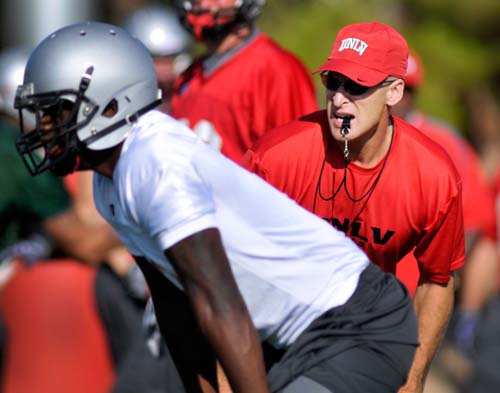 UNLV opens this football season with four consecutive home games, according to the schedule released today by the Mountain West Conference.
The Rebels will play upstate rival UNR as a conference foe for the first time since they were Big West Conference members in 1995. But the teams will meet in October rather than the end of the season. Rebels coach Bobby Hauck has said he would like to play the Wolf Pack at the end of the season.
All Mountain West teams are skipping a league opponent this season. UNLV, which will not have a bye this season after taking two weeks off in 2011, will not play new member Fresno State.
The Rebels, however, will play 13 games. They are allowed the extra game because of a trip to Hawaii.
Aug. 30 — Minnesota
Sept. 8 — Northern Arizona
Sept. 15 — Washington State
Sept. 22 — Air Force
Sept. 29 — at Utah State
Oct. 6 — at Louisiana Tech
Oct. 13 — UNR
Oct. 20 — at Boise State
Oct. 27 — at San Diego State
Nov. 3 — New Mexico
Nov. 10 — at Colorado State
Nov. 17 — Wyoming
Nov. 24 — at Hawaii