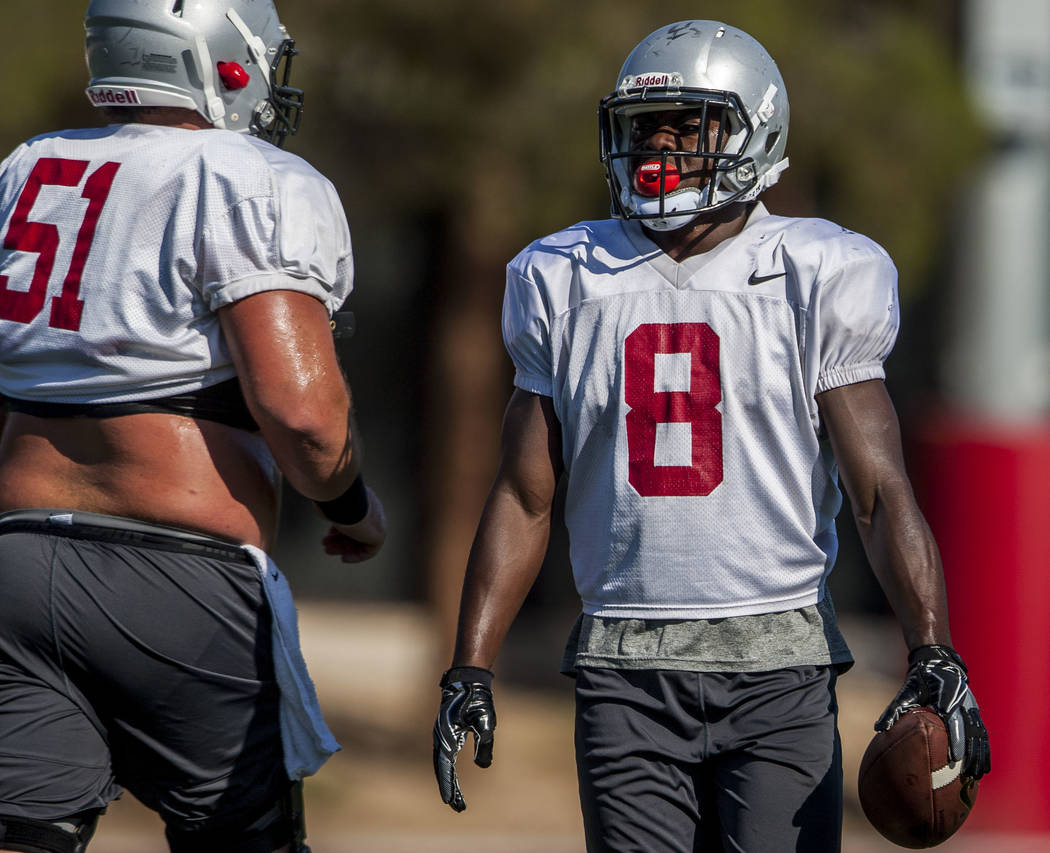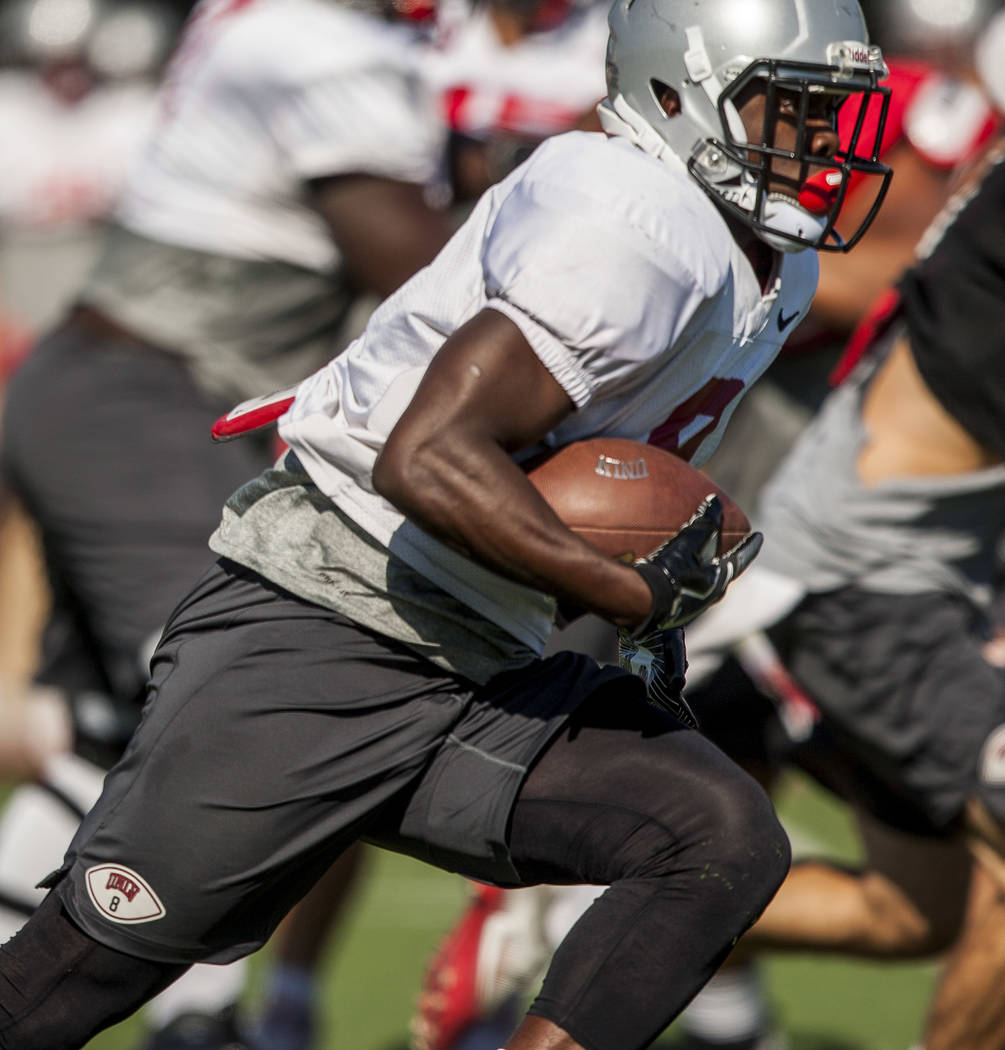 Charles Williams headed up the middle, quickly cut to his right and then moved sharply to his left and into the open field.
The 40-yard touchdown run toward the end of Tuesday morning's practice at Rebel Park highlighted just what Williams means to UNLV's football team and all it hopes to accomplish this season.
"When he gets in space, he's a dangerous son of a gun," coach Tony Sanchez said. "He can go. He's a legitimate 10.5 100-meter guy. There are not many of those running around the Mountain West and not running around most conferences."
Much is expected of Williams, who last season set UNLV's school freshman rushing record with 763 yards. He averaged 5.4 yards per attempt and rushed for three touchdowns.
It would be easy to look at his production and think Williams (5 feet 9 inches, 185 pounds) has put himself on track to become the Rebels' all-time leading rusher. But he has plenty of help as UNLV prepares for its Sept. 2 season opener against Howard at Sam Boyd Stadium.
Junior Lexington Thomas (5-9, 170) has rushed for 1,148 yards and 11 touchdowns in the past two seasons and is running with extra determination this training camp after losing his starting job. Another junior, Evan Owens (6-1, 215), also has been getting extra work, and junior Xzaviar Campbell (5-11, 225) rushed for 702 yards and six touchdowns in two previous seasons.
Then there is freshman Tariq Hollandsworth (5-11, 210), who is making a strong push for playing time.
"This thing is really, really, really, really fluid, and everyone's going with the ones (starting group)," running backs coach Travis Burkett said. "In fact, Tariq in the last two practices has taken as many (No.) 1 reps as anybody. A lot of it is by design. It's our job to get everybody ready to play."
Williams wants to make sure he's as ready as anyone else.
"They make me work hard, and they make me feel I don't have the job for sure," Williams said of the other backs. "I feel like I'm still working like I'm No. 2. You've got to keep working like you're No. 2 and don't get complacent out here because anybody can show up and be the guy."
So maybe Williams won't surpass the school record of 3,733 yards that Tim Cornett gained from 2010 to 2013, but he said he was much more interested in remaining fresh rather than stockpiling carries.
"If I get 30 carries a game, I probably won't get that rushing record," Williams said. "I might be injured or something, so having those guys behind me gives me a load off."
He leads a UNLV ground attack that last season ranked 15th nationally with 241.5 yards per game.
The push for playing time among the backs figures to be a season-long storyline, but if Williams produces like he did last season, he will be the one leading that pack.
Times change, however, and that is best illustrated in the previous freshman record holder. James Wofford rushed for 624 yards in 1997 and 816 the following season, but fell in the depth chart when coach John Robinson took over. Wofford then rushed for 232 yards in 1999 and 189 as a senior.
That's not to say Williams is headed down the same path, but he can't let up, not if he wants to stay ahead of the competition.
There is a reason, however, he emerged last season and, for now anyway, is the lead running back.
"I tell him all the time, he plays running back like a defensive player," Burkett said. "You don't have to be a football rocket scientist if you watch him play. If you watch him practice one practice, you see it.
"Not that the other guys don't play with a motor, but his never stops."
Contact Mark Anderson at manderson@reviewjournal.com. Follow @markanderson65 on Twitter.
UNLV top all-time backs
Player Freshman yards Final total
1. Tim Cornett 546 3,733
2. Mike Thomas * 3,149
3. Dominique Dorsey 379 2,834
4. Kirk Jones 404 2,656
5. Michael Morton 411 2,536
6. Joe Haro 65 2,013
7. Omar Love 483 1,932
8. Ickey Woods 4 1,925
9. James Wofford 624 1,861
10. Mack Gilchrist 283 1,850
* Did not play at UNLV as a freshman.