UNLV's Lexington Thomas suffers head injury in Utah St. loss
Updated October 13, 2018 - 6:20 pm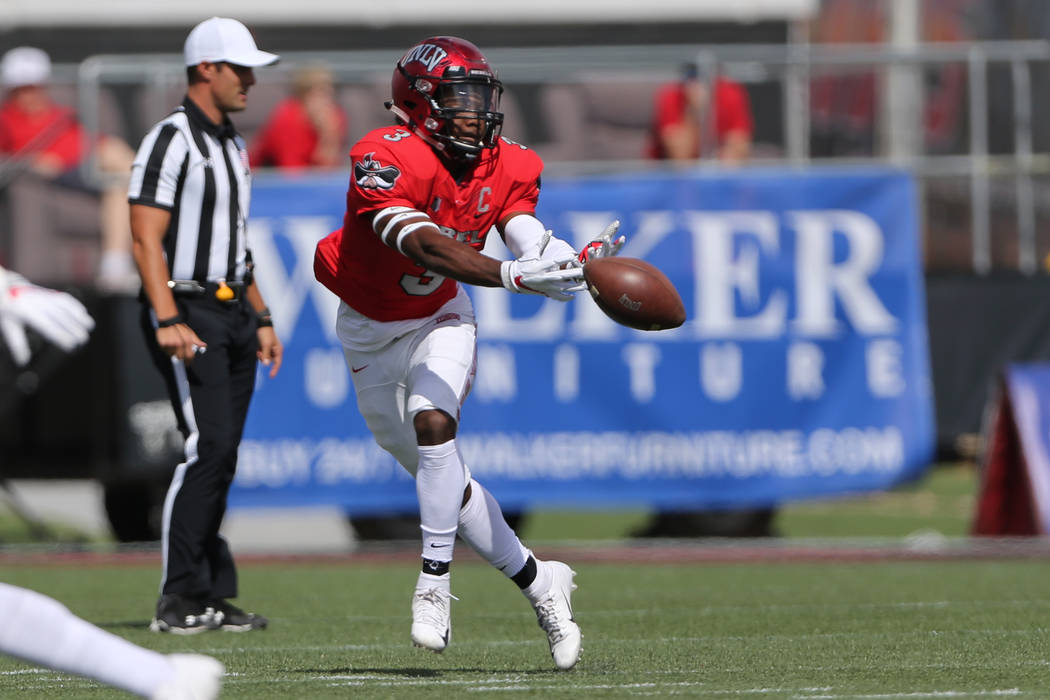 LOGAN, Utah — UNLV lost more than a game Saturday.
Star senior running back Lexington Thomas went out early in the third quarter of the 59-28 defeat to Utah State with a head injury.
Coach Tony Sanchez said he didn't know whether Thomas would need to enter the concussion protocol.
"I've got to talk to the doctors," Sanchez said. "They just come to us and say, 'He's out for the rest of the game.' So we'll find out about that."
Thomas rushed for 51 yards on 12 carries against the Aggies. For the season, he has 552 yards, giving him 3,040 for his career.
Only two other backs in UNLV history have broken 3,000 career yards — Tim Cornett with 3,733 in the 2010-13 seasons and Mike Thomas with 2,149 in 1973-74.
No longer perfect
Utah State's Dominik Eberle missed a 27-yard field goal in the first half ending his perfect streak. He was 9 of 9, with three coming from 51 yards.
He later missed another field goal, and a muffed punt also set up a UNLV touchdown in the third quarter.
Such struggles are unusual for Utah State, which has been very good on special teams.
The Aggies did make a big play in the second quarter when Deven Thompkins blocked a punt that teammate Baron Gajkowski picked up and ran 16 yards for a touchdown. It was the first blocked punt returned for a touchdown against UNLV since a Utah team coached by Urban Meyer and quarterbacked by Alex Smith did it in 2004.
All the Aggies need is Love
Utah State sophomore quarterback Jordan Love threw four touchdown passes in the first half and then a fifth in the third quarter.
He became the fifth Utah State quarterback to throw five touchdown passes in a game, and it was the ninth time it had happened in school history.
"It's a good feeling," Love said. "That's just what we're supposed to do is to go out and put points up. It doesn't matter if we run it or throw it. It's a testament to the whole offensive line to be able to pick up blitzes and keep me safe."
With the outcome no longer in question, Love was replaced late in the third quarter. He finished 17 of 23 for 322 yards.
Wait for it
The Rebels' offensive line had trouble waiting for the snap, picking up five false starts.
"That can't happen," Sanchez said. "It put us off schedule by quite a bit."
Local makes plays
Centennial High School product Savon Scarver caught two passes for 64 yards for Utah State, including a 26-yard touchdown in the second quarter.
More Rebels: Follow all of our UNLV coverage online at reviewjournal.com/Rebels and @RJ_Sports on Twitter.
Contact Mark Anderson at manderson@reviewjournal.com. Follow @markanderson65 on Twitter.