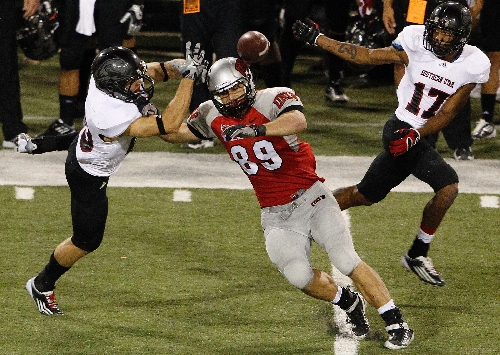 Longtime followers of UNLV football have become nearly numb watching loss after loss, dashed promise after dashed promise.
But the latest letdown, a 21-14 defeat at previously winless New Mexico on Saturday, was different, jarring the optimism of even those intimately involved with the program.
It was the second such shock this season, following a 41-16 home loss to lower-level Southern Utah on Sept. 24.
"Those games that are perceived you should win are critical," athletic director Jim Livengood said. "For us this year, the bottom line is Southern Utah and New Mexico are games we thought we had a pretty good chance. We didn't win them, so now we move on."
The Rebels (2-7) move on to a game at Air Force at 3 p.m. PST Saturday, in danger of finishing with two victories for the sixth time in eight seasons. They haven't posted a winning record since 2000.
"Everything that we hear in a negative light is deserved," second-year coach Bobby Hauck said. "We're not winning very much. But I think, objectively, this isn't like it was some deal that wasn't going to be uphill.
"If we want to win here, it's going to take us some recruiting classes."
Hauck is getting time to build, having received a two-year extension before the season that takes him through 2014.
"I think he's a good coach," said Bruce Bayne, former president of the UNLV Football Foundation. "I think he's the right fit for UNLV."
Livengood said extending Hauck's contract "was critical," especially ensuring it doesn't become a recruiting issue.
"I have complete confidence … in Bobby Hauck, period," Livengood said.
Regent James Dean Leavitt said the better barometer for whether Hauck will turn around UNLV will be next season.
"People expect more in Years 3 and 4, and I think that's appropriate as well," Leavitt said. "We hired these people. We should let them run their program."
Regent Mark Alden said UNLV needs to pump money into the program to give Hauck a more realistic chance to succeed, but worries whether Rebels football will eventually survive.
"If Bobby can rescue football," Alden said, "it will be a miracle."
Longtime program supporter Rich Abajian, co-owner of Findlay Toyota, is a big fan of Hauck and gives the coach his full support. Abajian, though, hopes to see UNLV sign faster, playmaking players and "strikers on defense."
"We're kind of handcuffed having to play real good fundamental football, but it's hard to sustain drives and not make mistakes," Abajian said. "I'm not opposed to junior college kids who can play right away."
Three other major areas of concern emerged this season.
1. A division could exist between many who played under previous coach Mike Sanford and those signed by Hauck.
"I would say in general, here and everywhere else, there's always some of that," Hauck said, noting about 40 players in last season's team picture are no longer around. "It's just not going to be seamless. … It doesn't matter — winning, losing – when there's change, it's hard and it's probably hardest on guys that are in the program."
Senior wide receiver Phillip Payne, in particular, has been inconsistent. He leads the team with 40 receptions for 476 yards and seven touchdowns, but the preseason All-Mountain West Conference player is sixth in the conference in catches per game and seventh in yardage average.
He was suspended for two games last season after criticizing coaches on Twitter. Hauck since has gone out of his way to praise Payne, a possible sign of trying to keep one of his top players motivated.
"In general, not directed just at him, I'm a middle-aged football coach – it pains me to say that. In dealing with any of this, I've got to be the adult in the dynamic," Hauck said. "I think it's the proper way to be, to handle things as best you can with some class and dignity, and if it means you take a few shots across your bow, then so be it."
Payne insisted he plays hard all the time, but acknowledged the losses take a toll on everyone.
"There were times when we were frustrated with Sanford, too," he said.
2. The quarterback play has been less than mediocre. Starter Caleb Herring bounced back nicely from disastrous performances against Southern Utah and UNR, but backups Sean Reilly and Taylor Barnhill have struggled.
Reilly, a midyear junior college transfer, has completed 18 of 37 passes. Barnhill, who has shown ability to be a strong runner, completed only one pass for more than 10 yards in his one start at New Mexico.
Hauck defended his staff's ability to identify talent, and freshman Nick Sherry could prove the coaches know what they're looking for in a quarterback. Sherry, who first committed to Colorado, is redshirting, and Hauck said whether to play the freshman or sit him for a year was discussed frequently this season.
"I think when you're trying to build for the long term, which is how we've approached every decision we've made here, redshirting him is the right decision," Hauck said.
3. The staff is coming under fire, even from those close to the program, and most of the criticism has been leveled at offensive coordinator Rob Phenicie. UNLV is in the bottom 10 nationally in total offense, scoring and passing offense.
Bayne said he was particularly troubled by the 37-0 loss at UNR in which Herring completed one pass for 8 yards.
"I was on the sideline of the UNLV-UNR game, and I thought the quarterback and offensive coordinator should've been fired," Bayne said.
Others expressed similar sentiments, but didn't want to be quoted, and Phenicie seemed surprised his job status would be questioned, saying Hauck is part of the week game-plan discussions.
"I would imagine if that was the case, the head coach would bring it up to me," Phenicie said.
But he also noted the lack of success couldn't be ignored: "After the season, the hardest thing to do is to take a look at yourself, and that's what we have to do."
Hauck wouldn't comment on any coach's status, but said he wouldn't fire any assistant simply to appease fans.
"I don't know if anybody's got enough football intellect to study, but if they say they're unhappy with our coaching, what is it?" Hauck asked.
"If you look at what we're doing with our 11 on offense, defense and the special teams, it's pretty similar to a lot of football teams that are having a lot of success. So what that means to me is we've got to get our guys to execute better to a man, and we've got to recruit more players that can execute the plan."
It will take, as Hauck said, more recruiting classes.
"Let's not pretend that we don't have to build this thing from the ground up," Hauck said. "Let's not pretend that."
Contact reporter Mark Anderson at manderson@reviewjournal.com or 702-387-2914. Follow him on Twitter: @markanderson65.