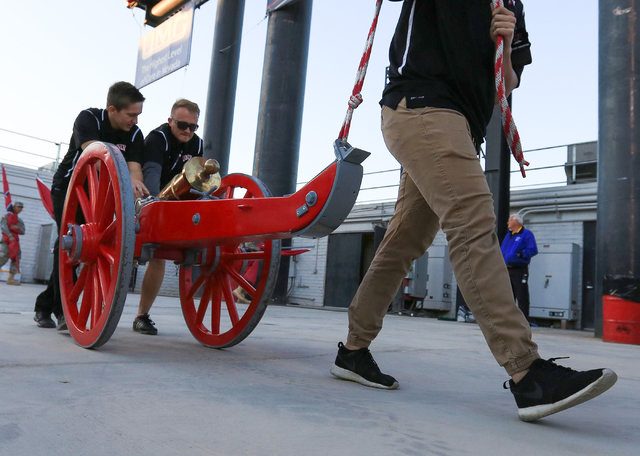 To add insult to injury following UNR's 45-10 win over UNLV on Saturday in the Battle for the Fremont Cannon, Wolf Pack players spray-painted "F UNLV" on the rivalry trophy after wheeling the 545-pound cannon to midfield at Sam Boyd Stadium.
UNR athletic director Doug Knuth has since apologized for his football team's "inexcusable actions" in an email sent to UNLV president Len Jessup, athletic director Tina Kunzer-Murphy and football coach Tony Sanchez.
"I'm sure it was just a momentary lack of judgement," Sanchez said Monday. "They were excited about the win. They'd won a big game and sometimes you can get carried away."
Here is the complete email sent by Knuth:
"Please accept my sincere apologies for the inexcusable actions of our football team during their postgame celebration. The apparent premeditated action to paint FUNLV on the cannon is a terrible representation of our football program, our athletics program and our university. This is unacceptable and will be addressed with the team immediately.
"I truly appreciated your inclusion of the university presidents, student body presidents and athletic directors in the pregame coin toss as a symbol of statewide unity in higher education. I'm saddened to know that Nevada couldn't uphold our side of that equation.
"I look forward to seeing you again soon. Until then, please accept our apologies."
Sanchez said the apology was accepted.
"We all understood," he said. "It was nice for him to send that letter."
UNR fired coach Brian Polian on Sunday after four seasons, but it wasn't because his players defaced the cannon. It was because he compiled a 23-27 record — 13-18 in the Mountain West — since replacing retired College Football Hall of Fame coach Chris Ault. Polian went 2-2 against the Rebels, losing twice at home — 27-22 in 2013 and 23-17 in 2015 — and winning twice on the road, on Saturday and 49-27 in the 2014 season finale.
Also, Sanchez said that offensive coordinator Barney Cotton and defensive coordinator Kent Baer will both return to the team next season, but that other coaching changes will be made in the coming weeks.
Contact Todd Dewey at tdewey@reviewjournal.com Follow @tdewey33 on Twitter.