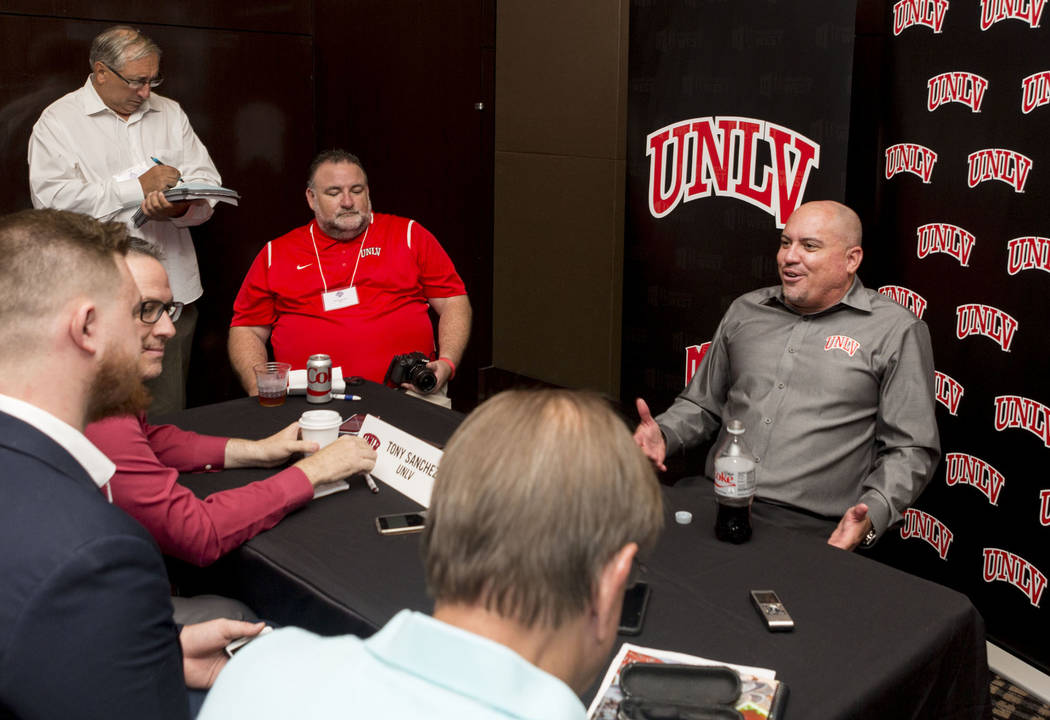 Thursday's UNLV football practice report from Rebel Park:
Tony's take
Coach Tony Sanchez on the second day of training camp:
"I don't care how hard you work and what you've done over the summer, when you come out Day 2, you're a little more sore. Your movement pattern, you haven't moved in a real long time, especially together. And you're starting to throw a lot on the guys. The older veterans that have been in the system, they're picking it up faster, but we've got a big crop of freshmen and young guys. Guys now are getting a little bit of an opportunity, you're seeing some mistakes here and there (of what) we're installing now in the second day.
"It was a good day as far as energy goes, but we've got to do a better job of execution all over the place. We had a lot of exchange issues today. We shouldn't see that, so we have to be a better job of getting that snap back to the quarterback and getting him into his progressions and reads. So that can improve, but overall, I thought it was a quality day."
Notes
— The intensity picks up as UNLV goes into half pads on Friday.
"It's going to by nature be a little more physical," Sanchez said. "These guys are going to be a little more fired up having pads on for the first time. So inside run, team (session) and things like that, they're going to be a little more aggressive. We're going to still stay off the ground.
"Now the shoulder pads are on, the offense is going to have to be a lot more protection conscious of the ball because you're going to get more strip attempts and things like that. So it will pick up the pace of play."
— Sophomore JD Alexander (6 feet 2 inches, 225 pounds) has transferred from Arizona State. He was a tight end for the Sun Devils, but is a linebacker for UNLV. Alexander, a walk-on, must sit out a season under NCAA transfer rules. His dad is DelVaughn Alexander, now the wide receivers coach at Notre Dame and a Rebels assistant from 2000 to 2002. DelVaughn Alexander was the passing game coordinator his first two seasons at UNLV and oversaw the quarterbacks and receivers all three years.
More Rebels: Follow all of our UNLV coverage online at reviewjournal.com/Rebels and @RJRebels on Twitter.
Contact Mark Anderson at manderson@reviewjournal.com. Follow @markanderson65 on Twitter.