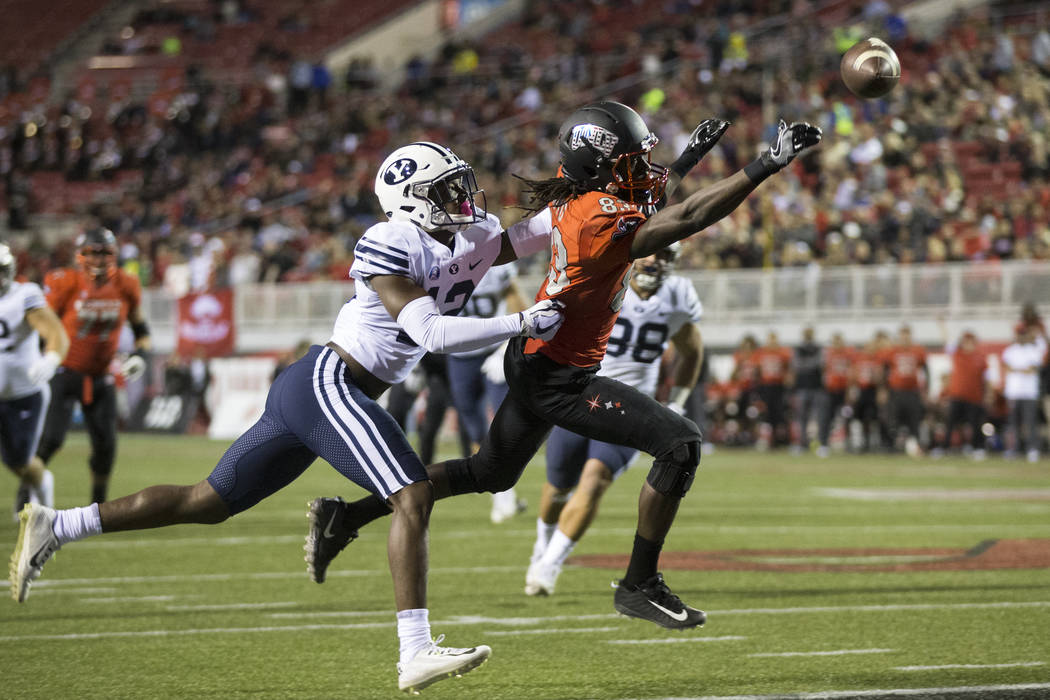 An undersized wide receiver at Basic High School, Devonte Boyd didn't have many scholarship offers.
He did have one from UNLV, and the New Orleans native decided to play football for his adopted hometown university.
The Rebels clearly saw something in Boyd that most others didn't. He is preparing to play his final regular-season game for the Rebels, who visit UNR at noon Saturday, and will leave as one of UNLV's all-time great receivers.
"It's crazy," Boyd said. "The time went by fast. I'm happy I was able to be healthy and keep getting through this season with the guys I've been with for three, some of them four years."
He is second at UNLV with 3,209 career receiving yards, trailing only the 3,495 put up by Ryan Wolfe from 2006 to 2009. Boyd is third in receptions with 196, behind only Wolfe's 283 and Casey Flair's 202 from 2005 to 2008.
This hasn't been Boyd's most productive season. He has 30 catches for 551 yards and three touchdowns, but his 18.3-yards-per-catch average is a career high.
Boyd has been on the receiving end of opposing double teams, making it difficult for him to post big numbers.
"I think that opens the windows for a lot of other receivers that have been showing up in big games," Boyd said. "I'm happy for them that they're showing up and showing everybody what they can do because they put in so much work this offseason and over the years."
No matter how this season ends, Boyd (6 feet 1 inch, 185 pounds) has left an important mark on the program that wanted him.
"That definitely meant a lot to me," he said. "People always talked a lot about how small I was in high school, so being able to come play D-I football, a lot of kids don't get to play on the Division I level."
Lexington lightning
Running back Lexington Thomas is known as "Lightning" because of his breakaway ability — he has six runs of 55-plus yards this year — and he is having one of the finest seasons in UNLV history.
He has rushed for 1,273 yards and 17 touchdowns, averaging 6.5 yards per carry.
Thomas' rushing total is fifth best, just 11 yards behind Tim Cornett's output in 2013. He also could reach No. 3 Mike Thomas, who gained 1,408 yards in 1974.
His 17 touchdowns ties Mike Thomas' total in 1974 for second best. Mike Thomas is first with 20 TDs in 1973.
Lexington Thomas' rushing average is even with Kirk Jones' 6.5 mark in 1974, which is the fourth highest.
With one season left, Lexington Thomas could leave as the Rebels' career rushing leader. He is sixth with 2,421 yards, within range of record-holder Cornett's 3,733 yards, which he gained between 2010 and 2013.
Breaking ground
Coach Tony Sanchez said he expected an announcement in January regarding groundbreaking for the Fertitta Football Complex.
"It'll be huge, absolutely," Sanchez said. "If we win the (Fremont) cannon, we'll stuff it with gunpowder and light that sucker off and blow up the old locker room."
A special player
Quarterback Johnny Stanton won't go back to linebacker now that he's backing up Armani Rogers, but Sanchez said Stanton will be used on special teams. Stanton blocked a punt Sept. 30 against San Jose State.
More Rebels: Follow all of our UNLV coverage online at reviewjournal.com/Rebels and @RJRebels on Twitter.
Contact Mark Anderson at manderson@reviewjournal.com. Follow @markanderson65 on Twitter.
UNLV to play UCLA
UNLV's football team has agreed to a home-and-home with UCLA. The Rebels will play at UCLA in 2024 and get a return game in Las Vegas in 2025.
Both programs concluded a home-and-home last season. The Bruins won 37-3 in 2015 at Sam Boyd Stadium and 42-21 last year at the Rose Bowl.
Mark Anderson Review-Journal