UNLV president Len Jessup must pay up when choosing next athletic director
December 25, 2016 - 11:02 am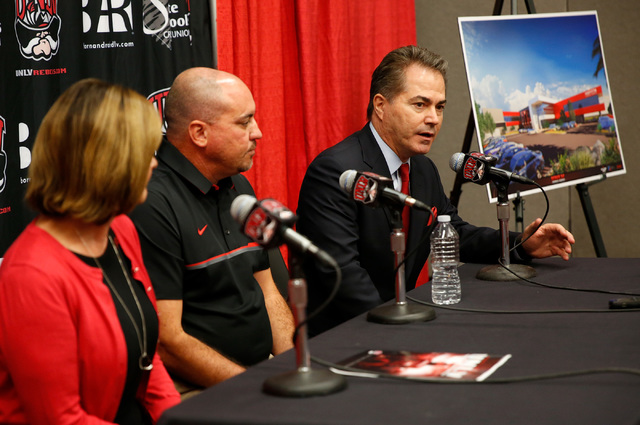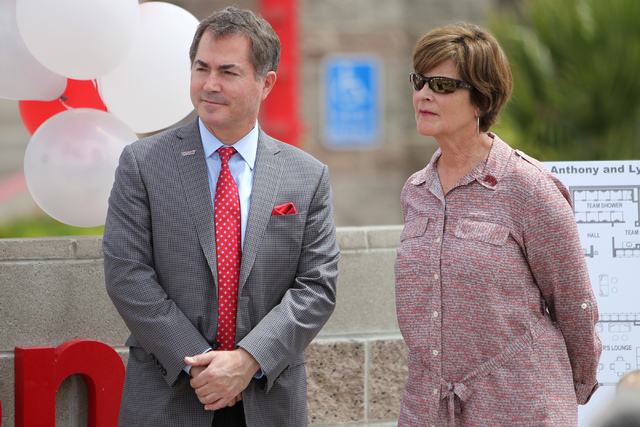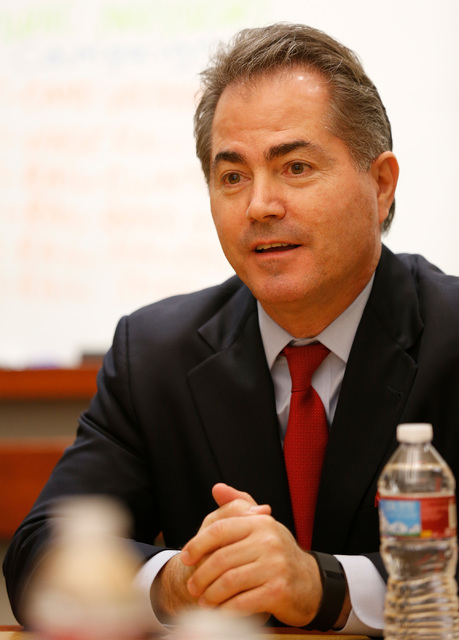 Editor's note: This is the first of a two-part series detailing what the next UNLV athletic director faces. Part I is an overall look at the program and the parameters of the search. Part II, which will appear in Monday's paper, takes a look at the state of the football and men's basketball programs.
When UNLV went looking for a men's basketball coach in January, the Rebels eschewed a search firm and did it themselves, and the following four months were a messy, embarrassing process that tarnished the program and university.
It's process that won't be repeated as UNLV looks for an athletic director.
The pressure is on president Len Jessup to be willing to spend the kind of money it takes to lure a quality athletic director, to hire someone who will be well-received nationally, and to attract someone who has the vision and ability to help make UNLV a Mountain West power that puts the school in position to one day join a power conference.
"The ideal candidate would have deep NCAA experience and, ideally, some experience at a Power Five school," Jessup said. "That isn't to say we might find somebody that's got a different set of experience that could get us to that level."
He said the university would hire a search firm in early 2017 to help make one of the most important hires in the school's athletic department history. Current AD Tina Kunzer-Murphy was extended six months to June 30, when she will move to the UNLV Foundation.
Jessup used a search firm to find Diane Chase for provost and Scott Roberts for vice president of philanthropy and alumni engagement.
"I liked the role that the search (firm) played in finding us candidates and then making sure that we ran a good, thorough process," Jessup said.
To get a top candidate, UNLV probably will need to open the checkbook. In the Mountain West, for example, Boise State's Curt Apsey makes $331,500 per year, UNR's Doug Knuth earns $295,000 and Colorado State's Joe Parker brings in $325,000.
Kunzer-Murphy makes $240,000, considerably less than her predecessor, Jim Livengood, who had the experience of being the athletic director at Pac-12 Conference schools Arizona and Washington State. Livengood, whose salary was $350,000, also was the former chairman of the NCAA men's basketball committee.
Jessup said he would find out the market rate and check other factors, and pointed to his recent history of paying the going amount for the provost and development positions. Chase makes $374,850, and Roberts' salary is $235,000.
The next athletic director will take over an athletic department with improving facilities and in a growing metropolitan area, but one that faces a $3.5 million deficit this fiscal year and is burdened by the struggles of its marquee programs — football and men's basketball.
UNLV won four conference championships in the spring, though among schools not in power conferences, the Rebels finished 55th (121st overall) in the Learfield Directors' Cup standings. But the momentum the Olympic sports gained in the spring carried over to the fall, with the volleyball and both soccer teams qualifying for the postseason.
"We want to be a Carnegie R1 top-ranked research university, and we want to get to the Power Five athletically," Jessup said. "So the athletic director hire is a key one, and we want somebody who can get us to the next level."
FINANCES
UNLV ran a balanced budget this past fiscal year, but has a deep financial hole this term.
Several reasons contribute to the shortfall — no major football payday, a $400,000 reduction in university support and the extra commitment to meet cost of attendance — but they don't completely explain the dire situation. As long as football and men's basketball continue to struggle, boosters will be less eager to donate and ticket sales will continue to wane.
Sam Boyd Stadium and the Thomas & Mack Center routinely draw crowds that don't fill even half of those venues.
Though UNLV's football program will receive $1.3 million for playing at Ohio State in 2017 and $1.15 million for playing at Southern California in 2018, those games won't completely close the gap.
But UNLV, like other schools that don't play in Power Five conferences, is faced with structural problems because it doesn't receive much in TV revenue. Mountain West schools make an average of $1.7 million.
That problem won't go away when a new UNLV athletic director walks in the door, which means he or she will have to be creative.
"You can't cut your way to even," regent Cedric Crear said. "You have to talk about growing revenues. Once you get the revenues, you have to be fiscally responsible with how you manage revenues."
The onus is on the department to raise funds, and Jessup's philosophy is coaches should be most responsible for their sports. Former baseball coach Tim Chambers helped nail down the funding for the clubhouse, former basketball coach Lon Kruger helped get the Mendenhall Center built, and football coach Tony Sanchez took the lead in landing a $10 million commitment from the Fertitta family and another $2 million from an anonymous donor for a football facility that could break ground early next year.
"It's often a coach who has that really tightly connected relationship with a donor," Jessup said. "So I don't think that's anything out of the ordinary, and the university from a fundraising point of view and athletics from a fundraising point of view, we're definitely headed in the right direction. We just finished another year at the university with $75 million in new gifts and pledges the second year in a row, and those are well above what had happened in the prior years."
Though the emphasis is on coaches handling the majority of fundraising for their specific sports, Kunzer-Murphy said it would be a mistake to assume she didn't help bring dollars to the department.
"I have great relationships with people in this city and the state of Nevada and people across the country from when I worked for ESPN and the bowl world," Kunzer-Murphy said. "We sat down and talked about UNLV football with people that hadn't been around the program in 20 years, and they talked about how they want to get back in. But you know what you do? You put your best foot forward, and the best person to sell our football program is Tony Sanchez. The best person, I think, to sell our athletic program is me.
"Nobody's better than Amy Bush to sell women's golf or Rich Ryerson (in men's soccer), and Len and I have talked about that."
MARKETING
The marketing department has served as a pit stop, with six employees having resigned under Kunzer-Murphy's watch and another fired. UNLV even hired a marketing director late in the summer who lasted about two weeks before resigning.
But the problem didn't begin when Kunzer-Murphy took over. UNLV's marketing department was essentially dismantled after Mike Hamrick, now Marshall's athletic director, became AD in 2003. The marketing program hasn't recovered, and Kruger even brought in D.J. Allen from outside to handle marketing for his program.
Regent Trevor Hayes said those marketing efforts, when Kruger was the coach from 2004 to 2011, should serve as the model.
"They recognized that marketing was more than just putting up an ad," Hayes said. "It was reaching out to the community and really putting some hard effort into talking to people one-on-one. I don't know if those efforts have been sustained."
Kunzer-Murphy saw marketing as bleeding money as a more pressing priority, and she was tasked with cutting expenses. So she slashed marketing salaries from about $450,000 to approximately $200,000.
"I was piece-mealing it together," Kunzer-Murphy said. "I think it's a really tough job, and I think that you expect so much from marketing. We have 17 programs that expect them to (promote), and we've got three people in there. But what they've done, they've created an intern group that works at all these games and does all this stuff and does what's best for our programs.
"Is (the turnover) frustrating? I just think it's a really tough position to try to get the right people in there, and I'll tell you, I love the people we have in there now."
Jessup said a marketing plan will be critical for the next athletic director.
"Going forward, marketing and the branding around UNLV, around athletics, is clearly going to be something important," Jessup said. "So it's something we'll look for in a new athletic director, that that's something they understand and is fundamental to their skill sets. It's something we know we need to do a better job of going forward looking for that candidate."
Contact Mark Anderson at manderson@reviewjournal.com or 702-387-2914. Follow @markanderson65 on Twitter.