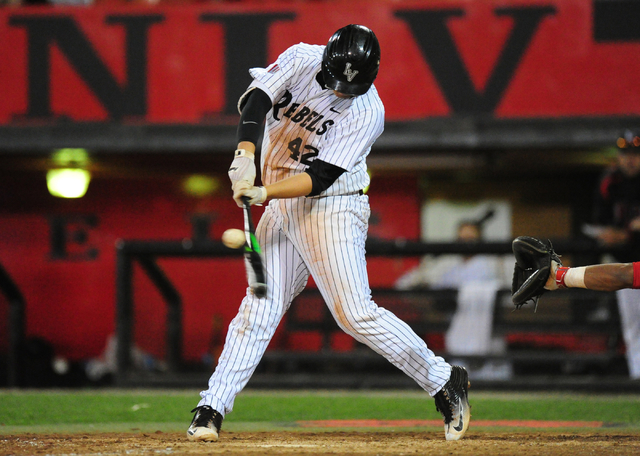 Nick Ames hit a walk-off, three-run homer, capping UNLV's second four-run inning in its 8-7 victory over UC Riverside in a nonconference baseball game Wednesday at Wilson Stadium.
Kyle Isbel started the winning rally with a one-out double in the ninth. Bryson Stott and Payton Squier followed with consecutive singles before Ames' blast.
Stott hit a two-out, two-run double in the fifth, which was followed by consecutive run-scoring hits by Squier and Ames.
Paul Richy started for the Rebels (4-5) and held the Highlanders (5-3) to two runs on four hits in six innings.
Bryan Menendez, the fourth of four UNLV relievers, pitched a hitless ninth with three strikeouts.
Cade Peters and Connor Cannon each hit a two-run single in Riverside's five-run seventh.
The Rebels, who held an 11-9 edge in hits, halted a three-game losing streak.
WOMEN'S GOLF
Junior Mackenzie Raim was named Mountain West women's golfer of the week for tournaments through Tuesday. The Palm Desert, California, native won the Northrop Grumman Regional Challenge on Feb. 12-14 and posted a team-best scoring average of 72.33 in two tournaments.
TRACK AND FIELD
Junior Destiny Smith-Barnett qualified for the NCAA Indoor Championships, set for March 10 and 11 in College Station, Texas, with her program-best 7.20-second showing in the 60-meter run at last week's Mountain West Indoor Championships.