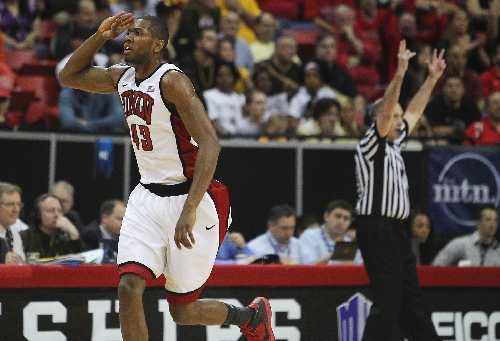 A year from now, Mike Moser might be facing a difficult decision. But the one he announced Sunday was relatively easy because it was all but made for him.
The forward said he will return to UNLV for his junior season after briefly considering entering the NBA Draft.
"We looked at all of my options, and in the end I decided it would be best for me to stay in school," Moser said. "We have a great team coming back. I believe in our program, and I love playing in Las Vegas and for UNLV."
Moser said he consulted with his mother, Jeanne, and the Rebels' coaching staff after receiving feedback from the NBA Undergraduate Advisory Committee about his potential draft status. What he found out, to no surprise, is that he wasn't a surefire first-round pick.
"He was projected somewhere between late first round and early second round," coach Dave Rice said. "I think Mike was pleased that his individual play as well as the success of our team has put him on the NBA radar."
To assist college players with the process, the NBA offers underclassmen a draft projection after collecting opinions from a group of executives representing 20 teams. The NCAA deadline for underclassmen to declare for the draft is April 10.
The 6-foot-8-inch Moser was gaining credibility as a first-round draft prospect in January, but as he wore down physically and his production tailed off late in the season, it became evident he would benefit by returning for his junior year.
Moser led the Rebels in scoring (14.0 points per game) and rebounding (10.5) during his first season after transferring from UCLA. He ranked 10th in the nation in rebounding in the regular season.
In UNLV's 90-80 victory over then-No. 1 North Carolina on Nov. 26, Moser had 16 points and 18 rebounds. Four days later, his 34-point, 10-rebound performance led the Rebels to a 94-88 double-overtime win at UC Santa Barbara.
His draft stock was probably at its peak when UNLV was 21-3 on Feb. 1. But the Rebels lost six of their final 11 games to finish 26-9, and Moser shot 4-for-15 and was held to 10 points in a 68-64 loss to Colorado in the NCAA Tournament on March 15.
"Two big factors were also for my mom to see me graduate and to have a chance to win a national championship," said Moser, who was named first-team all-Mountain West Conference. "I know I can improve and am looking forward to putting in the necessary hard work."
Moser was Oregon's Mr. Basketball as a high school senior, and Rice scheduled a game for next season in Moser's hometown. The Rebels play at Portland on Dec. 4.
Contact reporter Matt Youmans at myoumans@reviewjournal.com or 702-387-2907.