UNR drops wild one, 69-67
October 15, 2007 - 9:00 pm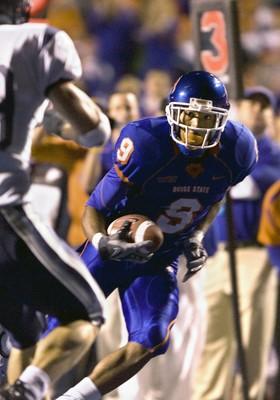 BOISE, Idaho — In a game with 136 points and nearly 1,300 yards of offense, it was the defense that made the biggest play of all.
Sooner or later the defense had to make a stop, and Boise State's Tim Brady did just that on the final play in the fourth overtime, stuffing a 2-point conversion attempt by UNR in a thrilling 69-67 victory Sunday night.
The game set a record for most points in an NCAA Division I-A game since 1937, when official record keeping began.
The shootout finally ended on a sack by Brady, foiling UNR's attempt to send the game into a fifth overtime.
"It was the biggest play we had all night," Boise State coach Chris Petersen said. "It's really too bad someone had to lose this one. I don't think I've felt that way after any game, ever."
For a while, it seemed this one would never end — not with the way the offenses were moving up and down the field.
Boise State (5-1, 2-0 Western Athletic Conference) rolled up 627 total yards, including Ian Johnson's 205 yards rushing and three touchdowns.
UNR, led by redshirt freshman quarterback Colin Kaepernick in his first start, topped the Broncos with 639 yards. The Wolf Pack (2-4, 0-2) tied the game in the fourth overtime on Luke Lippincott's 8-yard run, capping a rushing attack that compiled 406 yards, the fourth most ever allowed by Boise State.
On the 2-point try, Kaepernick rolled right and found nobody open before being wrapped up by Brady, sealing Boise State's eighth straight win over the Wolf Pack.
"To come up two points short in overtime in a game like this is a hard pill to swallow," said Kaepernick, who threw for three touchdowns and rushed for two. "We knew we were going to have to keep putting points on the board to stay in the game."
The teams combined for 17 touchdowns, 1,266 total yards and a handful of personal bests.
Boise State quarterback Taylor Tharp threw for a career-high 320 yards and four touchdowns. Two of those came in the first two overtimes, both 25-yard strikes to Jeremy Childs and Sherm Brasser.
Johnson had 256 yards of offense, including a 32-yard touchdown pass, the first of his career, to put the Broncos ahead 41-34 in the fourth quarter. His 72-yard scoring run in the second quarter was the longest of his career.
Kaepernick, starting in place of injured sophomore Nick Graziano, ran for 177 yards and two touchdowns and passed for another 243 yards and three scores. His performance came against a Boise State defense that entered the game third best in the nation, allowing only 12.2 points per game.
"I'm proud of our guys," UNR coach Chris Ault said. "They came back and stood up all game long. We're going to learn a lot from this game and get better."