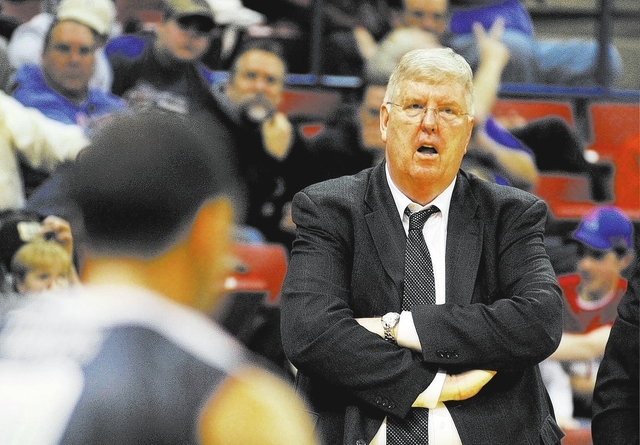 LOGAN, Utah — A bear of a man, Stew Morrill is not big on reminiscing or getting sentimental. At least, that was the case Friday, when he shrugged off the idea of hitting a coaching milestone.
"It might not happen," he said of reaching 600 career victories. "We'll worry about that if it ever happens."
In 28 years on the bench, the past 16 at Utah State, Morrill has collected 599 wins. But that wasn't on his mind when he began preparing for a UNLV team that rolled over his three weeks ago.
The Rebels (16-8, 7-4 Mountain West) face off with the Aggies (15-9, 5-7) at 1:05 p.m. today at the Smith Spectrum, a 10,270-seat cave where most opponents get chewed up and spit out. It's one of the most unforgiving venues in college basketball, and much of that is due to a grizzled coach.
Utah State is 236-25 (.904) on its home floor under Morrill, who has dropped home games to San Diego State and New Mexico this season, the Aggies' first in the conference.
The Rebels are riding into town for the first time since 1996, when the teams were feuding rivals in the Western Athletic Conference.
"The fans are right on top of you, and almost half of those seats are committed to students, so they have got a very energetic, involved student section," said UNLV coach Dave Rice, who went 2-0 here as a player in 1990-91 and was an assistant coach to Morrill during the 2004-05 season.
Rice won their first meeting as opposing head coaches when the Rebels rolled 62-42 on Jan. 22 at the Thomas &Mack Center. The Aggies were in the midst of a five-game losing streak, but they turned things around with consecutive victories over UNR, Boise State and Colorado State.
"We finished the first half of league in kind of a dark place," Morrill said. "We were 2-7 and playing poorly, getting thumped and all that. In the second half of league, we've rallied. For the dog days of February, our guys are in a good place mentally.
"We're just hopeful that we can play better than we did last time at UNLV. They pretty much dominated the game and took us out of a lot of different things we were trying to do. We didn't shoot the ball well, and they defended really well. They might be the most athletic team in our league, and that's saying something."
But the Rebels resembled one of the worst teams in the league in their most recent trip, a 75-57 loss at Colorado State on Feb. 5. Rice said the "theme" of practice this week was playing with renewed intensity.
"Coach Rice has been on us and getting us ready," senior guard Kevin Olekaibe said. "He doesn't want another performance like that, and I don't either."
Morrill deflected a question about UNLV's inconsistency and the criticism Rice has caught because of it.
"Dave was with me for one year. I liked him a lot. He's a great guy and easy to be around. He's a good coach," said Morrill, whose next win makes him the 14th active Division I coach with 600. "He had a great personality with people, and he had a really good feel for the game, having been around it his whole life. You never like playing former assistants. It's always hard, but that's the nature of the deal a lot of times.
"He's won in our league. I don't see anything but good when I look at their team. Criticism is for others, not for me. I look at what a good job he's done with his team — how hard they play and how difficult they are to try to prepare for. They rebound the heck out of the ball, and they run some good stuff to get their guys the ball.
"Expectations are hard at every job and probably way out of whack in Vegas."
In the teams' meeting three weeks ago, the Rebels were triggered by point guard Deville Smith's 18 points and forward Roscoe Smith's 13 points and 14 rebounds. But it was a game dominated by UNLV's defensive effort.
The Aggies, who boast two of the league's top perimeter shooters in seniors Spencer Butterfield and Preston Medlin, made just 2 of 17 3-pointers. The Rebels' game plan, to no surprise, is to stick to the shooters while containing 6-foot-10-inch center Jarred Shaw.
"We think we're playing better," Morrill said. "We really had two choices after the first half of league. We could either cash it in and not win any more games, or we could regroup."
Utah State is back on the path it typically follows under Morrill.
"The nature of playing a 30-plus-game basketball schedule is you're going to go through stretches where you don't play as well," Rice said. "And now, unfortunately for us, they are back to playing extremely well."
Contact reporter Matt Youmans at myoumans@reviewjournal.com or 702-387-2907. Follow him on Twitter: @mattyoumans247.