Vikings head coach says he would welcome Peterson back to team
December 30, 2014 - 3:31 pm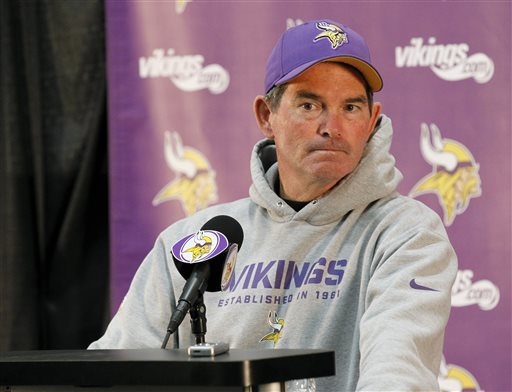 Minnesota Vikings coach Mike Zimmer expressed his hope that Adrian Peterson will return to the team upon his reinstatement by the NFL.
Peterson was suspended on Nov. 18 for the remainder of the 2014 season by commissioner Roger Goodell after he was indicted two months earlier in a case involving corporal punishment with his son. The suspension was upheld on Dec. 12 by an arbitrator after the NFL Players Association challenged the punishment as unfair.
"Adrian was always great with me. I think he's a good person," Zimmer said Tuesday. "I think obviously he's a great running back, and if it works out that way and things work out and he gets his life in order — that's the most important thing, he gets his life in order, he gets the opportunity to come back — then I will be in his corner whatever the decision is made."
Under terms of the suspension, Peterson's reinstatement cannot be addressed until April 15.
"Our hands are partly tied with the NFL and the time frame that they give us," Zimmer said. "But also it's partly up to Adrian and make sure he's doing what he has to do in order to get back reinstated off the suspension. So those are all factors that we have to factor in, but we would love to know ASAP just so that we can start going because, a guy like him, your football team and your offense can be different (if) you have him and you don't have him.
"It's how you want to build the team around him, at least in my opinion, anyway. I haven't talked to (general manager) Rick (Spielman) about a lot of these questions that you're asking yet because we just finished the season, but we'll sit down and we'll visit about all of this stuff."
Peterson played in only one regular-season game this year. He is under contract for $13 million in 2015.
RELATED:
Peterson will file lawsuit, consider retirement from NFL
Peterson says he 'won't ever use a switch again'
Vikings' Peterson avoids jail time in plea agreement