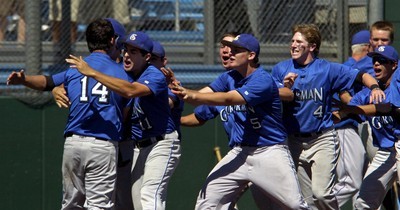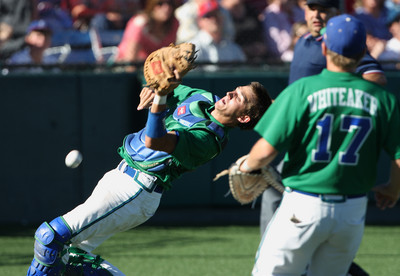 RENO — Bishop Gorman was two outs from falling into the losers bracket at the Class 4A state baseball tournament Thursday.
But the Gaels proved how quickly things can turn around and how unusual plays can lead to wins in a state tournament.
Gorman rallied for three runs in the bottom of the seventh inning, scoring the winning run on a wild pitch as it downed Bishop Manogue 7-6 at UNR's Peccole Park.
Gorman will play Reno (32-5) at 1 p.m. today at Western Nevada College in Carson City. Reno advanced with an 11-9 win over Green Valley, which will play Manogue (29-8) in an elimination game at 10 a.m. today at Western Nevada.
The Gaels (39-3) had six hits against Manogue ace Joe Weiland, who struck out the first batter he faced in the seventh. But Weiland walked the next two batters and gave way to reliever Darrin Wiltgen.
Brandon Garcia greeted Wiltgen by hitting a two-run triple into the right-field corner to tie the game.
After a strikeout, Wiltgen uncorked a wild pitch on a 1-and-2 count, allowing Garcia to scramble home and score the winning run with a head-first slide.
"That's something me and coach (Chris) Sheff were talking about at third base," Garcia said. "In that kind of situation, anything can happen, especially in the state tournament."
The two-time defending state champs had an opportunity to pull away in the fifth. Leading 4-1, the Gaels had two runners on with one out, but Weiland got cleanup hitter John Rickard to ground into an inning-ending double play.
"(Weiland) threw a really great game, but I thought we let him off the hook a little bit in the fifth inning," Sheff said. "And then he kind of settled in a little bit, which kind of shows the character of that kid."
Manogue rallied to take the lead in the sixth, tying the score on a three-run, pinch-hit homer by Brent Hinckley, and scoring the go-ahead run on a two-out error. The Miners added a run in the seventh on an RBI single by John O'Gara to push the lead to 6-4.
"We didn't feel like we were out of the game," Sheff said. "(Weiland) pitched as well as he could for as long as he could, but our guys have been down before, and they just keep fighting and keep scratching."
Garcia said the team was confident with the middle of its order coming up in the seventh.
"We had a lot of older guys come up to the plate in the seventh inning," Garcia said. "All of us had been there before. All we had to do was get people on base, and the middle of our lineup would get them in."
Garcia's triple was his second of the game. He finished 2-for-2 with three RBIs and three runs.
"It was a big day for Brandon," Sheff said. "Really a huge hit, obviously, in the seventh. In this lineup, different guys are going to help us, and in order to win a state championship you have to have different guys clutch up. And today was Brandon's day. He's had a solid year, but he had a big, big day today."
• Reno 11, Green Valley 9 — The Gators (32-6) scored seven runs in the first two innings but were unable to overcome six errors.
"You make six errors in a state tournament game, you deserve to lose," Green Valley coach Nick Garritano said. "We didn't play a state tournament baseball game today."
Still, Green Valley was in the game until the end. Trailing 11-7, the Gators got a double from Matt Harrison and a single from Dominic McGovern to start the seventh.
Kevin Stethem then blooped a double into shallow right to score a run. Reno right fielder Griffin Kirsch, who entered the game to start the inning, collided with second baseman Thomas Wood on the play.
Kirsch remained motionless on the field for several minutes before leaving the field under his own power. After more than a 20-minute delay, reliever Cavin Hill came on to get the final three outs. He got Eric Stewart to fly out to center, scoring McGovern from third. He then got Chad Whiteaker to ground to short and struck out John Carra to end the game.
McGovern was 3-for-4 with two RBIs and two runs for Green Valley, which must come through the losers bracket.
"It's not about talent anymore, it's about sheer determination and will," Garritano said. "If they want to extend their season, they're going to win at 10 o'clock tomorrow. There's no excuses."
CLASS 4A STATE BASEBALL TOURNEY THURSDAY'S RESULTS At Peccole Park, Reno Bishop Gorman 7, Bishop Manogue 6 Reno 11, Green Valley 9 TODAY'S GAMES At Western Nevada College, Carson City 10 a.m. — Bishop Manogue vs. Green Valley 1 p.m. — Bishop Gorman vs. Reno 4 p.m. — 10 a.m. winner vs. 1 p.m. loser