With track record like Force, it can be hard to be humble
October 27, 2013 - 10:56 am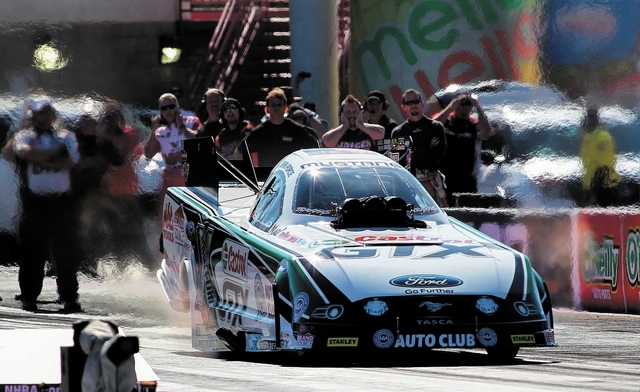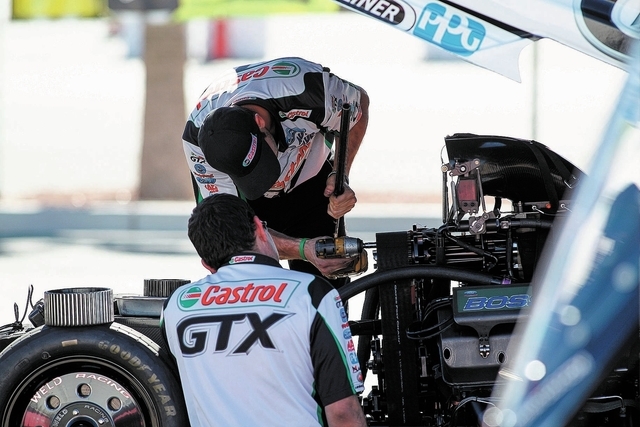 So, where to start?
Is it the 15 NHRA Funny Car overall championships, including 10 in a row? Is it the polio he battled as a kid and managed to overcome and be a professional athlete? Is it the 15 years of getting whipped on the track and not surrendering to failure? Is it the multimillion-dollar family business he built and the millions of fans he has endeared himself to?
When you're John Force, it's all of that, and more. Much, much more.
At a time when most 64-year-olds are making sure they will have the right Medicare coverage, Force is traveling 300 mph down a quarter-mile of asphalt. The Bell Gardens, Calif., native refuses to act his age. To him, 64 is a number, much the way it seems to be to another 64-year-old — musician Bruce Springsteen.
In fact, Force could be a character out of a Springsteen song, back when he was writing and singing about cars in the 1970s, long before he aimed his lyrical gun at sleazy bankers and corrupt corporations.
"I like Springsteen," Force said, referring to Bruce, not Jay, the motorcycle racer.
Force is looking to win his first overall title since 2010, as he came to Las Vegas Motor Speedway for the NHRA Nationals with a 65-point lead over Matt Hagan. Ironically, Hagan came to The Strip in 2010 with a 64-point lead only to be caught and eventually passed by Force as he ultimately captured overall championship No. 15.
But Force knows his iconic status doesn't mean a thing when he gets to the starting line, and he's aware that Hagan and the others are a serious threat.
"You stay humble," said Force, who had a big run in his final qualifying heat Saturday, finishing first in a track-record 4.011 seconds at 317.79 mph in his Ford Mustang. "The minute you start thinking you've got it, that's when you get beat. You never take any lead for granted."
But Force, who will face Gary Densham in today's first elimination round, was satisfied with Saturday's effort.
"It was like a rocket ship," he said. "It was awesome."
Force also doesn't want to let his fans down. No one is more accessible than Force. He isn't on Twitter or Facebook or Instagram, but he'll sign every autograph, pose for every picture and make appearances for charity.
"I love the people," he said. "I love the cheers of the crowd."
He also loves the color of money. Despite his incredible success over the years, which has seen him win more than $13 million, Force finds himself knocking on doors trying to secure additional sponsors for his race team. The team includes daughters Brittany and Courtney and son-in-law Robert Hight, who are currently driving, as well as Ashley, a former driver who is an executive in John Force Racing.
Ford Motor Co. and Castrol Oil Products, two of Force's longtime sponsors, are ending their relationship with him after 2014. That means knocking on doors and trying to lure fresh money into drag racing.
"I'm fighting to get Corporate America on board," Force said. "It's been tough, what with the economy and all. But I love what I do, and if it means going out and hustling dollars, so be it."
Winning a 16th title would certainly give Force more ammunition when he meets in a boardroom. Everyone loves to be associated with a winner, in good or bad financial times. And Force knows he has to be on his game if he's going to finish on top this year.
"Hagan's a hell of a racer," Force said. "You look at him, he looks like he could play linebacker for the Green Bay Packers. That's why I'm in the gym every day. I know who I'm competing against."
Hagan, one of the stars of Don Schumacher Racing, has great respect for Force, and theirs is a friendly rivalry. But the 31-year-old from Christiansburg, Va., doesn't fear him.
"There's definitely a respect factor built in, but you can't let him intimidate you," Hagan said. "You have to believe you can win."
Force wasn't always this successful. He recalled early on in his racing career when his biggest fear was rain. Because if it rained, that meant no racing. And if there was no racing, those checks he wrote to cover his expenses would bounce halfway to the moon.
But Force wanted to have a good team, and that costs money. So despite years of getting his head handed to him by the likes of Don "The Snake" Prudhomme and Tom "The Mongoose" McEwen, Force finally broke out.
"I was getting beat up and spanked," he said. "I was fodder. But I never thought about quitting. I love racing. I love the cheer of the crowd."
Force's talent eventually surfaced to where he started winning races. In 1987 in Montreal, he beat Ed McCullough for his first career victory. He won the first of his 15 titles in 1990. And a legend was born.
"The fight is what it's all about," Force said. "No matter what happens (today), I'll be back next year. And the year after."
The other top qualifiers were Shawn Langdon in Top Fuel at 3.778 seconds, Hector Arana in Pro Stock Motorcycles at 6.930 seconds and Mike Edwards in Pro Stock at 6.632 seconds. Today's eliminations begin at 11 a.m.
Contact reporter Steve Carp at scarp@reviewjournal.com or 702-387-2913. Follow him on Twitter @stevecarprj.