Wranglers' offense stalled
October 7, 2010 - 11:00 pm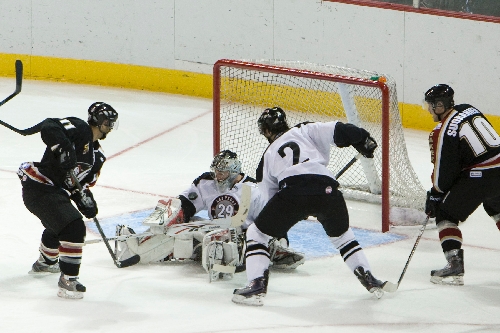 Last season, Bakersfield edged Las Vegas for first place in the ECHL's Pacific Division.
On Thursday, the Condors got the best of the Wranglers again, scoring three second-period goals en route to a 5-2 victory over Las Vegas at the Orleans Arena in the preseason opener for both teams.
Bonanza High School graduate Adam Naglich had a goal and two assists for the Condors, and his linemate J.D. Corbin had two goals and an assist.
"It's always nice when you're back home in front of friends and family to play good and have a good game," said Naglich, who is the first professional hockey player to hail from Las Vegas. "Whenever you're in Las Vegas, you don't think about it, but you always try to play a little bit harder and a little bit better."
Naglich scored at
7:31 of the second period to give Bakersfield a 1-0 lead. The second-year pro, who scored 39 points in 69 games for the Condors in his rookie year last season, took a long lead pass from Bakersfield goalie Peter Hirsch, broke in alone on Wranglers goalie Michael Ouzas and slid the puck between his legs.
Naglich then set up a goal by Corbin at 10:14, firing a behind-the-back pass from next to the net to the high slot, where Corbin blasted the puck past Ouzas for a 2-0 lead.
Rookie goalie Scott Darling then replaced Ouzas, but the 6-foot-6-inch netminder allowed three goals, including one by Corbin on an unassisted shorthanded breakaway with 37 seconds left in the second period.
Darling also allowed a pair of goals 42 seconds apart in the third period. Naglich and Corbin assisted on a goal by Erik Burgdoerfer at 4:10 of the third period, and Erick Lizon scored at 4:52 on a hard drive to the net.
Las Vegas finally got on the board with 14:32 left in regulation, when left wing Blair Riley beat Hirsch. Defenseman Barry Goers scored a power-play goal on a slap shot from the slot with 8:21 left to make it 5-2.
The Wranglers outshot the Condors 29-23, including 13-5 in the third period, but couldn't get in any kind of flow offensively.
"We just weren't clicking, but that's to be expected in the first preseason game," said second-year Las Vegas coach Ryan Mougenel, who wasn't too concerned about the result. "Preseason hockey is always tough to get an evaluation."
Mougenel praised the play of Riley and the fact that several players stuck up for their teammates.. Michael Findorff, a 6-6, 230-pound left wing and enforcer, squared off with Bakersfield's Bobby Robins in the first period. Danny Bertram traded punches with the bigger Braden Walls in the second period, and 6-4 center Geoff Paukovich drew a pair of roughing penalties in the third period.
"It always helps out early if everybody sticks up for each other," said Bertram, a former team captain at Boston College. "You get that team mentality from the get-go."
The teams will meet again Saturday in Bakersfield, Calif., for their final exhibition game, and the Wranglers will open their regular season there on Oct. 16.
"I think you'll see a completely different effort on Saturday," Paukovich said. "We'll be much more of an in-sync team on Saturday."
Contact reporter Todd Dewey at tdewey@reviewjournal.com or 702-383-0354.
BAKERSFIELD — 5
LAS VEGAS — 2
KEY: Bonanza High School graduate Adam Naglich had a goal and two assists for the Condors, and linemate J.D. Corbin had two goals and an assist.
NEXT: Wranglers at Condors, 7 p.m. Saturday, exhibition