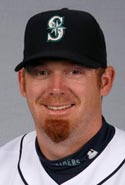 Golf Digest is running a contest to be a part of a foursome that includes Michael Jordan and two other celebrities. Note: Applicants should have a succinct way with words.
The magazine's essay contest asks applicants to describe in six words why they should represent all average American golfers in the 2009 Golf Digest U.S. Open Challenge. The winner will join Jordan in a group that will play Bethpage Black on Long Island, N.Y., a few days before the U.S. Open.
In 2008, the foursome included Tony Romo, Justin Timberlake and Matt Lauer.
"If I shoot anything over 100, I might as well put my game in the bag," Jordan said. "If Justin Timberlake can break 100, I know damn well I can."
• READY FOR A RIVALRY — It didn't take long for Francisco Rodriguez to enter the fray that is the New York Mets-Philadelphia Phillies rivalry.
"Of course, we're going to be the front-runner. Of course, we're going to be the team to beat," he said Saturday during a conference call.
Two days earlier, Cole Hamels of the Phillies told WFAN Radio, "For the past two years (the Mets) have been choke artists."
Said Rodriguez: "Everybody knows what happened, unfortunately. They didn't get the job done. Unfortunately, you know, it happens. We cannot be living with the past. We just have to get that behind us and get focused."
Rodriguez said he was looking forward to the intense atmosphere of New York.
"In Anaheim, they're more calm," he said. "They're really relaxed when they're watching the game." By comparison, "New York's atmosphere is totally different. The fans are really passionate," he said. "A lot of players like to be on that stage. I'm the kind of guy that likes to be on the big stage."
• PREPARE FOR PUTDOWNS — "Instead of worrying about being the Mets' closer," wrote Kevin Gleason of the Middletown (N.Y.) Times Herald-Record, "J.J. Putz should start worrying about what kind of cruel back-page word play the tabloids will have with his name after a bad game.
"You think the tabs will care that his name is pronounced 'Puts'? I don't either."
• SURE SHOT — Dan Daly of the Washington Times, after golfer John Daly (no relation, of course) smashed a fan's camera: "Would John have been able to control his temper if the spectator had been Maria Sharapova, armed with her Canon Sure Shot?"
• SLUMBER PARTY — Scott Ostler of the San Francisco Chronicle, with a Dallas Cowboys update: "Now Terrell Owens is beefing that Tony Romo and Jason Witten, on the road, don't invite him to their pillow fights."
• CRYING UNCLE — Snippet from a TNT studio give-and-take, on how the Lakers stack up against the champion Celtics:
Magic Johnson: "(L.A. guard) Derek Fisher said if they are at their best, they beat Boston."
Charles Barkley: "If my aunt had onions, she'd be my uncle."
• EMPTY GRIN — Steve Simmons of the Toronto Sun, with the latest Santa news: "All Todd Bertuzzi wants for Christmas are his six front teeth."
LAS VEGAS REVIEW-JOURNAL WIRE SERVICES