2012 Voter Guide: Nevada Senate District 3
October 21, 2012 - 1:08 am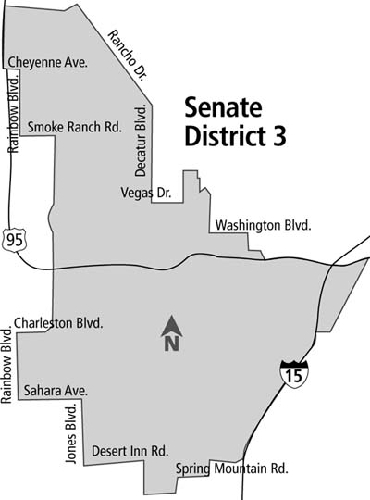 A Nevada assemblyman and a Vietnam War veteran are vying for the state Senate District 3 seat.
Richard "Tick" Segerblom, a longtime Democratic assemblyman, is facing Republican challenger Ed Gobel in the Nov. 6 election.
Democrats lead Republicans almost 2-to-1 in the number of active registered voters in the district, which includes part of North Las Vegas, according to Clark County election data.
If elected, Segerblom said he wants to work on criminal justice issues including reducing the state's incarceration rate by sending nonviolent offenders and substance abusers to diversion programs. He wants to limit the impact of felonies on nonviolent offenders' records. And he plans to re-energize the discussion about medical marijuana with a bill to provide dispensaries for those with prescriptions.
Segerblom, who has represented Assembly District 9 since 2006, also said he wants to raise taxes on corporations to help boost teacher salaries and supports raising the gasoline tax to pay for improving highways.
"I personally believe people are willing to pay for something if they know what it's going for," Segerblom said. "People in Nevada want to pay for a quality of life if it's going to be better."
Segerblom has a law degree from the University of Denver. In the 2011 legislative session, he served on the Assembly Commerce and Labor Committee, the Judiciary Committee and chaired the Legislative Operations and Elections Committee. He said he will work across party lines to better the state.
"I'm liberal and push liberal causes, but at the end of the day you have to work with everybody and reach across the aisle if you need to," Segerblom said. "Whatever it takes to help Nevada, I'm willing to do it."
Gobel, an Army veteran, said that raising taxes in a down economy "is a prescription for failure." Gobel believes solving the foreclosure crisis, helping the uninsured buy affordable private health insurance and job creation will improve the economy and help "solve the drain on our treasury."
"The biggest issue is people keeping their homes, people having an income, people being able to buy things and having their kids go to college and get jobs," Gobel said. "Those are the biggest issues facing Nevadans. I don't think it's really about getting more marijuana to pot smokers."
Gobel added that "cutting the fat" from school districts, including administrators, would free up money to boost teacher salaries.
"What we need to do is find out what our priorities are and how much money we need to accomplish those priorities," he said.
Gobel's sister, Linda West Myers, is running for the state Senate District 4 seat. The siblings share a similar platform with their virtually identical views appearing word-for-word on their campaign websites.
Gobel attended Queens College, The City University of New York and is working on a degree from the University of North Carolina, Charlotte.
Contact reporter Kristi Jourdan at kjourdan@reviewjournal.com or 383-0440.
Voter Guide
News stories on races on 2012 ballot