September 7, 2010 - 9:29 am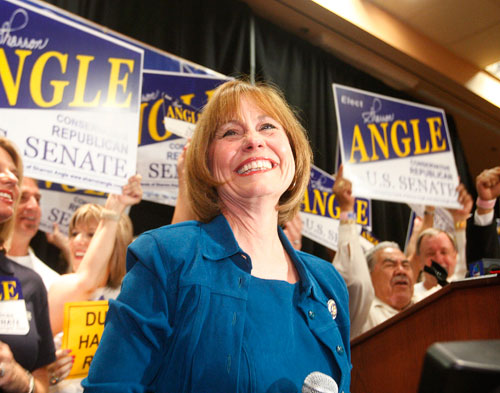 This story titled "41 to Angle" in the Review-Journal this morning chronicles the legislative performance of Sharron Angle. Good, legitimate story as voters begin to focus more closely on the November election.
Interestingly, the story stoked the fires burning inside the Harry Reid fan club pundit class. Their faulty analysis/hope is that the story shows she's likely to be legislatively ineffective in Washington and that will therefore hurt her on election day.
Brother, could these pundits be any more out of touch with what's going on in Nevada and the nation this year?
There's been a high degree of angst among Nevada voters for at least three years and much of that angst (right or wrong) is directed at Harry Reid. Is it any wonder that a Sharron Angle emerges from the GOP pack to challenge him? People don't want to replace Harry Reid with a Harry Reid light. They want change. They don't want someone in Washington who's going to blend in, compromise and get along with the current Congressional culture.
They want to block President Obama from doing any more damage to the nation and what better way than sending a Sharron Angle to Washington, just like Alaskans did in telling Republican Sen. Lisa Murkowski that her "status quo" services were no longer needed.
The truth is a substantial number of Nevadans made their mind up long before Sharron Angle arrived on the scene. They made their minds up based on the performance of Sen. Reid, President Obama and Rep. Nancy Pelosi. They are disenchanted in the extreme. So when Harry Reid, out-of-touch pundits and mainstream politicians try to label Sharron Angle as "too extreme" or "too inflexible" or "too conservative" a good many swing voters say "perfect".