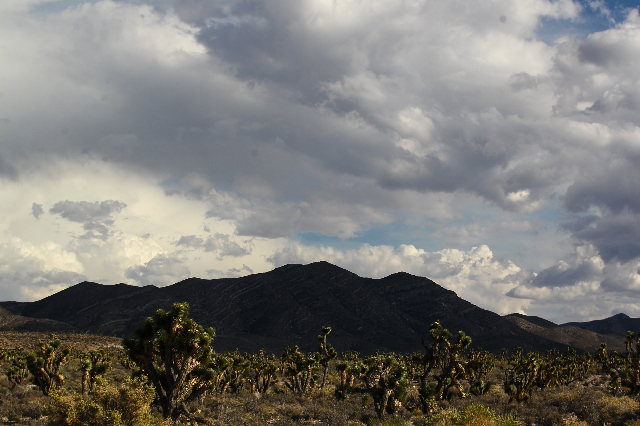 This week an almost morbid Instagram account made the rounds highlighting, well, as the name says, sad topographies. Various spots around the world, whether lakes, passes, roads or hills, ended up with names such as "Sad Road," "Calamity Lake," "Disappointment Island" or, simply, "Alone."
That got us thinking about our own strange names in Nevada — many coming from Spanish or Native American origin, as well as a few probably named the way it is for kicks.
While Nevada isn't full of too many sad names, there are a few spots that will make you stop and think, "how did that happen?"
Here are seven spots in Nevada that ended up with interesting names:
This spot is a short drive north from Ely on the way to McGill, where no one seems to live, as addresses nearby point to Ely. Adverse means "preventing success or development."
In Nye County, this peak (and the surrounding area) is quite a sight to see. The area, east of Tonopah, is different than any other part of Nevada. Goblin Knobs, a name strange in itself, is sometimes slang for nipples, although there's no indication it was named for that.
Just north of Virginia City is the ghost town of Lousetown, which is not a town filled with lice. The town, established in 1860, was a toll road station. The town was abandoned about a decade later. A nearby historical marker notes the unique name, but not its origin.
You won't find it labeled on an online map, but Squaw Tit is located in the center of Northern Nevada, east of Lovelock. The word squaw, according to NBC News, is a slang word given to Native American women that came to mean either a woman of ill repute or female genitalia. The name is repeated for multiple peaks in the southwest region.
Mummy Mountain is the second highest peak in the Spring Mountains, just northwest of Las Vegas. There are no mummies there. We think. But it does take its name for its resemblance to an Egyptian sarcophagus in profile.
Ragtown is an abandoned trading post and ghost town just west of Fallon. It was actually named for rags being cast off by travelers.
In Nevada, you will find multiple nipples, and no, that's not a pun. Multiple peaks in multiple states were simply called "The Nipple," most likely for their resemblance to the human anatomy. While one sits near the border south of Lake Tahoe, another can be found more inland toward Fallon.
*Bonus: Hanky Panky Street and Wild Thing Court
These two streets in northwest Las Vegas near Floyd Lamb Park, surrounded by streets "Lovers Knot Court" and "Kisses Avenue," and are just a few examples of the valley's odd street names.
Contact Kristen DeSilva at kdesilva@reviewjournal.com. Find her on Twitter: @kristendesilva