A day in the life of … a Las Vegas Elvis
September 17, 2014 - 3:42 pm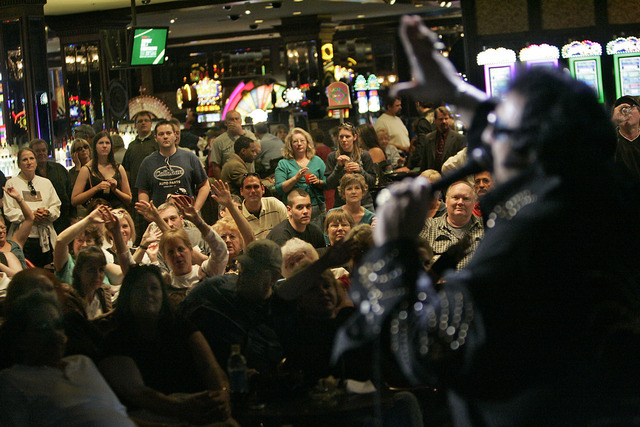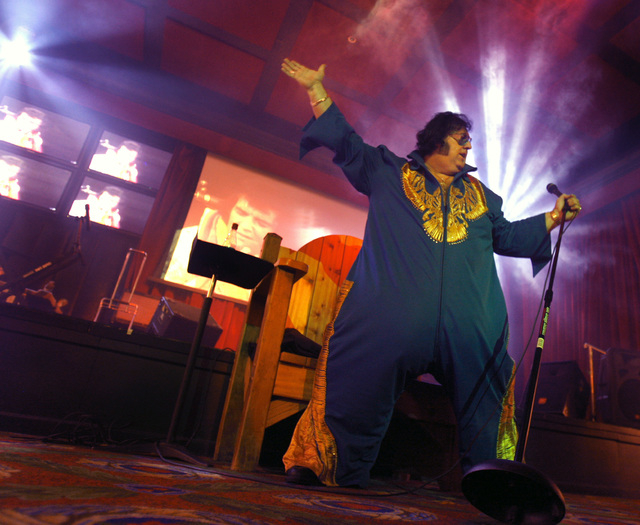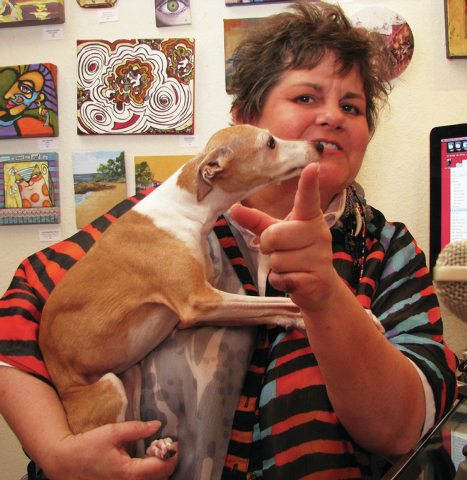 When he comes out on stage at Harrah's, it would be easy to think that Pete Vallee is about to play his role as Big Elvis for laughs. He tips the scales at about 500 pounds, and he wears a scaled-up version of the kind of costume Elvis Presley wore during his comeback performances in Las Vegas in the last years of his life — all glitter, spandex and polyester bell bottoms.
Then he sings.
Grown men break into broad grins. Women who saw The King perform when they were teens weep. Tourists who wander in to laugh stand gape-jawed.
"Making people happy is my favorite part of my job," Vallee said. "I like entertaining people and watching people have a good time. How much better does it get than that? It doesn't even feel like a job."
Vallee came to Las Vegas in 1997 to do his act. He had been performing as Big Elvis for a year before that. At his heaviest, he weighed 950 pounds, and he has been steadily losing weight for years, swimming nightly in his pool in his humble east valley home. He wants to improve his health so he can keep singing and entertaining his fans for years to come.
"I don't think there's anything more glamorous than working the Strip," Vallee said. "This is the mecca for what I'm doing."
He performs at 2, 3:30 and 5 p.m. Monday, Tuesday, Thursday and Friday at the Piano Bar inside Harrah's, 3475 Las Vegas Blvd. South. The audience includes a lot of regulars and longtime fans.
He's taking on a new role, that of movie actor.
"We're shooting a movie called "The Big Elvis Files," he said. "I'm going up to Seattle to shoot some scenes."
He brought in a few of his fellow Las Vegas performers to round out the cast, including long-running lounge performer and Harrah's regular Cook E. Jarr.
"It's set in 1977," Vallee said. "It's a comedy. I think it's going to be a big hit with my fans, and it may bring in some new ones."
If all goes according to plan, the film will debut the evening of Feb. 28, 2015, just a few hours after he is honored with a star on the Las Vegas Walk of Stars.
WOMAN EARNS A LIVING WITH HER GALLERY
Jana Lynch has found her dream job by shining the spotlight on others.
"I'm as high as a kite, and I don't take drugs," Lynch said. "That's how much I love what I do. I can't believe I get to do it."
Lynch operates Jana's RedRoom, a gallery in The Arts Factory, 107 E. Charleston Blvd. She moved from Houston, mostly leaving behind her career as a graphic artist.
"I came out here because my mother was out here, and I wanted to be close to her," Lynch said. "Then she got sick and she told me, 'Jana, it's time for you to get back in your lane,' so I started thinking about what I really wanted to do."
After some reflection, she began studying fine art, taking continuing education classes at the College of Southern Nevada and UNLV. She quickly discovered not only how much she enjoyed creating art but how much she liked being around talented artists.
"The kids in school kept telling me about this cool place called the 18b Las Vegas Arts District," she said. "I checked it out and fell in love with it."
She began showing her work, first in a group gallery, then renting wall space from another artist. She put her name on a list to get a space of her own, but it took 1 1/2 years for a space to open up. She took a spot with a cramped entrance and opened it up to the central interior courtyard of The Arts Factory, quickly becoming the eyes, ears and mouth of the building. She developed a passion for discovering new artists and showing their work.
"I started showing one artist, and now we have 140 emerging and established artists," Lynch said. "I think about the gallery 24/7. More importantly, I think about these kids and how much they love art."
Her latest project is a livestream channel for Jana's RedRoom, broadcasting and archiving events at the gallery, including live performances and art discussions.
"We've gone live, because I don't want it to be just about fine art on the wall," Lynch said. "I want there to be music and live performances, skits and scenes from plays. The sky's the limit."
The backdrop for these performances is the gallery and the hundreds of works by local artists Lynch has brought there. She's always on the lookout for another talented artist.
"For every artist I have there's another 100 that have never shown their work," she said. "They're the hidden van Goghs. They just do it because they have to and they love it. They don't care if a piece of art ever sells. They're the ones with the talent. I'm going to hunt them down and show their work."
Contact East Valley View reporter F. Andrew Taylor at ataylor@viewnews.com or 702-380-4532.