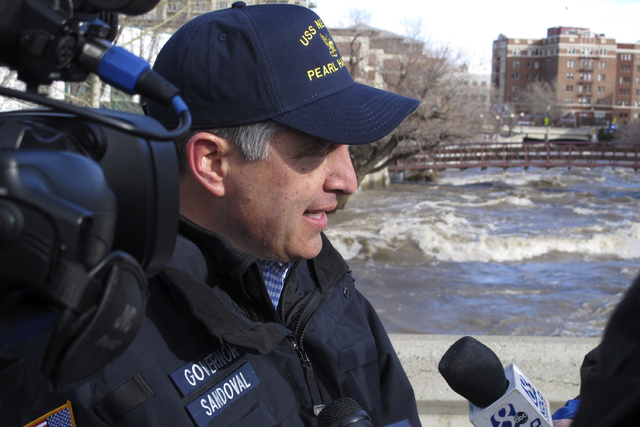 Sheldon Adelson is threatening to spend some of his billions against the Democratic Party in the courtroom as well as on the campaign trail.
A lawyer representing Adelson threatened to file a libel suit against the Democratic Congressional Campaign Committee after the party arm posted blogs alleging the Las Vegas casino magnate was funding Republican candidates with money gained from prostitution.
The attorney, Lewis J. Clayton, demanded the Democrats "immediately retract and apologize for defamatory statements falsely accusing Mr. Adelson of encouraging and profiting from prostitution."
Clayton said the Democrats were "maliciously branding Mr. Adelson as a pimp who has given 'Chinese prostitution money' to your political opponents."
"These false allegations constitute libel per se entitling Mr. Adelson to compensatory and punitive damages," Clayton wrote in the letter. Later in the letter he advised the DCCC to preserve all its documents on the matter as possible lawsuit evidence.
"Mr. Adelson has no objection to honest political debate — indeed he welcomes it and fosters it — but he will not tolerate baseless attacks on him and his family," Clayton wrote.
DCCC spokesman Jesse Ferguson confirmed the group received and was reviewing the letter, which was dated Monday and first obtained and reported by Nevada political columnist Jon Ralston.
The exchange further illustrates Adelson's standing as one of the major players in this year's elections. He contributed more than $10 million to a "super-PAC" supporting Newt Gingrich for president, and shifted his contributions to Mitt Romney after Gingrich dropped out.
Adelson, chairman of the Las Vegas Sands Corporation, has donated more than $10 million to a pro-Romney PAC and millions more to other Republican organizations and individual candidates.
The accusation that Adelson welcomed prostitution at his Chinese resorts surfaced last month in court documents in a civil lawsuit filed by former Sands executive Steven Jacobs, who was fired in 2010 from overseeing Adelson's properties in Macau.
Days later, Adelson, who rarely talks to the press, granted an interview to Forbes magazine in which he called the accusation "outrageous."
"Would I jeopardize being the 7th richest man in the US and the 14th or 15th richest person in the world to push prostitution?" Adelson, who is worth a reported $24.9 billion, told the magazine.
The DCCC seized on reports of the accusation. On June 29, it posted a statement to its website headlined: "Breaking: House Republicans' Biggest Donor Approved 'Prostitution Strategy' in China"
On July 2, a posting was headlined: "House Republicans Funded by Chinese Prostitution Money?"
"Mr. Adelson does not tolerate prostitution — let alone, as you have said, make money from it," Clayton said in the letter demanding a retraction and apology.
The campaign watchdog group Politifact checked out the Democrats' postings and described the link between Adelson and prostitution as an unproven charge by a disgruntled former employee.
It said the claim that Adelson's donations to Republican groups amount to spreading around Chinese prostitution money "is dubious enough that inserting the word 'allegedly' can't save it." On the Politifact "Truth-O-Meter," It was given a "pants on fire" rating .