Air travelers can save time with TSA PreCheck
November 23, 2015 - 7:50 pm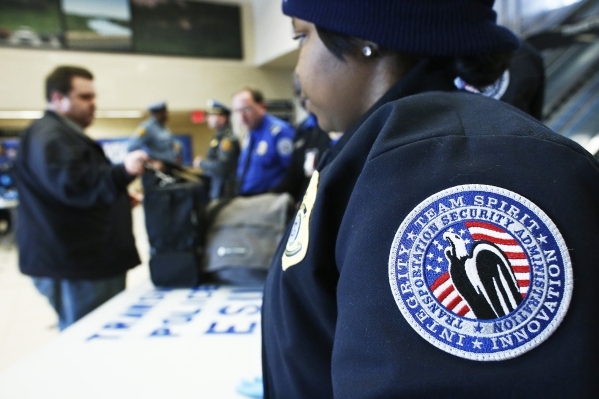 How much will a few extra saved minutes be worth when you take to the skies this holiday traveling season?
How about 85 bucks? That's enough to land you trusted traveler status under the Transportation Security Administration's PreCheck program and save you time when navigating security checkpoint lines during an already stressful holiday season.
The TSA's PreCheck program allows air travelers flying on specific airlines at specific airports to go through security checkpoints in separate — often shorter — lines without having to remove their shoes and belt or take laptop computers out of a carry-on bag.
The TSA says about 1.6 million travelers currently are enrolled in PreCheck. And while it's too late to apply for the program in time for this week's Thanksgiving trip, Lorie Dankers, spokeswoman and public affairs manager for the TSA in Nevada and eight other states, says applying now probably will give you plenty of time to be approved by Christmas.
Dankers notes that TSA PreCheck actually is one of four federal programs designed to essentially pre-screen travelers and give those approved travelers — often referred to as "trusted travelers" — expedited services when traveling.
TSA PreCheck is designed for air travelers who fly mostly within the U.S. The remaining programs, all of which are operated by U.S. Customs and Border Protection, provide expedited customs services to trusted travelers entering the U.S. from foreign locales.
Those programs are: Global Entry, for persons who fly both within the U.S. and internationally; NEXUS, for those who travel between the U.S. and Canada; and SENTRI, for those who travel by land into the U.S. from Mexico. However, PreCheck probably is the one that's most familiar to travelers, thanks to the marked lanes they see at major airports' security checkpoints.
To decide which program best serves their needs, travelers can examine a breakdown of the four programs at www.dhs.gov/comparison-chart. There, consumers can see what each program covers, the cost of each program and what is required to apply for them.
For most travelers, TSA PreCheck probably will be the most useful option. The PreCheck application process begins by pre-enrolling online or making an appointment at an application center (www.tsa.gov/tsa-precheck/apply or https://universalenroll.dhs.gov, or schedule an appointment by calling 855-347-8371 weekdays from 5 a.m. to 7 p.m. Pacific time). Applicants also may walk in to an application center, although appointments take priority.
In Southern Nevada, applications centers are located in Terminal 1 at McCarran International Airport and at IdentoGO, 2080 E. Flamingo Road, Suite 302.
At the application center, applicants will have to provide proof of citizenship and proof of identity. A passport will serve to prove both, but those without a valid passport will be required to show a driver's license and either an original or certified copy of their birth certificate.
Applicants then will be fingerprinted and pay a processing fee of $85. Because the fee is nonrefundable, Dankers suggests that consumers first check the TSA's website to see if they have had any criminal offenses that would disqualify them from earning trusted traveler status.
For example, offenses that would mean permanent disqualification include espionage, a crime related to terrorism, improper transportation of a hazardous material, or a "transportation security incident." Offenses that would mean an "interim disqualification" include unlawful possession of a firearm, robbery, immigration violations, identity fraud, rape or aggravated sexual abuse and voluntary manslaughter.
If they are approved for TSA PreCheck, applicants will receive an emailed notice in seven to 10 days that will include a "known traveler number." They'll receive no card or document. Instead, they'll use that known traveler number whenever they make a reservation or purchase tickets.
It's that number "that links you as a vetted traveler" and makes you eligible to use designated PreCheck lines at airports, Dankers says. In those lines, trusted travelers will not have to remove their shoes, belts or light jackets or remove laptops or 3-1-1 liquids from their carry-ons.
Another benefit to the program: Children 12 and younger who are traveling on the same itinerary may go through the PreCheck line with a parent or guardian who holds trusted traveler status, Dankers says, although "once a child is 13, they have to qualify on their own."
Often, Dankers adds, "what you'll see is, the (pre-checked) father will take the child through the pre-check lane while the spouse and mom go through other general screening lanes."
Note, however, that all passengers, including those in the TSA PreCheck program, are screened. The only difference is that they'll be screened in a designated line that probably will afford them quicker access through security without having to remove clothing and personal items.
Dankers says TSA PreCheck lanes now are available at more than 150 airports. Note, also that TSA Pre-Check is available only through specific airlines. That's because participating in the program requires software and administrative changes to an airline's ticketing system, Dankers says, and not all airlines have chosen to participate.
For the TSA, the PreCheck program allows security personnel to focus their efforts on, as Dankers puts it, the travelers "they don't know. And, for travelers, it offers the chance — not a guarantee, certainly, but better odds — that they'll navigate airport security checkpoints more quickly and with a bit less hassle.
Best of all, Dankers says that giving yourself an early Christmas gift by applying now probably will allow you to receive your known traveler number just in time to avoid the security checkpoint crushes that'll almost certainly occur during the upcoming Christmas/New Year's travel season.
— Contact reporter John Przybys at jprzybys@reviewjournal.com or 702-383-0280 or follow @JJPrzybys on Twitter.