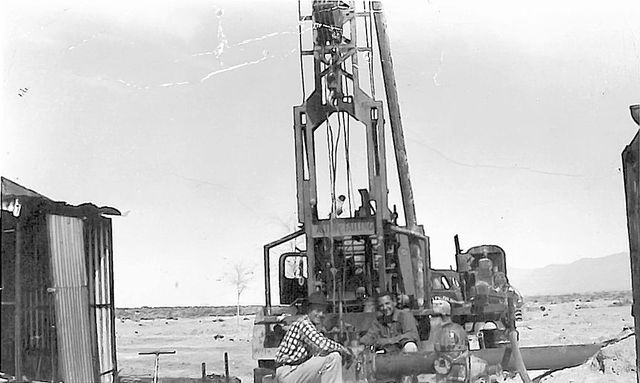 North Las Vegas' Allen Lane might better be called Water Well Lane. Or maybe even Weatherwell Lane.
Either way, the name given to the stretch of asphalt running north to south between Cheyenne Avenue and the 215 Beltway likely owes plenty to early Las Vegas Valley well drillers.
Clark County Museums administrator Mark Hall-Patton suspects it was was named for one prominent driller, known to Allen Drilling Co. owner Fred Allen III as "Dad."
"Back around 1950, my father started a company called Allen Water Well service," Allen said of Fred Allen II. "I don't know why the street would be named after his company, but I know that there were water wells around there. I remember doing maintenance on them.
"Some of those early wells had temporary or permanent water rights, so it could be that there was a general association between him and where they started (Allen Lane)."
North Las Vegas couldn't dig up much of anything on the roadway, according to city spokeswoman Juliet Casey.
Ditto for the city of Las Vegas, where spokesman Jace Radke couldn't unearth even a passing reference to the road.
Hall-Patton had better luck.
Allen Lane's entry in Patton's 2009 street name anthology "Asphalt Memories" traces the name to an "Allen Weatherwell Company, a well drilling firm in Las Vegas."
That citation, Patton said, is likely just a bungled reference to the Water Well Co. started by Allen's father.
It's not uncommon, he said, for a name to get a little lost in the annals of history, where any number of misheard or misspoken allusions to an already foggy recollection can turn a Water Well Co. to a Weatherwell Co. in the course of a couple generations.
"My guess is that's what happened," Hall-Patton said. "A lot of times, those (older) streets were named because that happened to be the road to that business. I've run into that a couple of times now.
"Given the location and the company name, I think it's very possible that's what happened."
Most of Allen Lane's five miles run through North Las Vegas, stretching north from West Cheyenne Avenue all the way to the Beltway, before fading into Aviary Way and eventually petering out near the Aliante Golf Club.
But the road actually starts with a six-block strip of asphalt more than a mile south, near Rancho Drive at the southernmost tip of Centennial Hills.
All of that points, Hall-Patton said, to the naming of an early stretch of road built sometime before 1970 and later interrupted by construction of the North Las Vegas Airport.
That doesn't sound impossible to Allen. He never heard his dad brag about a road named for the family — or witnessed his mother, company bookkeeper Artie Allen, carrying on about the their newfound prominence — but said he wasn't ready to wave off possible ties to the road.
It wouldn't be the first time, he said, that the Allens had been confused with the wells they drilled.
"I remember once he was quoted in the newspaper, and they called him Mr. Waterwell," Allen said with a laugh. "We worked very closely, so (Allen Lane) seems like something he would tell me, but then I was in college at the time, so I suppose he maybe had something to do with it."
Contact Centennial Hills and North Las Vegas View reporter James DeHaven at 702-477-3839 or jdehaven@viewnews.com.