Alzheimer's walk draws Bishop Gorman students' support
November 15, 2013 - 1:06 pm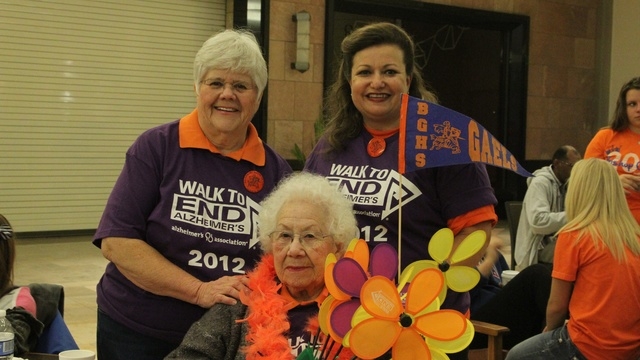 How much do teens care about Alzheimer's disease, which is often seen as an "older person's" disease? As it turns out, plenty.
More than 300 people, the majority of them students at Bishop Gorman High School, 5959 S. Hualapai Way, participated in the Walk to End Alzheimer's on Oct. 26 at the Fashion Show mall, 3200 Las Vegas Blvd. South. This year, the team was triple the size, said Joanne Andrews, team co-captain.
The walk has been a fixture for the school for nearly 10 years. That's when librarian Margaret Foy organized the first one in honor of her mother, Jessie Foy, who had been diagnosed with Alzheimer's disease about that time. The first effort saw only a handful of students.
"I tried to get around to as many classes as I could for about a 10-minute little (talk) to inform them of what Alzheimer's involved," Foy said. "… When I asked the students how many of them knew someone with Alzheimer's, I'd say maybe … about a third raised their hand. I thought, 'This is something we need to work on.' … If you had told me I'd end up taking care of my mom, that she would end up being my kid, that I'd be my mom's mom, if I was told that in high school, I would have laughed in your face."
The talk included statistics to help young adults better understand the disease.
The effort started small but gained momentum each year, pulling in more and more students. Each year, Jessie Foy participated as well and was a dedicated fixture of the event, even when she had to be pushed in a wheelchair.
This was the third year that Bishop Gorman student Rebecca Dunne, 17, participated in the walk. She plans a career in medicine. Dunne spent a lot of time in the library for extracurricular work and overheard Margaret Foy's devotion to her mother.
Dunne said that, at first, the walk was just something to do, but then she got to see firsthand people at the walk who had Alzheimer's disease. Dunne also did an internship at the Cleveland Clinic Lou Ruvo Center for Brain Health, 888 W. Bonneville Ave., and dealt with Alzheimer's diesase patients there. The talk given to her class also had an effect.
"The stats are kind of appalling," she said. "A lot of people don't realize (how devastating it is). … There are a lot of misconceptions about it."
She said it was difficult for Margaret Foy to see her mother, once "vibrant and a go-getter, someone who was always doing for others," be reduced to a shell of herself. Unlike some Alzheimer's disease patients who can be bossy and cross, her mother was quiet and could burst into smile to thank Margaret for allowing her to live in her home.
Although Margaret Foy was busy at the walks, keeping track of students and attending to last-minute details, she was never far from her mother, knowing Jessie would become anxious if she was out of sight for too long. Another Bishop Gorman staff member, communications coordinator Isabel Henry, would stay with Jessie, assuring her that her daughter would return any moment. She said to see this year's effort draw its biggest response ever was heartwarming.
"It was amazing. I was there as well with my two sons," Henry said. "It was … overwhelming, the amount of kids who showed up."
She said a handful of people with Alzheimer's disease were involved in the walk.
"Hopefully, in the near future, they'll come up with a cure," Henry said.
She has a personal stake in the effort. Two years ago, her mother, Maria Beltrandy, also was diagnosed with Alzheimer's disease.
Like cancer walks, the money is raised before the event, with participants asking for donations from friends and family. This year's effort brought in roughly $4,000, which was donated to the Alzheimer's Association's Desert Southwest Chapter. According to that organization's website, the Bishop Gorman team ranked sixth in the amount it raised.
This year's effort did not see Jessie Foy. She died in February, a few weeks shy of her 89th birthday.
She had been moved into a 24-hour care facility. Margaret Foy would go there after work, sometimes sleeping in the room to be there for her mother. Margaret said she was glad she'd insisted that her mother move in with her for those final 10 years of her life.
"I imagine her looking down on me and saying, 'I'm fine.' She's in this magical place with my dad, and she's no longer in pain," she said. "She's perfect right now. She's not tired, she's just perfect."
This year, the Bishop Gorman community walked in honor of Jessie Foy.
Contact Summerlin/Summerlin South View reporter Jan Hogan at jhogan@viewnews.com or 702-387-2949.