"America's Got Talent" winner to play at Ovation at Green Valley Ranch Resort
April 16, 2012 - 11:16 pm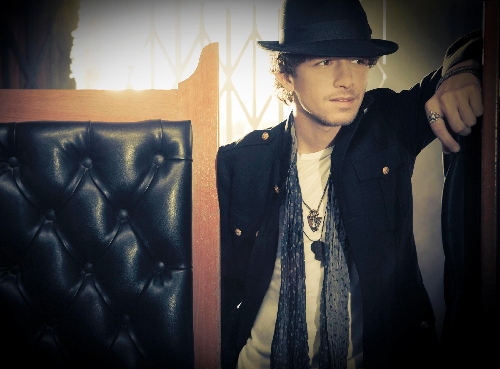 From lounge acts to winning the fifth season of "America's Got Talent," it has been a long career for singer and guitarist Michael Grimm.
"It has been a long roller coaster," Grimm said.
Grimm is expected to take a new role starting at 8 p.m. Saturday at Ovation at Green Valley Ranch Resort, 2300 Paseo Verde Parkway. His weekly show is open to guests 21 or older. There is a $5 cover charge.
Grimm fell in love with music with the help of his grandmother.
"She played the piano for church, and I used to sing hymns along with her," Grimm said. "She inspired me to sing."
By the time he was 12, Grimm already was singing in ballrooms.
"I got kicked out of private school at 15 because of it," Grimm said. "Rightfully so. It was at a Christian private school, and I was singing in ballrooms."
Grimm continued playing while he transferred to public school.
"And my grandma had been pushing me the whole way," Grimm said.
When Grimm was 21 and living in Mississippi, he got a chance to play backup at Imperial Palace's "Legends in Concert," a show that featured impersonators.
The experience opened doors for Grimm to move to Las Vegas.
"I was able to play at Caesars Palace and New York-New York," Grimm said. "It was just in lounges, but I was making good money and playing my own music."
On a whim, Grimm began looking to audition for "America's Got Talent."
"I just wanted to give it a shot," Grimm said. "At least if I made it on TV, maybe I'd get a fan base, which is what record labels always look for. If I was lucky enough to win, maybe I can use the money for my grandmother's house."
Grimm didn't hear back from "America's Got Talent."
To take his mind off the audition, he went on the road as a backup singer.
About a year later, during the show's fifth season, Grimm finally got a call requesting that he come to Hollywood.
"I thought I would have to go through the same interview process," Grimm said. "But they put me right on stage in front of the judges."
Before performing, Grimm remembers the audience booing him as he took the stage. But the crowd softened as he played "You Don't Know Me."
"I have heard a lot of versions of that song," Grimm said. "But it was the Ray Charles version that really inspired me."
Being that much in the spotlight was new for Grimm.
"It was nerve-racking," Grimm said. "I like to be stuck in a corner somewhere playing. It felt like I was baring everything. Like I was naked."
Before Grimm knew it, he was a finalist.
"Standing up there next to this 9-year-old girl with such an incredible voice was such a nightmare," Grimm said. "I didn't want to win against her. When they announced my name, I thought they were saying I was second place. It was an out-of-body experience. It took me a moment to realize I won."
Even years later, people recognize Grimm for winning "America's Got Talent."
"They told me being on this show would change my life," Grimm said. "So far, they were right."
Grimm, 32, admits he is a little burned out but is ready to return to just playing his music.
"I'm not good with all the PR and stuff like that," Grimm said. "I'm good with the music. Coming to Ovation lets me focus on that."
People who attend the show can expect Grimm to display the traditional talents he has shown his entire life.
"It's what I know," Grimm said. "Why change it up?"
Grimm added that he tries to be spontaneous with the crowd, often changing the set list midshow.
"I like to throw things around and mingle with the crowd," Grimm said.
For more information, visit green
valleyranchresort.com.
Contact Henderson/Anthem View reporter Michael Lyle at mlyle@viewnews.com or 387-5201.