An alternative sentencing program, ABC Court, helps people turn their lives around.
February 7, 2012 - 12:18 am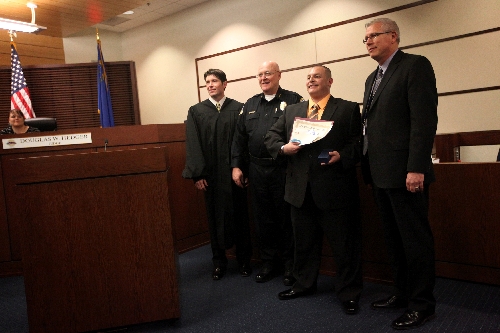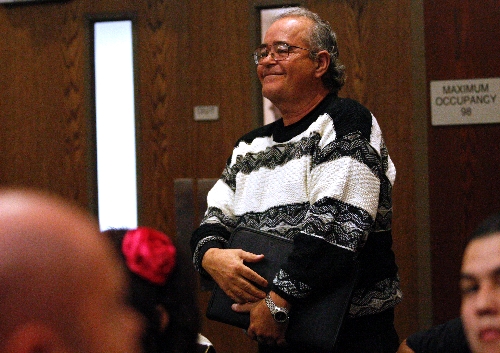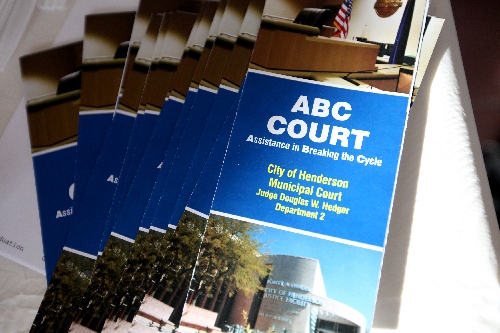 Since 40-year-old Tony Gallardo was 18, he has spent 2,537 days, or about seven years, in jail and countless other days strung out on drugs. But none of that matters anymore as he clings to more than 700 days drug-, alcohol- and crime-free and graduates from the Henderson Municipal Court's Assistance of Breaking the Cycle program.
"Looking at Tony's record alone, one might write him off and say he will never change," said Judge Douglas Hedger, who runs the ABC Court. "But he has proven all wrong."
Since it began in 2008, the ABC Court has been an alternative sentencing program that gives participants such as Gallardo a chance to turn their lives around and escape the cycle of addiction and crime that has spiraled into repeated incarcerations. The ABC Court is offered to repeat offenders who have committed misdemeanor crimes related to long-term drug and alcohol additions and who are usually at the "end of the line with leniency" and have to choose between more jail time or this program.
Gallardo, who skeptically entered the program Feb. 3, 2010, celebrated the end of that downward spiral at the Jan. 18 graduation. He is one of 16 people who have accomplished this since the program's inception.
"It is the biggest accomplishment I have ever done," Gallardo said. "I couldn't have done it without Jesus Christ, my lord and savior."
Gallardo, who was first incarcerated in 1989, would spend one day to 226 days in jail at a time.
"When I presented him the option to do six more months in jail (instead of the ABC Court), he probably could have done that time standing on his head," Hedger said. "He had become a fixture in the Henderson jail. Despite his history, he wanted to change."
Before the program, Gallardo didn't have a life or much to his name.
At many points he was homeless, and on good days, he would sleep on the sofa at a family member's house.
"I didn't have a job for 12 years," Gallardo said.
All Gallardo knew was crime and drugs.
"I was a drug addict and a thief with no education and no work experience," Gallardo said. "I was skeptical the program would even work."
Nonetheless, he tried.
The first two months were the hardest as Gallardo struggled to maintain sobriety. But living around sober men at Transition Living Communities in North Las Vegas, which offers housing for clean and sober living, gave him the support he needed and helped him become who he is today.
For more than a year, he has worked at Buffalo Bill's Resort & Casino in Primm.
"I have never missed a day of work, nor have I been written up or anything," Gallardo said. "I worked hard to have my own place, my job and my bank account. I'm gonna keep it."
Family and friends surrounded Gallardo at graduation, taking photos and embracing him tightly to show how proud they were.
Gallardo was accompanied by four other graduates at the ceremony, each with a lengthy rap sheet and story.
Some had started their life of crime in the late '70s, while some started more recently.
However, they all wore the success of sobriety proudly and acknowledged that they had lived the past 378, 400 or 427 days drug- and prison-free.
Wincing at the mug shots that showed them at the start of the program, the graduates waved goodbye to their former lives.
Gabriel Martinez marked 400 days clean Jan. 18.
He hardly recognized the toothless void in his mug shot.
"I was as high as a kite," Martinez admits about the photo.
In and out of jail since 1978, the 54-year-old Martinez had spent a collective 386 days locked behind bars but more than 40 years trapped in his methamphetamine and heroin addictions.
"I wasn't ready to get my life in order for 40-something years," Martinez said. "I had been doing drugs so long, I didn't know any other way of life until I was looking at 'death row.' I had already seen so many people, including my brother, die. It took me 40-something years and it finally soaked in."
He knew it was a matter of time before he would be the one to die because of drugs.
But Martinez, who entered the ABC program Dec. 15, 2010, is a different person. He has his job. He has his health. He even has a brand-new smile.
"He has been able to save money and get his own place," Hedger said. "And his mouth, which was destroyed because of his addiction, was repaired thanks to a community partner who gave him a new set of teeth. And he is not afraid to show that smile."
The program changes the people who endure, but it also impacts the community by turning participants into "productive members of society," Hedger said.
At about $106 a day, it has cost about $269,000 to keep Gallardo in jail. However, it cost less than $5,000 to rehabilitate him the during the past two years.
As the graduates walked up to take their certificates, Jason Ashley, 27, who completed the program in March 2010, returned to watch and support the next class of graduates.
"That was me two years ago," Ashley said. "Before the program, I wasn't even living. I call it more an existence that revolved around one thing. If I had (drugs), I needed to use it. If I didn't have it, I needed to get it."
After many drug-related arrests, Ashley ended up in the program.
"I didn't want to die," Ashley said, admitting that's where his life was headed before the program.
The program required a lot of Ashley. Not only did he have to remain sober, but he also had to find a job, go through counseling and constantly check in with courts, sponsors and other designated people to help him along the way.
"They asked a lot," Ashley said. "But it is good. We aren't used to the structure. The places we come from, we usually do whatever we want when we want it."
That is a mere shadow of his existence compared with today.
Ashley has worked at the same full-time job for the more than a year and is enrolled part time at the College of Southern Nevada studying mechanical engineering.
"I have a 3.8 GPA," Ashley said. "I'm a long ways away."
Contact Henderson/Anthem View reporter Michael Lyle at mlyle@viewnews.com or 387-5201.