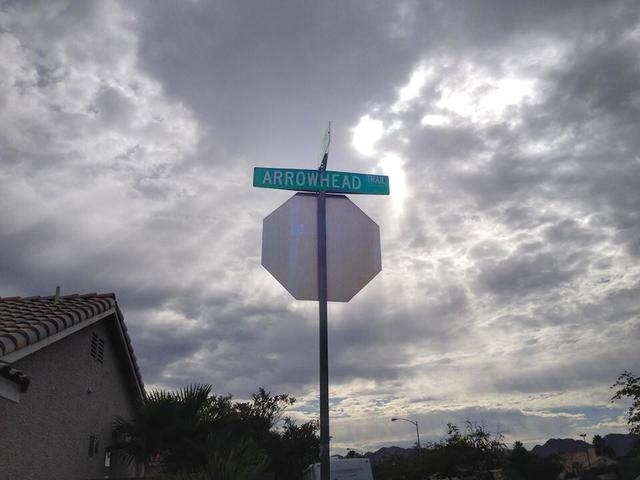 It's uncommon for one roadway to be named for another, but such is the case for Arrowhead Trail near Horizon and College drives.
The street was named for the Arrowhead Highway that once connected Los Angeles to Salt Lake City, according to Mark Hall-Patton, Clark County Museum administrator.
"During the early part of the 20th century, when they were creating the interstate highway system, they would name the highways," Hall-Patton said. "It was never anything more than a series of gravel and dirt roads that connected existing roads together."
The highway was promoted as an all-weather highway because the Lincoln Highway, which stretched from New York City to San Francisco, was typically closed for months during the winter.
It originally ran from Los Angeles to Barstow to Nipton and entered the Las Vegas Valley through Searchlight, Hall-Patton said.
"It was later moved over to Baker and up through Sandy Valley to Goodsprings and down into Jean and Las Vegas," he said. "It went through Las Vegas to Valley of Fire and entered Utah through Santa Clara and went north."
However, there's some debate on how the highway got its name, according to Michael Green, associate history professor at UNLV.
"There's a report by the Nevada State Historic Preservation Office that says the highway got its name from the logo of the Los Angeles-Salt Lake City railroad," Green said. "Knowing the people at the NSHPO, if that's what they say, I'm pretty confident that's the truth."
Travel writer C.H. Bigelow was known for promoting the highway in 1915 by driving the entire route many times.
"Bigelow had been entered in the 1911 Indy 500," Green said. "So, he was also a prominent race car driver at some point."
During World War I, Army officer Dwight Eisenhower noticed the poor conditions of many roads, Green said.
"It wasn't a coincidence that (Eisenhower) created the Highway Act of 1956 when he became president," he said. "The bill led to the construction of I-15 and disposed of the old Arrowhead Route."
Parts of the Arrowhead Highway are still marked by two Nevada State Markers, according to Green.
"There are parts of it around there that are still among us," Green said. "There's one near the junction of U.S. Highway 93 and 95, just south of Henderson en route to Boulder City. You can also see some of the old Highway 91."
Contact Henderson View reporter Caitlyn Belcher at cbelcher@viewnews.com or 702-383-0403.