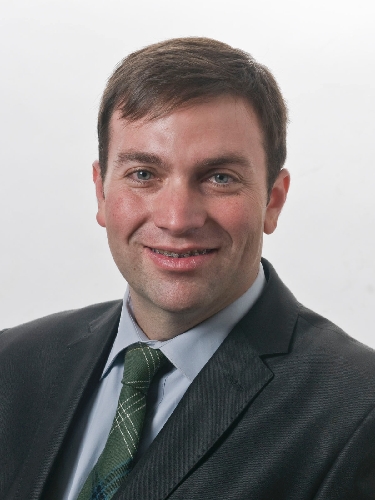 The GOP's Tod Oppenborn is trying to unseat James Ohrenschall, the Democratic incumbent, and the candidates have very different plans for what they would focus on in office.
Oppenborn became active in politics through the Tea Party movement and identifies himself as a "Tea Party conservative."
"The direction the country has been going, I haven't agreed with it — the country or the state," he said.
There are waste and mismanagement in government, he said, especially in the bureaucracy, where he says middle management positions can and should be cut, particularly in schools.
He also said he is concerned about higher taxes and fees on businesses, which will be wary of moving to Nevada unless the state is as business friendly as can be.
Oppenborn isn't totally opposed, though, to all the options out there for raising state revenue.
"I would open up Yucca Mountain," he said. "That could be Nevada's version of what oil is for Alaska. What other place do we have in the country to store spent nuclear fuel?
"Thinking nationally, we could have a national research facility out there, and the federal government would pay for it."
Ohrenschall said spending cuts will be necessary to balance the state's books. But he added, "Cuts are not going to be enough. We're going to have to look at new revenue sources," such as a gross receipts tax or a broad-based business tax.
The state could also save money by enacting the sunset commission proposed by the SAGE Commission. The sunset board would review agencies to see if they are still needed or could be shut down.
Consolidation of local government services could also lead to savings, Ohrenschall said, leaving more money for the state.
While no new tax would be popular, it is needed, Ohrenschall said, since many industries have been enjoying the benefits of public spending — roads, schools, emergency services — without contributing their share.
And Nevada needs to make itself attractive to businesses instead of just inexpensive.
"If we invest more in our education system, if we produce people who would be of value to these companies, I think that's going to help our state," he said.
"If the 2011 Legislature takes a long-term view of what's happening to our state, I don't think we can count on gambling and tourism to support us. I don't think we can count on construction, either."
Contact reporter Alan Choate at achoate@reviewjournal.com or 702-229-6435.
2010 GENERAL ELECTION VOTER GUIDE
ASSEMBLY DUTIES
The duties of Assembly members include passing legislation, reviewing, amending and approving the state budget submitted by the governor, and reviewing the performance of state agencies. They serve two-year terms. Candidates who prevail in this year's election will be paid $8,760 for the first 60 days of the 120-day regular legislative session. They also will receive $161 a day for living expenses and reimbursement for housing, travel and other expenses.