October 16, 2010 - 11:00 pm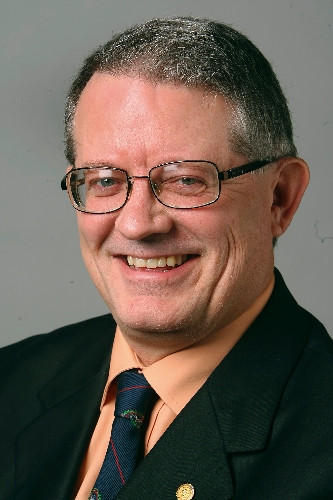 The Assembly District 15 race that began with six candidates was whittled down to two after the primary election knocked out three and the economy eliminated a fourth.
Stan Vaughan, a former Democrat who switched to the Independent American Party, will take on Democrat Elliot Anderson in November. They seek to replace Kathy McClain, a Democrat, who has served in the Assembly since 1999 and is leaving because of term limits.
Republican Dale Snyder dropped out of the race. He said he was forced to move to California last month to find a job. According to the Clark County elections officials, Snyder's name will appear on the ballot. If he wins the race, Republican Party officials can name a substitute.
Snyder's departure is not expected to have a significant impact, given that District 15 is largely Democratic.
If elected, Anderson envisions himself as the bridge between Southern Nevada and Carson City. Too many politicians are never heard from again after they take office, he said.
Anderson said he is dedicated to knocking on doors every week while he is in office to keep in tune with voters' concerns.
"Our big focus is connecting the community to Carson City, to the state government," he said. "Once we do that, we can get people focused on where we can move the state. We need to build political will."
Anderson hasn't pledged not to raise taxes or cut services; instead he is waiting to learn more about the budget and the financial status of every department and program.
He is an advocate of consolidating state agencies, and he opposes any significant cuts in school spending.
"I will take seriously that issue (education) because so many people are concerned about it," he said. "I think it has to be a combination of two things: being as efficient as we can and funding it at levels it needs to be."
The key to pulling the state out of its economic slump is diversifying the economy, Anderson said.
"So many of our budget issues revolve around being dependent on one industry, gaming," he said.
Opponents have knocked Anderson for touting his military experience — he would be the first veteran of the war in Afghanistan to serve in the Legislature — saying that is not enough to be qualified to serve the state.
"My military experience is an important part of me," he said to his critics. "It defines my character. It shows I am a hard worker and that I was in public service even when it wasn't the most glorious thing."
Vaughan believes he is the only qualified candidate because of his experience as a small business owner and his educational background, which includes a doctorate in accounting and a master's degree in business administration. Vaughan's list of priorities includes lowering fees and taxes for small businesses to allow them to thrive. He said helping businesses is a wiser solution to the state's economic woes than raising taxes.
"Small businesses, that is where your growth is going to come in this economy," Vaughan said. "When you're hurting small businesses, that's not going to help."
Vaughan will not rule out cutting services but has other suggestions on money-saving programs, such as bartering for supplies between state departments or even with other states.
"Bartering is a very important option in this kind of economy," said Vaughan, who operates smarterbarter.com online. "It's one of our fastest growing industries."
He also said the state should take aim at undocumented residents, saying Nevada is spending far too much money educating the children of those residents. Vaughan is a proponent of home schooling.
Vaughan criticized Anderson for trumpeting his military experience as a qualification to run for state office.
"The issue is not his experience in the military; it's what kind of representative can you be for us up there," said Vaughan, who also served in the Army. "Are you going to be somebody up there voting for everything the unions want, or are you going to be someone going up there and voting in the interest of your constituents?"
Contact reporter Adrienne Packer at apacker@reviewjournal.com or 702-387-2904.
2010 GENERAL ELECTION VOTER GUIDE
ASSEMBLY DUTIES
The duties of Assembly members include passing legislation, reviewing, amending and approving the state budget submitted by the governor, and reviewing the performance of state agencies. They serve two-year terms. Candidates who prevail in this year's election will be paid $8,760 for the first 60 days of the 120-day regular legislative session. They also will receive $161 a day for living expenses and reimbursement for housing, travel and other expenses.