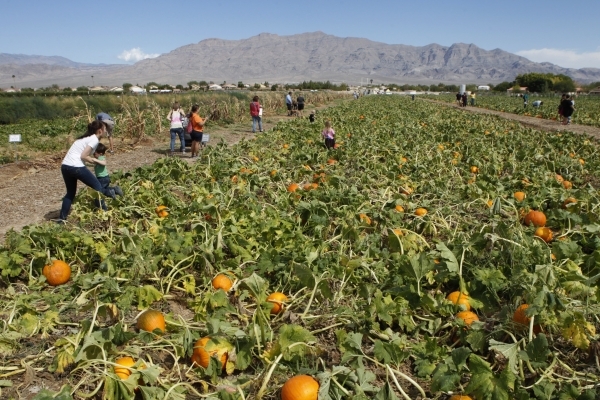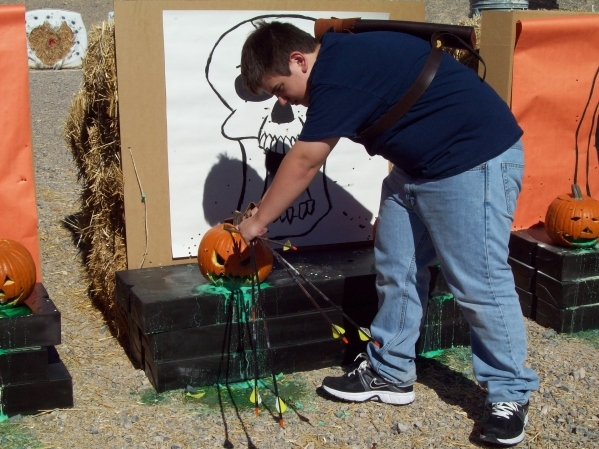 The fall crisp air blended with pumpkin spice flavors and shorter days can mean only one thing — Halloween is near. With it comes an array of spooky and family-friendly events. View takes a look at activities planned in the northwest.
GILCREASE ORCHARD
Picking pumpkins is a beloved Halloween tradition for many families, which is why fall is the busiest season for Gilcrease Orchard, 7800 N. Tenaya Way.
The orchard's pumpkin patch is scheduled to be open from 7 a.m. to 2 p.m. Tuesdays, Thursdays, Saturdays and Sundays through Oct. 31.
"Come early if you want the fall experience, and come late if you want the summer experience," said Mark Ruben, director at the orchard. "After 10 a.m., it gets packed."
The orchard plans to sell its signature apple cider, apple cider doughnuts, coffee, caramel apples, almond and peanut butters, and varied produce selection. Wagon rides and a straw maze also are planned to extend the fun.
Pumpkins are set to be available for 50 cents per pound and decorative corn stalks for 50 cents apiece.
Visit thegilcreaseorchard.org.
THE FARM
Nothing brings a smile faster to a child's face than seeing and petting a rescued animal.
That's why The Farm, 7222 W. Grand Teton Drive, has scheduled its annual Fall Harvest Festival from 9 a.m. to 7 p.m. Oct. 17-18, 24-25 and 31. The event is set to include hay rides, a farm train, animals, face painting and a hay maze.
"There's nothing scary here — there's no blood or guts. It's a very family-friendly environment," said owner Sharon Linsenbardt. "The experience we provide at The Farm is being up close and personal with cows, pigs, horses and other farm animals. Here, 100 percent of the profits go to support the rescued animals that have been abused and neglected."
A concession stand operated by students from Le Cordon Bleu is planned to sell various foods, baked goods and snacks. The Farm is also set to sell jams, jellies, local honey, eggs, pumpkins, and seasonal fruits and vegetables.
The concession stand and rides are to be available only on Saturdays and Sundays. Those interested in purchasing a pumpkin can come from 3 to 7 p.m. Tuesday through Friday.
Admission is $5 for adults and $3 for children, cash only. Visit thelasvegasfarm.com.
FAMILY FUN RUN
For those looking for a more active Halloween outing, the second annual Trick or Trot 5K/10K /Family Fun Run is set from 8 a.m. to noon Oct. 24 at Floyd Lamb Park at Tule Springs, 9200 Tule Springs Road.
The event is to be timed, and prizes will be given for first, second and third places. Each runner also is set to receive a shirt, a water bottle, a medal, snacks, a Subway sub and a goody bag.
Runners in the 5K and 10K events can register for $35 each. Group discounts are available for teams.
Runners and families are encouraged to attend in costume to participate in a costume contest. Judges are to be on the lookout for the most original costume, best storybook character, prettiest princess, handsome hero and best group costume.
A family fun run event is planned all day with a $5 donation per child. Activities such as trick-or treating, a pumpkin patch, games, food and hay rides are planned for children.
Horses4Heroes also is set to provide horseback and pony rides, a barnyard visit with a petting zoo and a Horse 101 workshop to teach children how to brush and groom miniature horses. All proceeds are to be given to Eagle Quest of Nevada, a nonprofit that provides Nevada's at-risk youths and foster children with services, programs and activities.
"Families can expect tons of Halloween festivities, and it's a great way to give back to the community," said John Kendzior, coordinator of the event.
Visit trickortrot5klv.com.
DIA DE LOS MUERTOS
Leticia's Mexican Cocina, 7585 Norman Rockwell Lane, is set to host a carnival and street festival to celebrate Halloween and Dia de Los Muertos.
The sixth annual Dia de Los Muertos festival and concert is planned from 3 p.m. to midnight Oct. 30, and the carnival is planned from 3 p.m. to midnight Oct. 30 and Nov. 1.
The free event is set to include a classic car show, arts and craft vendors, live entertainment and rides.
Call 702-445-7722 or visit leticiascocina.com.
LIBRARY EVENTS
Families hoping to hear tales of fright can visit the Centennial Hills Library, 6711 N. Buffalo Drive, for an hour of Halloween fun.
The Spooky Tales Craft Buffet is planned from 4:30 to 5:30 p.m. Oct. 28. Children 6 to 11 are invited to dress up and celebrate Halloween through spooky stories, singing, dancing and craft-making.
Space is limited. Tickets are to be given out a half-hour before the program starts. Call 702-507-6100 or visit lvccld.org.
CHURCH EVENTS
The Country Harvest Festival is planned for 5 p.m. Oct. 24 at the TCMI Christian Event Center, 5101 N. Rainbow Blvd.
Families are invited to enjoy the fall weather with games, candy, country line dancing, raffles and prizes. The church plans to provide free hot dogs, and Southern comfort food will be sold.
"My kids and neighbors love coming out to have some fall fun," said Donna Hashimoto, outreach director at the church. "It's a great place to have fun, and it's a safe environment for the kids to have a good time."
Call 702-396-3189 or visit tcmii.com.
An annual neighborhood Halloween party is set from 6 to 8 p.m. Oct. 30 at Westminster Presbyterian Church, 4601 W. Lake Mead Blvd.
Entertainment is set to include carnival games, refreshments and a costume contest. Admission is free, and people of all faiths and ages are welcome.
Call 702-648-8437 or visit wpcvegas.org.
MOUNT CHARLESTON FALL FESTIVAL
It may not feel exactly like fall in the city yet, but the mountains offer a cooler escape from the heat.
Families are invited to a fall festival planned in the early evening Oct. 17 at the Spring Mountains Visitor Gateway, 525 Kyle Canyon Road. The event is set to include educational booths, live music and a bonfire.
Call 702-872-5486 or visit gomtcharleston.com.
CLARK COUNTY SHOOTING COMPLEX
Looking for some good, old naughty fun? A Pumpkin Smash is planned from 9 a.m. to 3 p.m. Oct. 31 at the Clark County Shooting Complex, 11357 N. Decatur Blvd.
Youths and adults are invited to an archery fun shoot with pumpkins that ooze. The equipment is set to be provided.
Admission is free. Visit clarkcountynv.gov.
— To reach North View reporter Sandy Lopez, email slopez@viewnews.com or call 702-383-4686. Find her on Twitter: @JournalismSandy