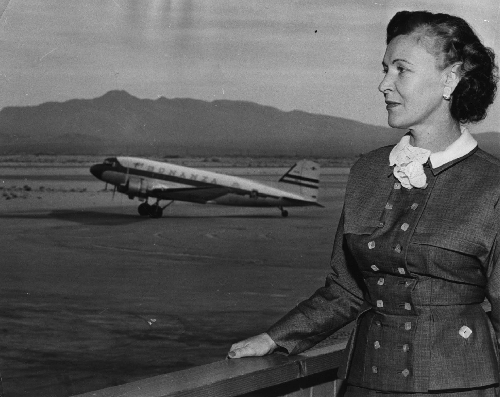 When developer Lawrence McNeil was laying out the streets of a new subdivision, he wanted to pay homage to friend, longtime associate and fellow Bonanza Airlines board member Florence Murphy.
The businesswoman and aviation pioneer wanted nothing of it, said Mark Hall-Patton, administrator for the Clark County Museum system, which includes the Howard W. Cannon Aviation Museum.
"He thought highly of her, and she said she didn't want it," Hall-Patton said of the namesake.
But Florence met McNeil with compromise.
She would allow her birth name, Colanthe, be assigned to a roadway, if McNeil dedicated a road to his little-known middle name, Gilmary. Thus, Colanthe Avenue in the Spring Valley area was born.
"The idea would be nobody would know who these streets were named for," Hall-Patton said.
It was this tale, Hall-Patton added, that inspired him to pen "Asphalt Memories," a compilation of street names' origins.
Hall-Patton considered Murphy a friend until her death in 2006 at age 94. He interviewed and visited with her several times and said she routinely played down her mark on local and national history.
Murphy was the first Nevada woman to receive a commercial pilot's license and the first woman in the United States to serve as a vice president of a regularly scheduled airline. She helped get the now-North Las Vegas Airport off the ground and rounded out her career in real estate.
"She broke a lot of these barriers for women but never really thought of it," Hall-Patton said. "I asked her one time about breaking these barriers, and she said, 'I didn't really think of it as that.' She was just doing her job."
Her successes and superlatives were a far cry from her humble upbringing in Northern Nevada. Born Colanthe Jones in 1912 in Fernley, Murphy was a tomboy among a brood of brothers, according to the Nevada State Museum.
Around age 5, Murphy decided to ditch her disliked first name and go by Florence, the name of a favorite aunt.
Murphy held a position at the University of Nevada, where she met her future husband, John "Red" Murphy. He was a division engineer for the State Highway Division, and his job moved them to Southern Nevada around 1936. She would later go into the airport business with her husband and a business partner.
But when the couple rolled into town, Murphy had little to no experience with aviation, Hall-Patton said.
"She was a housewife," he said. "She came to town, and all of a sudden, she was part of society here. She got invited to parties. She had one dress. She came from a part of the state where they were snowed in six months of the year. Dresses weren't something she thought about."
Soon after moving south, Murphy had her first brush with flight.
In 1936, a small plane circled Las Vegas Boulevard, and its pilot offered short rides to the people gathered. Red and Florence Murphy were part of the crowd.
Murphy took a ride in the two-person aircraft and jumped on the pilot's offer for her to fly for a short period.
"I was up there about a half-hour, and I just loved it," Murphy said, according to Nevada State Museum records.
Two years later, the couple had their private pilot's licenses.
The only airfield in town at the time is now the site of Nellis Air Force Base. The couple, and partner Bud Barrett, purchased a lot off Tonopah Highway, Nevada State Museum records state, with intentions to host a charter service and flight school.
The day Sky Haven Airfield was introduced to Las Vegas was historic on two levels. The day was Dec. 7, 1941, and the Murphys and Barrett decided to host an air show for residents.
"There couldn't have been more than 7,000 people in town at the time, maybe a little more," Murphy said in an interview with Hall-Patton. "But we had most of them out there at the air show. And planes came in from all over — from Los Angeles, from Salt Lake City. Anytime you had an air show, if it were at all possible for you to make it, you went."
Little did the crowd or event organizers know it, but all planes had been grounded because of the bombing at Pearl Harbor hours before.
A military airman stopped the Sky Haven Airfield show soon enough.
Murphy built the airport when Red Murphy and Barrett were away. She got her instructor's license and commercial pilot's license — the first female in Nevada to do so — and helped launch Bonanza Airlines, the first Las Vegas airline.
She worked exclusively for the airline after selling the airport. She kept company with Southern Nevada aviation bigwigs such as Howard Hughes and Pat McCarran. She was also a company executive, mother and politically active Republican.
A dispute led her away from aviation in the late 1970s, so Murphy moved her success into the real estate arena, Hall-Patton said.
"She never let anything stop her," he said. "She was a very neat lady."
Murphy's family had more to say.
Darcy Wellington was Murphy's granddaughter, and the pair spent countless hours together, including the moment Murphy died in 2006, Wellington said.
"She took more care of me than my mom did," Wellington said. "I spent most of my growing up years with Nana. She was there for my first everything. We were very close."
Murphy outlived her only child, Wellington's mother, and had two grandchildren and several great-grandchildren. Her grandson, Robin Sendlein, is a former linebacker with the National Football League's Minnesota Vikings, and his son Lyle Sendlein is a center for the Arizona Cardinals.
"She was extremely proud of us," Wellington said.
Two of her senior-aged nieces live in Las Vegas, as well.
The family intended to videotape Murphy talking about her life. She moved to Las Vegas in the mid-1930s, and her first phone number was A34, Wellington said.
She lived on 15th Street for years and sold the house to her daughter and son-in-law. Wellington grew up in the home.
"She talked about coming to town and what a small town it was," she said. "She knew everyone."
Wellington said the choice to sell the prime real estate that would become the North Las Vegas Airport was "bittersweet" to Murphy.
"She had a love of flight and loved the airport and loved what she was doing," she said.
Murphy was widowed in 1959 and never remarried.
"The older she got, she was running the show," Wellington said.
Murphy supported herself as a real estate agent and dealt in residential and commercial properties. She and Wellington were business partners for 10 years.
"She had a magnificent mind, and she was good with finances and investing," Wellington said.
She was the one of nine children and the last of the lot to die, Wellington said.
Murphy would have been 100 on Dec. 13, Wellington said.
"She continued to sell real estate almost until the very end," she said. "She accomplished so much and was the matriarch of our family. She was just a great lady."
Contact Centennial and North Las Vegas View reporter Maggie Lillis at mlillis@viewnews.com or 477-3839.