Bike rider conquers terrifying cliff 'trail' — VIDEO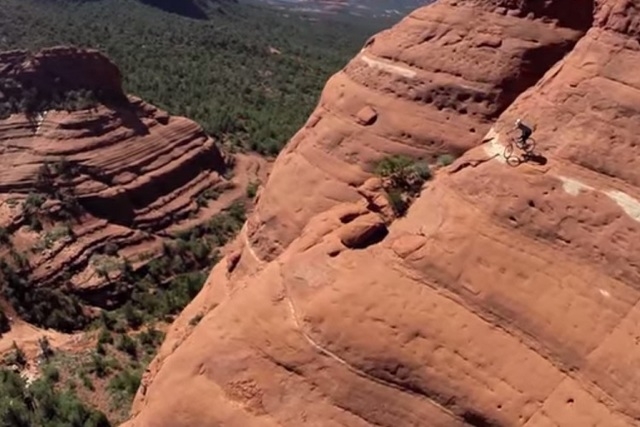 You know something is sketchy when the only thing that can film it is a drone.
In this one minute and seven second video, rider Michal Kollbek bikes along what is a terrifyingly narrow edge known as the White Line in Sedona, Arizona.
While there have been GoPro point-of-view videos of people riding this "bike trail" before, Kollbek's recording of the journey proves to accurately convey the danger of the ride.
I mean, look at how high he is! And at how small our little biker is in comparison to the landscape around him.
And yet, our little adrenaline junkie is able to move along smoothly over the rough terrain.
The video reaches its apex right at the 25-second mark as Kollbek turns and points his bike straight down the mountain. Yeah, your heart tends to skip a few beats.
The rider rolls down the cliff, checks his speed, catches the corner and is able to turn around and ride off. Whew. That was tense.
The ride back seems like a piece of cake in comparison to the events that just transpired. A simple fist in the air is the humble way Kollbek celebrates his survival on nature's rollercoaster.
Contact Ron Paul Gavino at rgavino@reviewjournal.com. Find him on Twitter: @rp_gavino